Day three in Dunedin was an inter-squad day. Two games were on offer, Las Vegas vs New Hampshire and Dunedin vs Lansing. There was a Syndergaard sighting; another home run by a hot hitter; some hot hitting by a big dollar player; and some surprising base running.
Check the link below for video of Syndergaard.
Octavio Dotel started the AAA/AA game and pitched one inning. Zach Stewart followed Dotel. Bobby Ray was the opposing pitcher. Anthony Gose walked his first time up and everyone knew he was going to be running, including Yan Gomes who threw out Gose with a perfect throw. The next time Gose was up he walked again and this time he didn't go but moved up to second on a ground out. Then he tried to steal third. Again the throw from Gomes easily beat Gose but the umpire said Sobolewski missed the tag.
The star of the pieces of the game that I saw was Adeiny Hechavarria who had three nice hits in his first three at-bats against Ray. His first hit was a triple to the right field corner, then he had a line drive over short followed by another line drive to center. Hech was looking very comfortable in the games I saw him play this spring.
Other pitchers in this game, that I saw, included Wes Etheridge, Chad Beck, Scott Richmond, Vincent Bongiovanni and Matt Wright.
I did spend more time watching the A game so I didn't see much of what was going on on this diamond.

The starters in the A game were Casey Lawrence and Ryan Tepera. Lawrence was an undrafted free agent who pitched well for Auburn last season. On this day he was hit well by the Dunedin hitters who were jumping on the 87-88 fastball. Tepera faired better against the Lansing squad with his 91-92 fastball and his sinker/slider repertoire.
The fun began with the second pitchers in. Noah Syndergaard came in for Lansing and was very impressive. First, Syndergaard has a great pitcher's body. I haven't checked his official numbers but he looked close to 6'6" to me and very well built. Syndergaard's fastball was at 93-95 and he showed a slider and a change-up too. He gave up a few hits in the second inning but not to worry, he just needs to figure out how to command his pitches in a pro environment.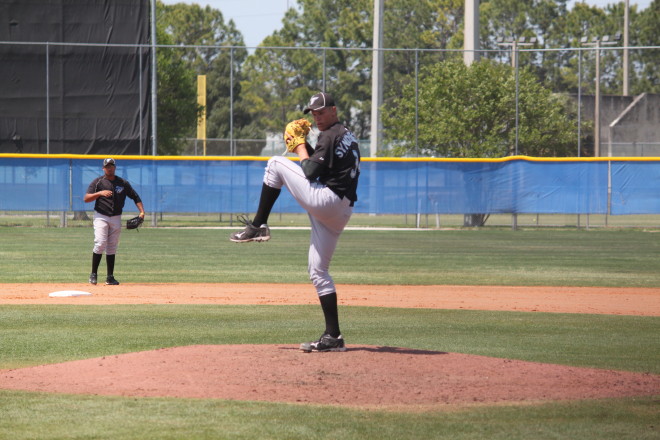 For Dunedin Myles Jaye was the second pitcher. Jaye was a 17th round pick in 2010. Jaye is over 6 feet tall and quite thin. Jaye had a fastball at 90-91 with a developing change and a slider.
Jaye looked good too for a young guy pitching against experienced hitters.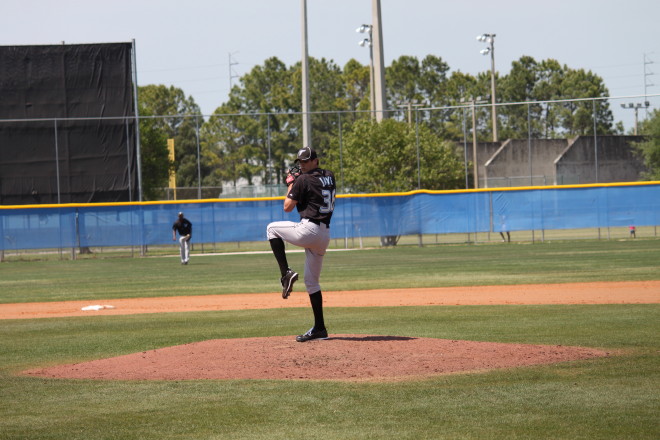 These guys were followed by Sean Shoffit, Aaron Loup, Brian Slover and Sam Strickland.
Brad Glenn, who hit two home runs yesterday, hit another one today which led to some teammates yelling at him to save it for the season.
Dalton Pompey pinch hit in the AAA game and got a hit, the second day I saw him do that.

The Syndergaard video can be seen at Vimeo (video might not be available until after 11:30)

I will be travelling home tomorrow evening so there will be no report tomorrow. The forecast for tomorrow is for scattered thunderstorms so here's hoping we get some action in. And I have lots more video when I get home.