Blue Jays second baseman
Kelly Johnson
shared a few thoughts on not only baseball but the NFL playoffs on
Sportsnet 590 The Fan
Friday afternoon.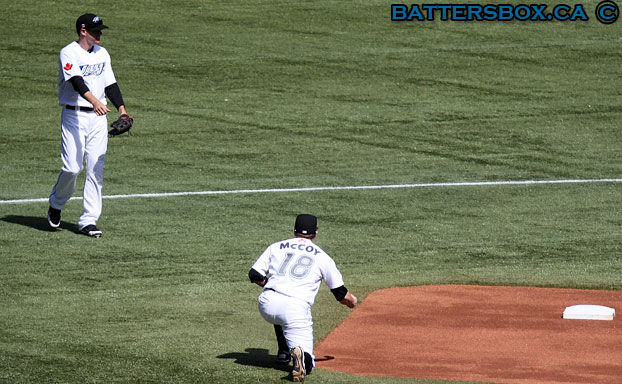 Kelly Johnson
looks like he's lining up to a kick a field goal with
Mike McCoy
serving as the holder September 11.
The audio to the interview is
right here
. His football-related thoughts...
even though he's a big Joe Montana fan and has a signed jersey of his, he would take Tom Brady at QB to face the '85 Bears
predicts the Patriots to beat the Ravens and the 49ers over the Giants even though New York has more talent and has been to the Super Bowl recently

thinks the 49ers have the momentum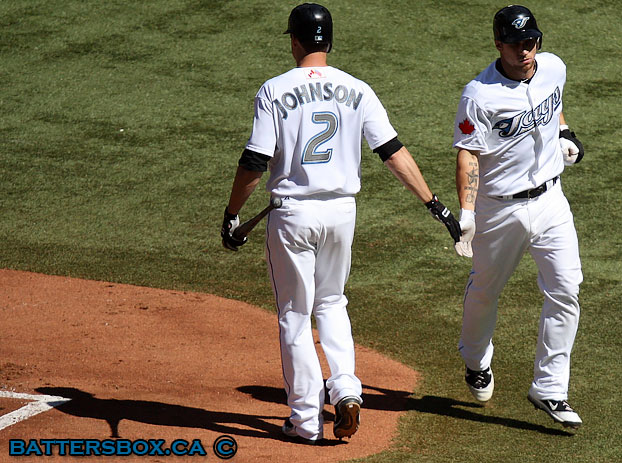 Kelly Johnson
congratulates
Brett Lawrie
for driving in a run against the Orioles September 11. Johnson avoided arbitration by signing a one-year deal with the Jays worth $6.375 million.
On baseball-related issues...
when asked about momentum as it pertains to his career, he recalls his rookie season with Atlanta in 2005 when the Braves won the NL East
despite having a bunch of rookies or second year players surrounding center field Andruw Jones, the team managed to win
didn't know how they were winning but they were "killing people", they made the playoffs but wound up losing to Houston in the NLDS (Johnson was 0-for-2 with a walk and played left field)
happy to avoid arbitration process but has had to deal with the possibility of arbitration three of the past four years
from hearing about arbitration experiences from players and coaches, he says it is "really not a fun time"
believes arbitration is more risky for the player because it involves the player's money while the money for the team is "in the grand scheme of things, not a big chunk of change generally, for them."
easier for a baseball player to go through arbitration as they are numb to some criticism as baseball is a sport of failure - he says imagine wide receivers in football going through the process
calls Toronto a cool city, not a lot of tall buildings, beautiful setting with Lake Ontario nearby
never played with or met a Canadian he didn't like, says people have been courteous and accepting while signing autographs
agrees that being more familiar with Toronto should help him in his second year
being more comfortable in the game and being in the American League longer will help
does not think there were any dumb free agent signings this off-season - cannot argue with the Albert Pujols or Yu Darvish deals