We finish our tour of the infield minor league assignments with a look at third base. This is not a position of strength in the Jays minor league system and you could see the same players in the same spots to start 2012 as played in 2011.
Las Vegas
Now that Brett Lawrie has passed through the sin city third base should be occupied by Kevin Howard. When Lawrie was injured last season Howard played 26 games at third base in AAA before being sent down to New Hampshire for the playoffs. Howard was the MVP of the Fisher Cats in those playoffs. Howard is 30 years old and is an organization guy at this stage. He hit 291 in Las Vegas last season which is average for that park. The Jays other options are converted middle infielders such as Chris Woodward, Luis Valbuena or Brian Bocock.
New Hampshire
Mark Sobolewski was pushed to AA to start 2011 and did alright, he hit 273 but didn't show the power you would expect from third base. Sobo had 8 home runs in 112 games and 20 doubles. Sobo is likely an average defender at best so he must likely stays in AA for 2012. even if he does have to return to New hampshire Sobolewski is happy to be playing anywhere in 2012 after his melanoma scare as reported by Kevin Gray. Sobolewski staying in AA leaves the question, what to do with Kevin Ahrens?
Dunedin
Ahrens produced an OPS of 723 in Dunedin in 2011, his first full year of hitting only from the right side. Ahrens is still 22, he wll turn 23 in April and it looks like the prospect bus has left him behind. But he could surprise in his age 23 season. He has shown no signs that he will, and because of that I think he will return to Dunedin for another shot at the FSL.
Lansing
Bryson Namba was the surprise opening day third baseman for Lansing in 2011 and he didn't hit enough to play his way out of the Midwest League. Among the alternatives to Namba could be Balbino Fuenmayor, although he can't really field the position.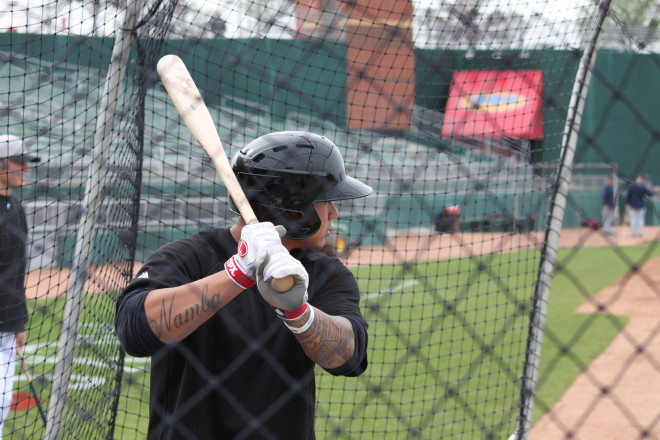 If the Jays decided to convert Gustavo Pierre from a shortstop to a third baseman he could be the Lansing third baseman. Two other options are Kellen Sweeney and Seth Connor. Sweeney missed most of 2011 and because of that would be unlikely to get jumped to Lansing. Connor played well for the Jays in the GCL but a jump to Lansing for the 41st round draft pick would be unlikely. London's Randy Schwartz and Andy Fermin are other options.
The above scenario implies no change to the third base positioning for 2012 as compared to 2011. Howard didn't start 2011 on the Las Vegas roster but he did arrive to take over from Brett Lawrie when he went on the DL. Sobolewski, Ahrens and Namba started out last season with the same teams on which I project they will start 2012. As I said at the start of this story, third base is not a position of strength for the Jays. That makes the trade for Brett Lawrie look even better.
We will take Friday off from this series and return Monday with a look at the outfielders, followed by pitching.