Dunedin used the long ball five times to overcome a seven-run deficit on the road in a game that boiled down to the last play.  Las Vegas and Vancouver got six shutout innings from their starters to earn victories and Bluefield had a nice game with the bats.  New Hampshire saw a game get away from them in the late innings, Lansing was totally outclassed and the GCL boys lost despite the best efforts of a first round pick.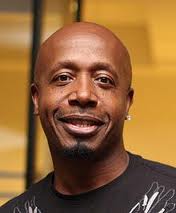 Las Vegas 4 Tacoma 0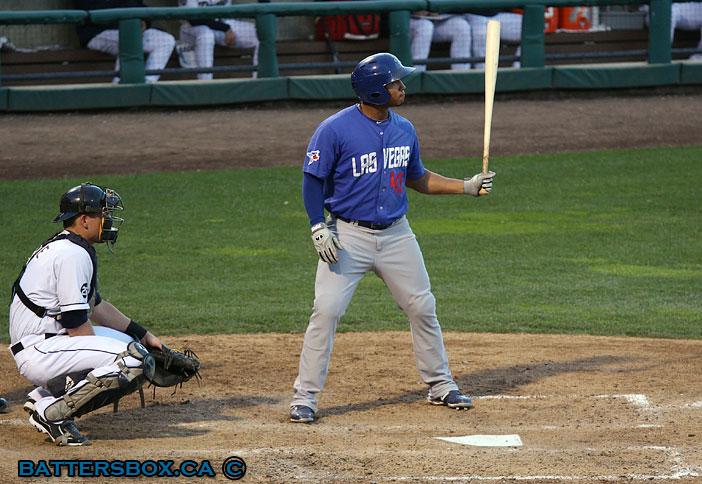 Moises Sierra
's 13th homer of the season put the 51s ahead for good Friday night.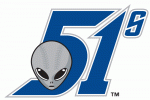 Tacoma, WA
-
Sean O'Sullivan (
7-4) delivered his second straight start of six shutout innings since joining the 51s. The Seattle affiliate only managed two hits and three walks against the former Angel and Royal. O'Sullivan struck out five and his 10 outs in play were divided evenly between the ground and the air. 
Bobby Korecky
racked up three strikeouts and gave up just one hit in two shutout frames.
Chad Beck
finished things off with a one-hit ninth that included a strikeout.
Moises Sierra
put Las Vegas ahead for good with a two-run homer in the second, his 13th of the season. 
David Cooper
accounted for the other two runs by reaching on a fielder's choice after an error by Rainiers shortstop
Nick Franklin
before connecting for what the cool kids call an "oppo taco" - an opposite field homer in the seventh for his seventh of the year.  Sierra had the only two-hit night for the 51s while
Eric Thames
and
Jonathan Diaz
reached twice with a single and a hit by pitch and a single and a walk respectively. 
Adeiny Hechavarria
and
Yan Gomes
had base hits,
Travis Snider
and
Anthony Gose
each drew a walk and
Mike McCoy
went 0-for-4.  Gose and Diaz were each caught stealing.
Portland 9 New Hampshire 3

Portland, ME
-
Chad Jenkins
(4-7) was in and out of trouble over his seven frames against the Red Sox affiliate.  He was nicked for four runs (three earned, due to the first of two
Brian Bocock
errors at second base) on 10 hits and two walks.  He struck out two and got nine groundball outs.  Stephen Marek could not keep the Fisher Cats within a run as he was bombed for five runs over two-thirds of an inning.  He allowed two hits and four walks while whiffing only one.  Ronald Uviedo stranded a runner for Marek by striking out the only man he faced.

Ryan Goins
gave New Hampshire the best way to start a game by hitting a leadoff homer.  A wild pitch by
Stolmy Pimentel
and a
Kevin Howard
groundout in the fourth allowed the Fisher Cats to tie the game at 3-3. 
Brad Glenn
enjoyed the only two-hit game for New Hampshire with a double and a single while
Mark Sobolewski
got aboard with a single and a walk. 
Mike McDade
and
Kenen Bailli
had the other safeties.  Howard and Bocock were a combined 0-for-8 while
Joel Galarraga
were a collective 0-for-6.
Dunedin 11 Daytona 10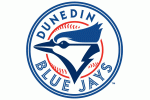 Daytona Beach, FL
-
Jake Marisnick
also gave Dunedin the best possible way to begin a game with a leadoff dinger and
Marcus Knecht
provided some early Canada Day fireworks with a two-run homer to cap off the first.  Even though the Cubs scored the next 10 runs, Dunedin's offence got it going again thanks to an
Oliver Dominguez
grand slam in the sixth. 
Jon Talley
took one deep for a solo shot in the seventh and Knecht connected again for a three-run shot in the ninth to complete the comeback.  Marisnick, Talley and Knecht each had two-hit outings. 
Kevin Nolan
tripled and walked while
Kevin Ahrens
and
Jonathan Jones
each
singled and walked. 
Jones' biggest contribution would come at the end of the game. 
Jack Murphy
was 0-for-3 with a walk but
Ryan Schimpf
came up empty at the dish all five times. 
Michael Crouse
pinch-ran for Talley in the ninth and scored a run.

Jesse Hernandez
got the no-decision after managing to pitch just 3 2/3 innings.  He was clubbed around for seven runs and nine hits while posting a K/BB total of 2-2.  He also induced six groundball outs. 
Alan Farina
was also whacked for three runs in his lone inning of work, including a home run.  He yielded three hits and a walk. 
Evan Englebrook
calmed things down with 2 1/3 perfect innings that included a pair of strikeouts. 
Dustin Antolin
(6-2) was the winner by working a shutout eighth in which he gave up a hit and struck out one.
Danny Barnes
allowed a hit and a walk but was credited with his 18th save.  Really, the save should go to Jones, who threw out a runner at the plate from right field to end the game.
Bowling Green 12 Lansing 1
Bowling Green, KY
- The Rays affiliate hung the loss on
Anthony DeSclafani
(6-2), who pitched five innings of three-run, six-hit ball.  He walked two, struck out two and hit a batter. 
Aleson Escalonte
got the worst of it as he was bowled over for six runs, including three long balls, over two innings.  He gave up seven hits and struck out a pair. 
Bryan Longpre
also appeared to be throwing gutter balls as he was roughed up for three runs on four hits in his one inning.  Just one of the runs was earned thanks to a
Gustavo Pierre
error at short.
Carlos Perez
had an RBI single in the sixth to break up the Hot Rods shutout bid. 
Jonathon Berti
had two hits and scored the Lugnuts only run.  Pierre,
Chris Hawkins
and
Andy Burns
had the remaining Lansing hits. 
Kenny Wilson
and
Kevin Patterson
were both 0-for-2 with a base on balls. 
Kevin Pillar
and
K.C. Hobson
teamed up to go 0-for-8.
Vancouver 9 Eugene 2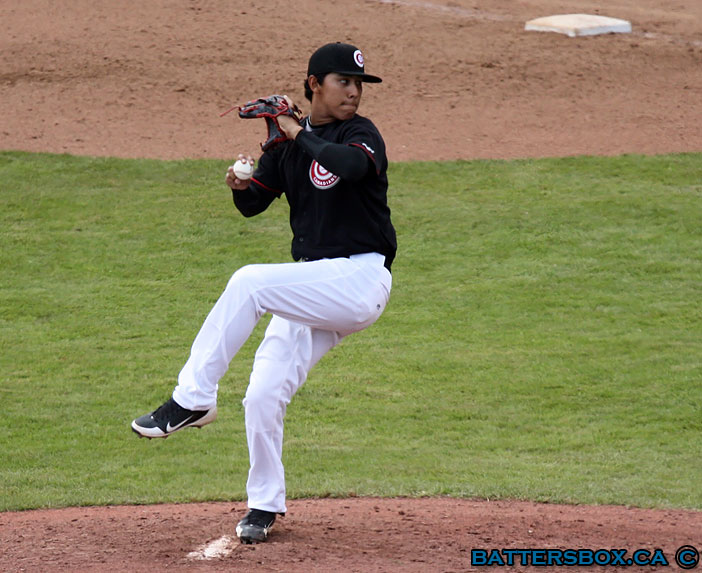 Javier Avendano
remains unscored upon in the Northwest League after a solid six innings Friday afternoon.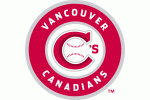 Vancouver, BC
-
Javier Avendano
(2-0) extended his shutout innings string to 15 innings by putting up six goose eggs on the linescore against the Padres affiliate.  He walked four to go along with three hits but racked up 3 Ks and six groundouts.  Lefty
Kyle Anderson
pitched 1 1/3 no-hit innings with one strikeout in his C's debut.  However, he walked three, hit a batter and threw two wild pitches that resulted in a pair of runs. 
Andrew Sikula
could not strand the two runners Anderson left for him but threw 1 2/3 scoreless frames that featured two hits and a strikeout.
A sacrifice fly by
Kellen Sweeney
put Vancouver on the board in the first.  A bases-loaded walk by
Matt Johnson
and a
Derrick Chung
sacrifice fly highlighted a three-run second inning.
  Dan Klein
had an RBI double in the fifth while
Ian Parmley
and
Jordan Leyland
singled home runs as part of a three-run eighth.  Parmley, Leyland and
Nick Baligod
led the way with two hits apiece with Parmley and Baligod getting doubles and Leyland drawing a walk.  Johnson had a 1-2-3 effort as in one hit, two walks and three stolen bases. 
Balbino Fuenmayor
was 1-for-5 and
Kellen Sweeney
was 0-for-3 with a walk.
Bluefield 12 Kingsport 3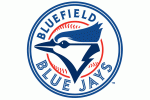 Kingsport, TN
- RBI doubles by
Eric Arce
  and
Jason Leblebijian
gave Bluefield runs in the second and third innings, respectively.  The Mets tied it at 2-2 but a six-run fourth put Bluefield ahead to stay.   The damage was done through run-scoring singles by
Jacob Anderson
and
Dwight Smith Jr.
, an HBP RBI by
Christian Lopes
, sacrifice flies by Leblebijian and
Art Charles
and a wild pitch.  Smith belted his first homer of the season in the sixth and a two-run double by
Chris Peters
along with a wild pitch in the eighth rounded out the scoring for Bluefield.  Smith and Arce had two hits apiece while Leblebijian and Peters had a hit and a walk each.  Lopes was also on base twice with a walk to go along with taking one for the team. 
Nico Taylor
had a double while
Seth Conner
and
Matt Dean
heard ball four once.  Dean was pinch-hit for by Peter later in the game.   Art Charles took one for the team twice and Anderson was hit by the rawhide once to make it four HBPs for the Bluefield battered, er, batters.
Lefty
Daniel Norris
pitched four innings and allowed two runs (one unearned after a clank by Smith in center field) on three hits and two walks.  He struck out two and had six groundball outs.  Fellow lefty
Griffin Murphy
(1-0) gave up just one run over three innings by scattering three hits, a walk and a hit by pitch.  He rang up 3 Ks with a pair of groundouts. 
Denny Valdez
worked a two-hit eighth inning with no runs scoring and
Julio Carmona
struck out two of the three batters he faced in a perfect ninth.
Pirates 6 GCL Blue Jays 4
Dunedin, FL
-
Mark Biggs
took the loss after giving up all six runs (five earned) over 2.2 innings.  He was hurt by two homers among his four hits along with two walks and two hit by pitches.  His strikeout total was one. 
Adaric Kelly
stranded a runner for Biggs by striking out the only batter he faced. 
Adonys Cardona
surrendered just two hits over three scoreless frames.  Lefty
Alonzo Gonzales
had two Ks over two perfect innings and
Chuck Gysels
only allowed one hit and struck out two over a scoreless ninth.
John Silviano
drove home the Jays first two runs in the second while a
D.J. Davis
single and a Pirates throwing error capped off the four-run frame.  Davis was 4-for-4 at the plate and 2-for-3 in the stolen base department. 
Wuilmer Becerra
had two hits, including a double, while
George Carroll
was on base twice with a double and a walk. 
Dawel Lugo
had the Jays other hit. 
Gabriel Cenas
was 0-for-3 but took one for the team. 
Justin Atkinson
,
Jorge Vega-Rosado
and
Jesus Gonzalez
were hitless in 12 at-bats in the 2-3-4 spots of the batting order.
DSL Blue Jays - No game scheduled.
*** 3 Stars!!! ***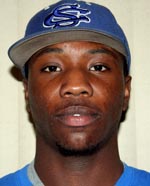 3. D.J. Davis, GCL Blue Jays




2. Marcus Knecht, Dunedin




1. Sean O'Sullivan, Las Vegas