The affiliates were 6-1 Tuesday night with the only blemishes being a rainout and a come from ahead loss.
Reno 7 Las Vegas 3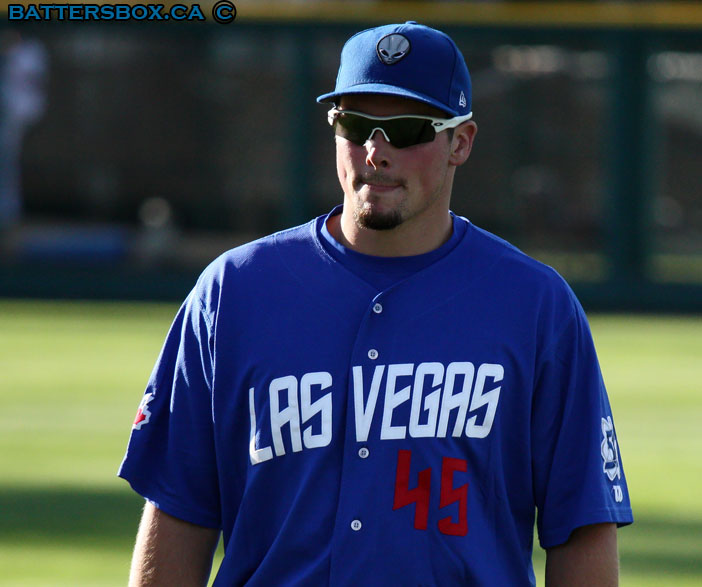 Travis Snider
accounted for Las Vegas' third run with his 9th homer of the season on Tuesday.

Reno, NV
- Could this be the end of the line for 49 year-old
Jamie Moyer
(1-1)? The 51s gave him a 3-0 lead against the Diamondbacks affiliates but it disappeared in the fifth.  He allowed all seven runs on ten hits and two walks over six frames.  One of the hits was a three-run homer by
Cole Gillespie
.  He struck out three and eight of his 14 outs in play were on the ground. 
Jim Hoey
closed things out with two shutout frames of one-hit ball.  He struck out one and got four outs on the ground.

Adeiny Hechavarria
tripled home a
Jonathan Diaz
walk and scored on a
David Cooper
sacrifice fly in the third. 
Travis Snider
ended the inning with a bang by homering to right for his 9th tater with the 51s. 
Eric Thames
tripled and walked and
Mike McCoy
singled and walked.  Diaz was hitless but drew a pair of bases on balls. 
Yan Gomes
singled and stole a base. 
Anthony Gose
doubled but was picked off at second base by
Barry Enright
.
Moises Sierra
was 0-for-3 with a walk and Cooper also finished 0-for-3.  Defensively, Sierra threw out a runner at second.
New Hampshire 14 Reading 2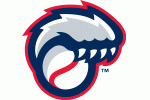 Reading, PA
- The Fisher Cats unleashed an 18-hit attack on the Phillies and only failed to score in the fifth, sixth and ninth innings. 
Brad Glenn
got the ball rolling with an RBI double in the first, a
Brian Bocock
two-run single capped off a three-run second and
Kenen Bailli
blasted a two-run homer in the third.  Glenn smashed one over the wall for a two-run shot in the fourth and belted a solo dinger in the seventh before getting another RBI on a fielder's choice grounder in the eighth. 
Kevin Howard
followed with a two-run single and
Joel Galarraga
chipped in with an RBI single.  Glenn, Galarraga, Bocock and
Brian Van Kirk
supplied two-thirds of the team's hit total with three apiece.  Glenn, Bocock, Van Kirk and Galarraga reached base four times each.  Glenn was hit by a pitch while the other three walked.  Bocock and Van Kirk had doubles and Bocock also squeezed in a stolen base.  Bailli had the other multi-hit effort by adding a base hit to go along with his homer. 
Mike McDade
doubled and walked and
John Tolisano
had a single in six at-bats to make sure every Fisher Cat was represented in the hit column.
Yohan Pino
(5-3) limited Reading to two runs on three hits and a walk for the win. He rung up a pair of Ks and induced nine groundball outs over his six innings.  The bullpen locked it down with three perfect innings, one each from
Stephen Marek
, lefty
Aaron Loup
and
Sam "Iron Mike" Dyson
.  Dyson's two strikeouts bettered Marek's and Loup's totals by one.
Dunedin 10 Tampa 6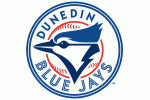 Dunedin, FL
- Dunedin grabbed a 6-0 lead and held on to it this time. 
Ryan Schimpf
got it started with a solo homer in the first for his 11th of the campaign. 
Kevin Ahrens
singled home a run in the second and
Justin Jackson
drove home two with a triple.  A three-bagger by
Oliver Dominguez
made it 5-0 in the third and he doubled home two more in the fifth.  A Schimpf sac fly in the seventh and a two-run homer by
Jon Talley
in the ninth rounded out the scoring. Dominguez led the attack with three hits on two doubles and a triple while Schimpf homered, tripled and walked.  Jackson had a double to go along with his triple.  Talley drew a walk in addition to his homer while
Marcus Knecht
and
Pierce Rankin
both
singled and walked. 
Jake Marisnick
was 1-for-5 but
Michael Crouse
was 0-for-4 with three Ks.
Marcus Walden
(1-1) lasted five innings and allowed a pair of runs on four hits, three walks and a hit by pitch.  He rang up five strikeouts and accumulated eight outs on the ground. 
Dustin Antolin
had a scoreless sixth inning despite a pair of hits.  Lefty
Boomer Potts
was victimized by an inside the park homer in the seventh and allowed two more Yankee runs in 1 1/3 innings.  He gave up three hits but punched out four without a walk. 
Evan Englebrook
could not strand the two Potts runners and could not get any outs over the three batters he faced on two hits and a walk. 
Danny Barnes
came to the rescue by stranding Englebrook's two runners and getting the final five outs for his 20th save.  He yielded just one hit while collecting a pair of strikeouts.
Lansing 11 South Bend 3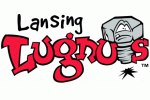 South Bend, IN
- Scoreless after three, the Lugnuts busted out for five runs in the fourth against the D-Backs affiliate.
K.C. Hobson
got the first run on the board with a sacrifice fly but the big blast came off the bat of
Kevin Patterson
, who connected for a three-run dinger, his ninth of 2012.  The Lugnuts scored once in the fifth without a hit as
Andy Burns
reached on a throwing error by the third baseman, stole second and third (to give him 14), then trotted home on another throwing error by the catcher.  Lansing only needed one hit to score in the sixth and that came courtesy of
Gustavo Pierre
, who put his second ball of the year over the fence.  Lansing put this one well out of reach with four runs in the ninth, thanks to
Kevin Pillar,
who belted a three-run shot for number five on the campaign.  Patterson had a 4-for-5 night at the plate.  Pierre, Pillar and
Jonathon Berti
had a pair of hits each.  
Andy Burns
was 0-for-3 and made two errors at short but walked twice.  Hobson and
Chris Hawkins
each hit a double. 
Kenny Wilson
singled and stole his 27th stolen base of the year. 
Aaron Munoz
drew a walk.
The beneficiary of all the offence was
Noah Syndergaard
, who improved to 5-2 with five innings of one-run, three-hit ball.  He got six strikeouts, six groundouts and walked nobody. 
Kramer Champlin
yielded two runs, including a homer, on three hits over two frames.  He had a 2-0 K/BB total and a 4-0 groundball/flyball ratio. 
Brandon Berl
survived two hits and struck out one over a scoreless eighth inning and
Philip Brua
closed the door with a perfect ninth.
Vancouver 4 Salem-Keizer 3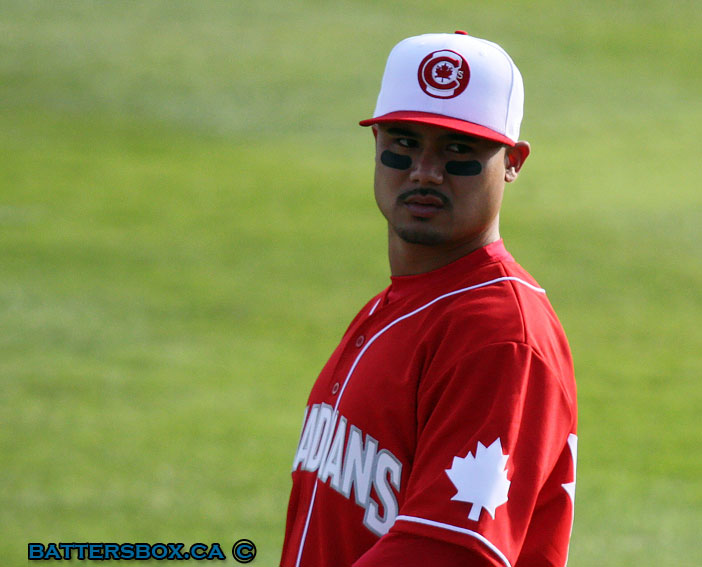 Nick Baligod
delivered the tying and winning runs with a two-run double in the third inning Tuesday.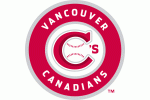 Vancouver, BC
- The C's hung on to salvage the finale of this three game set against the Giants affiliate, who made five errors in this one.  A
Dan Klein
sacrifice fly and a
Matt Newman
RBI groundout resulted in the first two runs of the game in the second inning.  The Volcanoes erupted for three runs a half-inning later but Vancouver got them back in the bottom of the third thanks to a two-run double by
Nick Baligod
.  Baligod and
Jordan Leyland
each had doubles and two-hit games with Leyland also drawing a walk. 
Kellen Sweeney
doubled and walked and
Daniel Arcila
added another two-bagger. 
Balbino Fuenmayor
was 1-for-4 and Klein was 0-for-2 with an intentional walk.  The top of the order,
Ian Parmley
and
Jorge Flores
, were a combined 0-for-9, while Newman was 0-for-4.
Ben White
(2-2) survived a shaky third inning and put together a quality start of three-run, six-inning ball.  He gave up a two-run homer that tied the game and loaded the bases before giving up a third run on a sac fly.  He settled down by retiring the next six hitters and 10 of his final 12, picking off a runner at first in the process.  In total, he had eight baserunners on three hits, four walks and a hit batsman but struck out six with five groundouts. 
Andrew Sikula
pitched a one-hit seventh,
Ian Kadish
worked a one-walk eight and
Drew Permison
stranded a two-out double by striking out the side in the ninth for save number three.
Pulaski @ Bluefield

Bluefield, WV
- Postponed due to rain.  The game will be
made up
as part of a doubleheader at Bowen Field August 20 at 7:05 pm ET.
GCL Blue Jays 4 GCL Yankees 3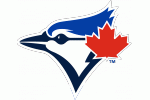 Dunedin, FL
- The Jays were down 2-0 early but responded with a run in the third. 
Wuilmer Becerra
was hit by a pitch and was replaced on the basepaths by
Dennis Jones
.  He moved up to second on a passed ball, stole third and scampered home on an error by the third baseman.  They scored three times to take the lead for good in the sixth as
Cody Bartlett
singled home a run and
Jesus Gonzalez
doubled home a pair. 
D.J. Davis
was the only Jay to get on base twice with a single and a walk.  He stole a base but was also caught once, making him 5-for-8. 
Derrick Loveless
doubled and
Justin Atkinson
,
George Carroll
and
Dawel Lugo
added singles. 
Jorge Saez
was 0-for-3 and Jones was 0-for-2.
Lefty
Jairo Labourt
got the start scattered two hits and a walk over two scoreless frames to go along with two strikeouts and two groundouts.  The Yankees got to southpaw
Zak Wasilewski
for two runs in the third but he kept the Bombers off the board in the fourth.  In total, he allowed two hits and two walks but struck out three.  The Yankees also got to lefty
Alonzo Gonzalez
for a run on three hits in one inning but he did get one K.  Left-hander
Francesco Gracesqui
(2-0) hurled two blank innings and giving up just one hit and racking up two strikeouts to earn the victory. 
Chuck Ghysels
, not a lefty, had an impressive two inning save by pitching one-hit ball while punching out four.
DSL Blue Jays 7 DSL Tigers 6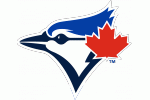 San Pedro de Macoris, DR
- The Jays fought back from 5-3 and 6-5 deficits in the last two innings of regulation to pull it out.  They struck first in the first on a two-run single by
Cesar Barazarte
and a wild pitch in the fourth resulted in another run.  An RBI groundout by
Rolando Segovia
and an RBI single by
Edwin Fuentes
tied the game at 5-5 in the eighth. 
Gustavo Perinen
tied it at 6-6 in the ninth with a run-scoring single before the winning run scored on a balk, of all things! 
Luis Martin
had a 3-for-5 day at the plate while Barazarte, Fuentes and Perinen were in the two-hit club.  Segovia and
Andres Sotillo
had a single and a walk. 
Juan Tejada
was 0-for-4 with a walk but
Juan Kelly
was just 0-for-4.
On the mound,
Francis Eduardo
endured a rough start.  He allowed all five runs over 3 2/3 innings.  One of the runs was unearned but he allowed seven hits and two walks.  Eduardo struck out a pair and four of his six outs in play were on the grass.  Lefty
Oscar Cabrera
plunked a pair of Tigers but delivered 3 1/3 scoreless innings by scattering three hits and striking out two with four groundouts. 
Miguel Castro
(1-0) was nicked for an unearned run but worked his way around a hit and two walks over two frames for the win.

*** 3 Stars!!! ***


3. Ryan Schimpf, Dunedin



2. Noah Syndergaard, Lansing



1. Brad Glenn, New Hampshire