It was a rough Monday night for the affiliates as they went 0-for-5 with one game suspended due to rain. Las Vegas and the boys in the Dominican had the day off.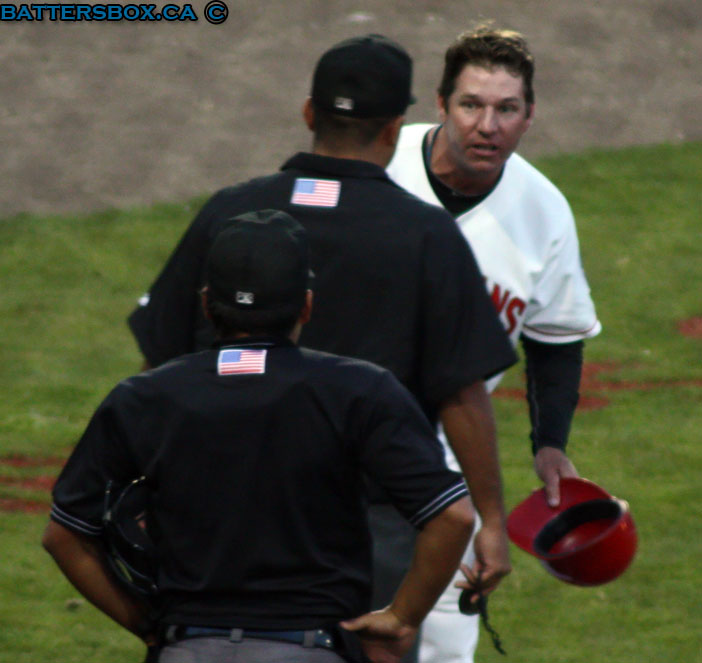 Vancouver Canadians manager
Clayton McCullough
gets ejected for arguing a blown strike three call and a balk that led to Everett tying the game in the seventh inning at Nat Bailey Stadium Monday night.
New Britain 7 New Hampshire 1

Manchester, NH
-
Chad Jenkins
(4-8) did not have his good stuff against the Twins affiliate as they got to him for a pair of runs in each of the first two innings. That set the tone for Jenkins, who was whacked for six runs (five earned but only because of his own throwing error) on 11 hits and two walks. He had just one whiff while his 14 outs in play were distributed evenly on the ground and in the air.
Stephen Marek
issued only one walk and struck out a pair over two scoreless frames.
Ronald Uviedo
gave up a solo homer on three hits in the ninth and struck out one.
Brian Van Kirk
made sure the Fisher Cats would not be shut out after putting one over the wall in the fifth inning.
Jack Murphy
,
Brad Glenn
,
Brian Bocock
and
Kevin Howard
had the other hits and
Ryan Goins
drew the lone walk and was promptly picked off in the first inning.
Jake Marisnick
was 0-for-4 in the leadoff spot, dropping his batting average to .158. However, he threw out a runner at third from center field.
Mark Sobolewski
and
John Tolisano
were a combined 0-for-6.
Tampa 4 Dunedin 1 (5 Innings)

Dunedin, FL
- One bad inning did in D-Jays starter
Ryan Tepera
(1-3). He was hurt by the long ball twice as the Yankees put up four runs in that fateful fourth. Tepera allowed four hits and three walks over five innings. He only struck out one but got seven of his 10 outs in play on the ground.
Dunedin's only run came as a result of a wild pitch in the fourth.
Marcus Knecht
and
Koby Clemens
hit doubles and
Kevin Ahrens
singled.
Jonathan Jones
walked in both of his plate appearances.
Jon Berti
walked once and stole a base and
Michael Crouse
was 0-for-1 with a walk.
Ryan Schimpf
was 0-for-3 while
Jon Talley
and
Justin Jackson
were 0-for-2.
West Michigan 6 Lansing 1

Comstock Park, MI
-
Anthony DeSclafani
(6-3) lasted five innings but the Tigers affiliate scored three times on six hits and a walk. He racked up three Ks and eight of his nine outs in play stayed on the grass.
Bryan Longpre
was hit around for three runs over his one inning of work thanks to four hits and a walk.
Aleson Escalonte
mopped up two scoreless frames, scattering a hit and a walk.

Kevin Patterson
prevented the shutout with a home run in the eighth and was the proud owner of two of the three Lugnuts hits.
Carlos Perez
had the other and also drew a walk.
Kenny Wilson
,
Andy Burns
,
Chris Hawkins
,
Kevin Pillar
,
K.C. Hobson
,
Gustavo Pierre
and
Shane Opitz
have had better days at the dish.
Everett 4 Vancouver 3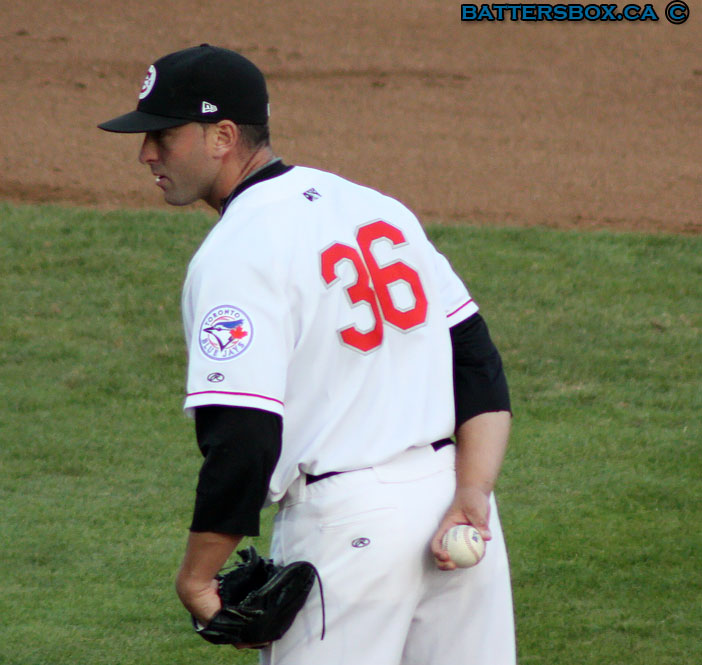 Canadians reliever
Ian Kadish
struck out five over three innings but suffered a tough blown save and a loss Monday against Everett.
Vancouver, BC
- The C's let a 3-1 lead slip away, allowing the Mariners affiliate to take two of three in their series and increase their division lead over Vancouver to 3 1/2 games.
Derrick Chung
drove home two runs with an RBI groundout in the second and a sacrifice fly in the fourth and
Jason Leblebijian
brought home the other with a sacrifice fly in the third. Save for an Ian Parmley single in the seventh, the C's bats were silent until the ninth.
Dan Klein
and Chung drew one-out walks only to see Parmley go down swinging.
Balbino Fuenmayor
came off the bench to pinch-hit for DH
Jorge Flores
and lifted a towering fly ball deep to left field but it died at the warning track to end the game. Missed it by that much!
Parmley and Flores had two hits apiece and
Jordan Leyland
had the other. Matt Newman was 0-for-2 with a pair of walks.
Tucker Frawley
drew a walk in his lone at-bat before being replaced behind the dish by Klein.
Kellen Sweeney
was 0-for-3 with a walk but added a stolen base and another nice defensive play with a diving stop at third base to force a runner at second and almost starting a 5-4-3 double play.
Nick Baligod
was 0-for-4 and
Daniel Arcila
pinch-ran for Klein in the ninth.
Lefty
Kyle Anderson
got the start for Vancouver and was burned by a two-out solo homer in the first. That was his only blemish in four innings as he limited the damage to a pair of hits and a walk. He struck out three, induced five groundouts and picked off a runner at first.
Jonathan Lucas
got the next five outs but allowed a run in the fifth on a double and two groundouts and left the bases loaded with two outs in the sixth on a hit and two walks.
Ian Kadish
came to the rescue and stranded the bases loaded with a flyball out. Kadish got into trouble in the seventh after a double and a bunt single on a ball that stopped dead at the third base bag. Kadish was a strike away from getting out of the jam but he did not get the call on a 2-2 pitch. Then he balked home the tying run. After Kadish got out of the inning, C's manager
Clayton McCullough
reamed out the home plate umpire and tossed his helmet in frustration. In turn, the ump tossed McCullough. Kadish bounced back by striking out two of the three batters he faced in the eighth with his heater averaging 92-93 miles per hour. In the ninth, Kadish retired the leadoff man but issued a walk and then uncorked a wild pitch to second. He got another groundout to complete a three inning, two-hit outing that included a 5-1 K-BB ratio.
Drew Permison
could not bail out Kadish as he gave up a single to the first he batter he faced to allow the winning run. He also walked a batter before getting a strikeout to end the frame.
Bluefield 1 Burlington 0 (Bottom 1st)
- Game suspended due to rain and will be
made up
in its entirety as part of a doubleheader August 10.
Burlington, NC
-
Christian Lopes
doubled home a
Chris Peters
single to give the Jays a run in the first inning. The Royals were threatening in their half of the first after getting to lefty Daniel Norris with a pair of singles and a stolen base to put runners at the corners with nobody out and
Bubba Starling
, the fifth overall pick of the 2011 draft, due up. Cliffhanger!
GCL Phillies 5 GCL Blue Jays 4
Dunedin, FL
-
Adonys Cardona
got the start and gave up a pair of runs in the second inning. He lasted 2 1/3 frames in which he yielded three hits and plunked a batter. His K-BB total was 2-0 and three of his four outs in play remained in the diamond.
Mark Biggs
stranded a runner and put together 2 2/3 scoreless innings of two-hit ball. He struck out four and induced a pair of groundouts.
Adaric Kelly
received a blown save after allowing the Phillies to score twice on three hits. He struck out one and walked nobody.
Chuck Ghysels
(0-2) took the loss after allowing a run on two hits over two frames but he struck out a couple.
Tim Brechbuehler
surrendered two hits but worked a scoreless ninth with a strikeout. He got a huge assist from Derrick Loveless, who threw out a runner at the plate from left field.
The Jays fought back from an early 2-0 deficit with four runs in the bottom of the second. The big blow came from
Jorge Saez
, who socked a three-run homer after an RBI single by
John Silviano
.
Justin Atkinson
was on base three times with a single and two walks. Former Guelph Royal
Shaun Valeriote
doubled and walked while Silviano added a walk to his single.
D.J. Davis
was 0-for-2 with a walk and a hit by pitch. He stole a base but was also caught once. Loveless had the other base hit.
Cody Bartlett
,
Jesus Gonzalez
and
Dawel Lugo
each wore the collar in four at-bats.
*** 3 Stars!!! ***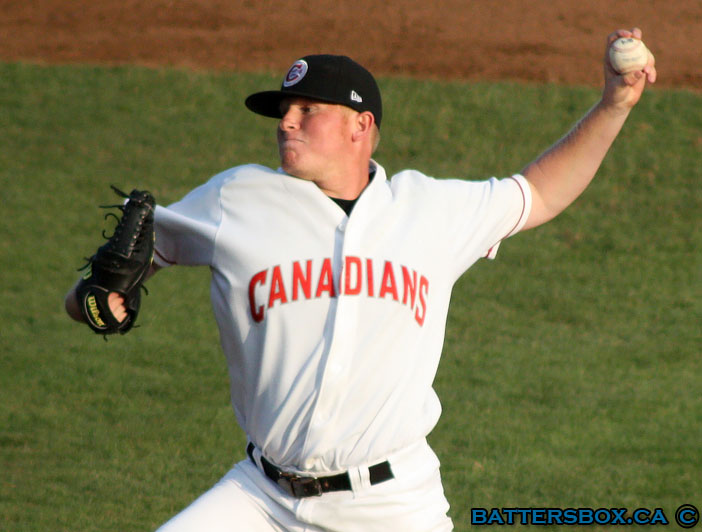 3. Kyle Anderson, Vancouver.
After two relief appearances, Anderson lowered his ERA to 2.25 in his first start of the season.


2. Mark Biggs, GCL Blue Jays.
Biggs has strung together 5 2/3 scoreless innings over his last two appearances with a 8-1 K/BB ratio.


1. Kevin Patterson, Lansing.
Patterson has 4 homers and 13 runs batted in to go along with an OPS of 1.165 over his last 10 games.