A 3-2 Friday night on the farm saw one of the affiliates clinch a playoff berth.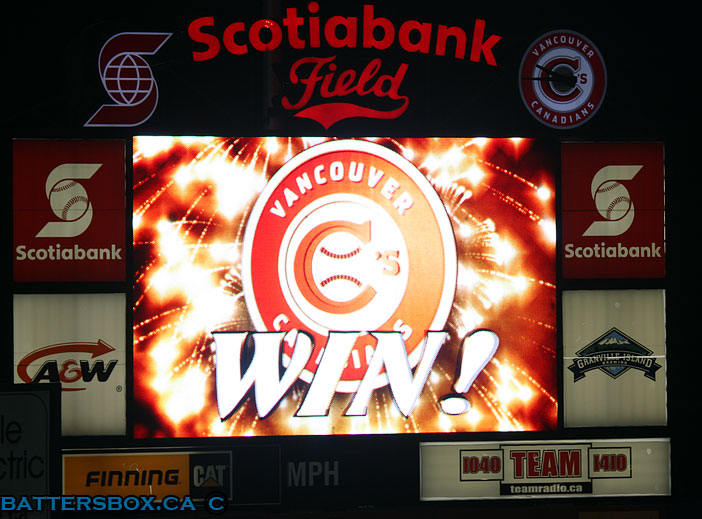 The Vancouver Canadians will get a chance to defend its Northwest League championship as they host Everett in Game 1 of the NWL West Division playoffs Monday afternoon at Nat Bailey Stadium.
Las Vegas 8 Colorado Springs 4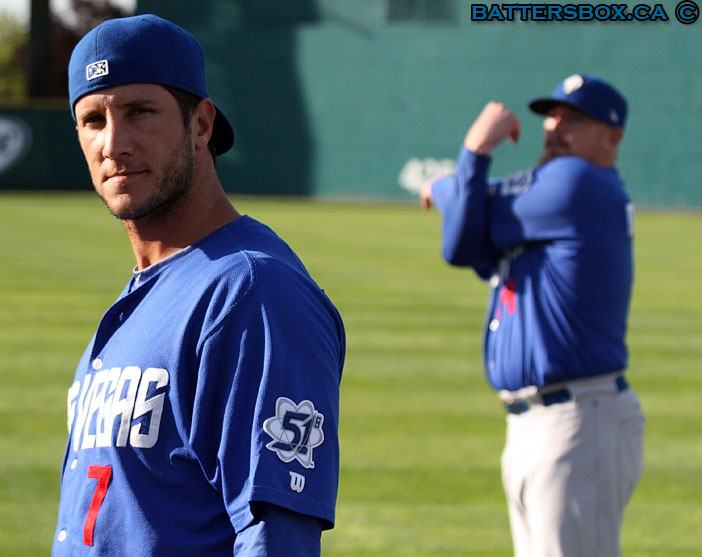 Yan Gomes
was 2-for-3 with a walk and a stolen base in Colorado Springs Friday.
Bill Murphy
(right) is stretching and not flipping somebody off.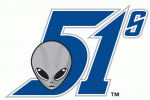 Colorado Springs, CO
-
Yan Gomes
drove in the 51s first two runs with a sacrifice fly in the first and an RBI single in the third. A
Kevin Howard
two-run triple in the sixth gave Las Vegas more breathing room in the sixth before
Ricardo Nanita
rocked the Sky Sox with a grand slam in the seventh.
Anthony Gose
and
Tuffy Gosewich
joined Gomes and Howard in the two-hit parade. Gosewich had two doubles, Gose stole three bases to run his total to 34 and Gomes drew a walk and stole a bag.
Mike McDade
singled and walked twice.
Scott Richmond
(11-7) ended his season on a high note by throwing five shutout innings against the Rockies affiliate. He allowed six hits but matched that with six Ks, including one against
Jason Giambi
. Four of his six outs in play were on the grass and 54 of his 83 pitches were called strikes.
Jerry Gil
was pounded for four runs on five hits and a walk while hitting a batter over 1 1/3 innings. He only struck out one. Gil was bailed out by
Chad Beck
, who stranded a pair of runners and pitched 2.2 innings of scoreless, two-hit relief for his 17th save.
New Britain 4 New Hampshire 3
New Britain, CT
-
Deck McGuire
had a decent start against the Twins affiliate. The Rock Cats scored three runs over five innings against the Georgia Tech alum but one of the runs was unearned as the result of a
Koby Clemens
passed ball. McGuire scattered six hits and hit a batter but his K/BB total was 2-0. Four of his 11 outs in play did not leave the infield.
John Stilson
survived a hit and a walk to pitch a scoreless sixth inning thanks to a pair of groundouts.
Michael Dubee
posted a goose egg in the seventh inning, giving up just one hit.
Chorye Spoone
walked a pair but hurled a scoreless eighth.
Ronald Uviedo
(5-3) retired the first hitter of the ninth but a walk and a double gave the Fisher Cats a walk-off loss.
An RBI single by
Mark Sobolewski
provided the Fisher Cats with a 1-0 lead in the first inning.
Ryan Schimpf
homered in the sixth to give him eighth on the season and
Jake Marisnick
tripled home the tying run in the seventh. Marisnick and
Brian Van Kirk
had two hits apiece. Schimpf added a walk with his homer and
Ryan Goins
had a hit and a base on balls.
Clearwater 8 Dunedin 5
Dunedin, FL
- The Dunedin debut of
Tucker Jensen
(0-1) did not go as planned against the Phillies affiliate. Over 4.1 innings, Jensen was whacked for seven runs on nine hits and two walks while committing a balk. He only struck out one batter but got six groundball outs. Langley, BC's
Brandon Kaye
only permitted a hit and a walk over 2.2 innings while racking up three Ks. Lefty
Willie Collazo
finished up with two innings of one-run, three hit ball that included one punchout.
The Dunedin offence did not wake up until the sixth inning, when they were down 7-0. They got three runs back courtesy of "the two Kevins".
Kevin Pillar
produced a run-scoring fly ball and
Kevin Ahrens
followed with a two-run homer, his 8th of the year. The other Dunedin runs came from a
Kenny Wilson
RBI single in the seventh and an
Amadeo Zazueta
sac fly in the eighth. Wilson had a hit and a walk and
Oliver Dominguez
drew a walk and was hit by a pitch. Zazueta and
Marcus Knecht
had doubles. Pillar stole his 15th base of the year.
Lansing 5 South Bend 4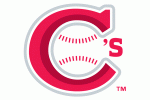 South Bend, IN
- The first run of this game did not come until the seventh inning when
Kevin Patterson
put a ball over the wall for a solo shot, his 19th of 2012. That opened the floodgates to a five-run inning in which
Dalton Pompey
tripled home two runs and then scored on an error. A wild pitch was responsible for the other run.
Chris Hawkins
was the only Lugnut to collect two hits and
Nick Baligod
reached twice with a single and a walk.
Gustavo Pierre
was 1-for-4 but struck out twice.
Noah Syndergaard
faced just one batter over the minimum over his five innings of work. A two-out single and a stolen base in the first inning was all the Diamondbacks affiliate could accomplish against the big righty, who set down the last 13 hitters in a row. He struck out nine, five of them looking, and his groundout/flyout total was 5-1.
Brandon Berl
(4-7) was perfect over his two frames and struck out a batter.
Ian Kadish
was charged with all four runs over two-thirds of an inning after allowing three hits and a walk while striking out one.
Ajay Meyer
could not strand a runner for Kadish and gave up two hits but he retired the last four hitters, one via a strikeout, to nail down his 33rd save.
Vancouver 3 Yakima 1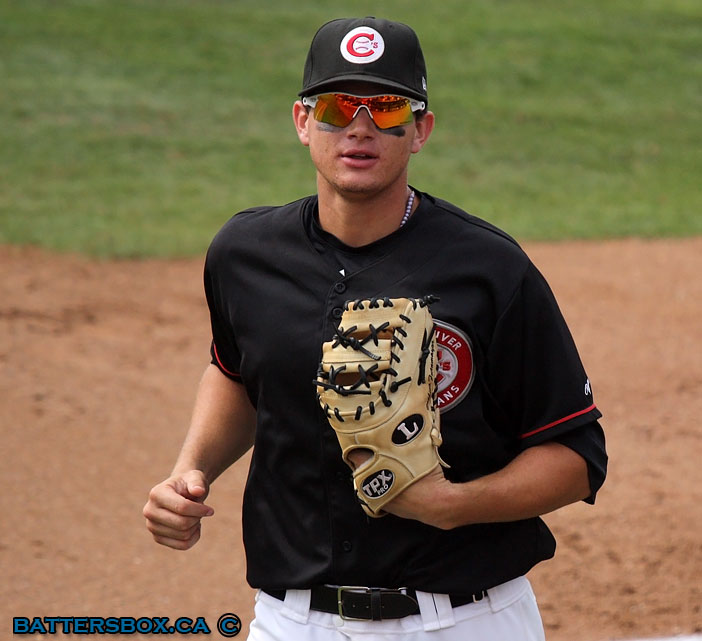 Balbino Fuenmayor
had a hand in all three of Vancouver's runs against Yakima Friday night to help them reach the post-season.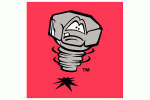 Yakima, WA
- A
Christian Lopes
triple cashed in a
Balbino Fuenmayor
hit by pitch for the first run of the game in the fourth inning. Fuenmayor would give the C's the lead for good with an RBI single to score
Kellen Sweeney
, who singled and made it to third on two wild pitches. A Fuenmayor fly ball would score
D.J. Davis
with an insurance run in the eighth. Davis collected his first hit with Vancouver with a single and got to second on a balk. He was pushed to third on a Sweeney groundball to first before scoring. Sweeney had two hits and Lopes drew a walk to reach base twice.
Dwight Smith Jr.
was 0-for-3.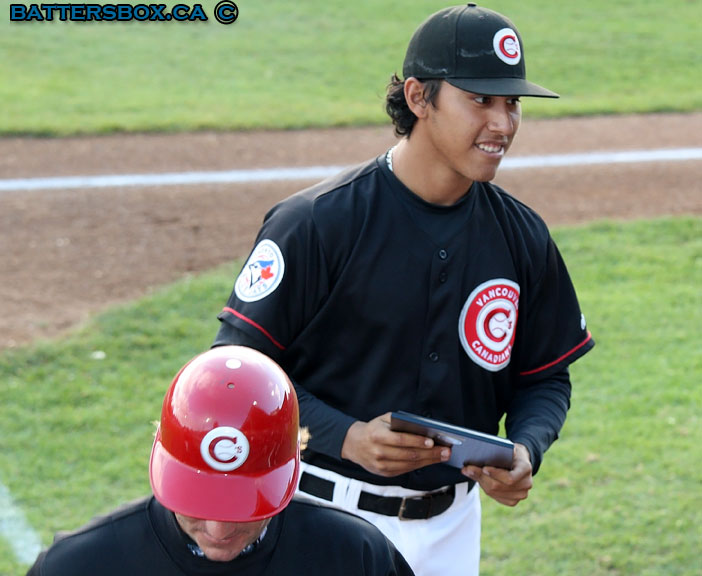 Javier Avendano
, receiving his third Northwest League Pitcher of the Week award from Vancouver manager
Clayton McCullough
August 23 at Nat Bailey Stadium, pitched five solid innings Friday to earn another victory against Yakima.

Javier Avendano
(8-1) got the job done again with a 1-2-3-4-5 effort over five innings. He allowed one-run on two hits and three walks but he struck out four and got five groundball outs. Lefty
Colton Turner
survived a hit and a walk and struck out one over 1.2 scoreless frames. Like Turner,
Wil Browning
earned his third hold of the year with 1.1 scoreless innings that saw him yield just one hit while striking out one.
Arik Sikula
punched out two batters in a perfect ninth for his 10th save. The C's punched their ticket to the post-season with their victory and Eugene's 3-1 to Spokane.
*** 3 Stars!!! ***



3. Javier Avendano, Vancouver.
Avendano lowered his earned run average to 1.27
with Vancouver.


2. Scott Richmond, Las Vegas.
The North Vancouver native surrendered just one run over his 11 last innings to go 2-0 over his last two starts.


1. Noah Syndergaard, Lansing
. Syndergaard has spun 10 shutout innings over his last two starts and has punched out 122 batters in 103.2 innings.