Room For Improvement
Tuesday, April 01 2003 @ 09:03 AM EST
Contributed by: Coach
That was not the real Roy Halladay out there last night. Home plate umpire Joe West squeezed him pretty good, from where I was sitting (admittedly not the best vantage point) -- four walks and two HR is about a month's worth for Doc, and I pity his next opponent. I'm not even going to look up the exact numbers, but Halladay had an incredible total of unearned runs allowed last year, and five already this year. O-Dog's error shows you why I've tagged his fielding with the spectacular-but-erratic label. Not all 2B would have got to that ball up the middle, but those that did would all have made a better throw.

I didn't think my dislike for Roger Clemens could ever become hate. I was wrong. I'm sorry it had to be Jeter who got the karmic retribution for that disgusting pitch at Phelps from the gutless wonder, but I cheered at the time. A good hard tag to the face was certainly called for; Halladay didn't seem to have his heart in the retaliatory shot to Mondesi -- did he hit him with a curve? -- and since Clemens always hides behind his teammates, they have to pay his debts. As much as I wanted him to get shelled, I have to admit the loathsome Rocket was sharp, using the splitter a lot against the overeager young Jays, when he wasn't throwing at their heads.

It wasn't all bad, between the lines or in the stands. The crowd was lively, and I sure didn't miss the canned sound effects and deafening music, but I enjoyed the pre-game festivities. Here's the box score.

[rant] I want to point out that both catchers who are major-league hitters went 1-for-1, while the guy who shouldn't be here, in addition to the notoriety he'll get for crashing Jeter, had three AB that can only be called embarrassing. But that's nothing new; here's a photo from last year where he at least made contact: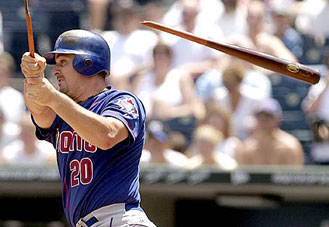 Nobody appreciates Huckaby's subtle receiving skills more than I do; I believe Ernie Whitt should be "promoted" to doing PR functions around Ontario, and Huck should become the organization's roving catching instructor. But even if he's the greatest defensive C of all time, when you factor in his offence, he's a huge liability to this team. It's too bad, because he's a great guy; when a teammate like Dave Berg refers publicly to his first MLB single, a weak opposite-field grounder, as a "Huckaby hit," you know that Ken has a sense of humour about it and that Berg really likes him.

Early last year, on ESPN.com, I was all over the lame-duck manager and Joey Lawrence, calling in every column for both Buck and "Buck-Eighty" to be replaced. Huckaby's continued presence contradicts the entire Blue Jays philosophy -- to get on base and outscore opponents is supposed to be more important than a black hole in the batting order who is adept with the glove. (See Catalanotto, Frank vs. Cruz Jr., Jose). When Halladay is on, anybody can catch him. When he's not, it's even more important not to concede those extra outs. [/rant]

I couldn't understand why Pete Walker came in instead of Trever Miller, with three of the next four hitters batting left. But he pitched well, and even though it was a mopup situation, it can be interpreted as a sign of Tosca's confidence in Walker. Doug Linton was also effective. Someone needs to tell the scoreboard and laser show people how to spell Trever's name, by the way. Eric Hinske had a strange night; he was badly fooled on a lot of pitches, but the two he did hit were absolutely ripped.

There's an inch of snow on the ground, so I have decided to cancel today's UFA practice, and I'll be at the Dome again this afternoon, with a much better vantage point. We'll see Tosca's platoon lineup against Pettitte, but if Huckaby starts instead of Wilson, you can expect to read quite a bit about it here later tonight. Dave Berg at 2B (or RF) and Mike Bordick at SS I can live with; not that I think Woodward or Hudson should be benched, but it's important to get the utility guys some action early in the season, and both Woody and O-Dog fare better against righties. One game does not a season make, and this series is still winnable; much depends on Cory Lidle keeping it close today.





---

https://www.battersbox.ca/article.php?story=20030401090325999