Blue Jays Scouting Director Jon Lalonde: Part 1
Wednesday, October 08 2003 @ 12:48 PM EDT
Contributed by: Jordan
On the Blue Jays' official MLB Website, there's a complete list of the club's entire front-office personnel, with Paul Godfrey and JP Ricciardi at the top and scores of names below, more than 200 in all. The list covers such diverse areas as corporate marketing, IT, player development and merchandising. A major-league ballclub's corporate roster is surprisingly deep and multi-faceted.

Few of these divisions, however, are more important than the Scouting Department, whose 29 listed and many more uncredited members are spread throughout the world, from Canada down throughout the U.S. and into the Caribbean, down as far as Venezuela and across an ocean to Australia. The scouting team includes names like former big-leaguer Sal Butera and Canadian Amateur Baseball Ambassador Jim Fanning.

And standing on top of this list of names is the Blue Jays' Director of Scouting: 27-year-old Jon Lalonde of Wyevale, Ontario. The story of how he got there, and how he's contributing to the Blue Jays' renaissance, is the raw material from which young Canadian baseball fans' wildest dreams are woven.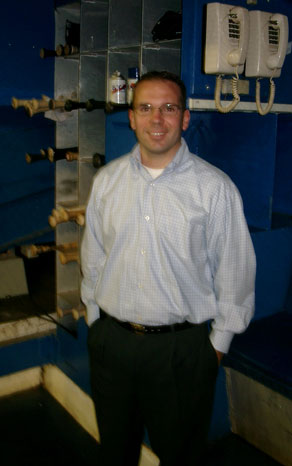 Jon first came to the attention of most Jays fans last July, when he moved up from Scouting Coordinator to become Director of Scouting as part of a personnel shuffle that saw his predecessor in the position, Chris Buckley, promoted to Assistant General Manager. But he's actually been with the ballclub since 1999, when he executed a textbook lesson in how to get the job you really want.

In 1999, Jon was a 4th-year student at Laurentian University in Sudbury, Ontario, studying Sports Administration under the highly respected Benoit Seguin. Part of the curriculum was the completion of a group field project, a popular initiative that had taken past classes to locales like Miami, Los Angeles and New Orleans. But when it came time for Jon's class, the destination was slightly less exotic: they were heading down Highway 400 to Toronto.

Jon didn't waste time reflecting on his "bad luck," though: he took the opportunity to make his target corporation none other than the Toronto Blue Jays.

"With a group of five other students, I prepared and presented strategies to gain and retain season-ticket holders," Jon told Batter's Box in a recent interview. Among those who heard his presentation were Mark Lemmon and Rob Mackay of the Jays' Corporate Partnerships Department, and they were impressed. Lemmon spoke with Jon afterwards and told him he'd enjoyed the presentation; not only that, but he said that if an opportunity ever arose with the Blue Jays, Jon would be considered. "Naturally, being a huge Blue Jays fan, I was thrilled," he says.

That November, an opening did present itself. "Mark was true to his word," says Jon, who was hired into the Corporate Partnerships Department. But he didn't stay there long.

"About a year after I started, a gentleman in the Scouting Department left to join the St. Louis Cardinals organization," he recalls. "There was an internal posting of the position, and I decided to apply. The post was largely administrative, but it was baseball-related, so I thought it would be a great opportunity." His decision was a turning point: he became the organization's Scouting Coordinator in January 2001.

How did a Canadian kid in his mid-20s end up in such rarefied territory? You can trace it all back to Wyevale, a small community about 150 km north of Toronto in the Midland area, where Jon and his sister Stephanie were raised by his parents Allan and Carol Lalonde. He attended Penetanguishene Secondary School, which although small, always had powerful sports teams. "Playing and watching sports were my pastimes growing up," he says. "When we had to do an essay in school, I always wrote about baseball or sports in some capacity. I had a one-track mind."

Wyevale, Jon says, "was a great place to grow up. There were always lots of activities, both summer and winter. I was a sports nut growing up through public school and high school, so I kept busy with every sport imaginable, really. I played everything at school — basketball, volleyball, track & field, soccer, pretty much everything that was available.

"Other than hockey," he adds. "I just never really got into hockey."

Anathema, you say. How could any red-blooded Canadian kid not be wedded to the National Game? "My Dad was very influential with that," Jon says. "He'd been a big hockey guy growing up, but he never pressured me into playing hockey. I loved to play street hockey with my friends at school and after school, but for whatever reason, I never had the interest to really play organized hockey."

What he did take to, and quickly, was baseball. "I can remember my Dad pitching to me in the backyard when I was very young, and I just loved to hit," Jon remembers. "So he signed me up for baseball the first year I was eligible, and because he had been such a good instructor, they moved me up to play with older kids. I just took to the game and loved it."

Jon played ball every summer until he went to university, including in many organized leagues. "With Midland, we had great success and a lot of fun," says Jon. "We went to the Ontario Provincial Championships every year except one." His teams' string of success including winning the Provincial Juvenile "C" Division Championships in Brantford in 1994 and reaching the finals in "D" Division the following year.

Like many talented youngsters, Jon's position was Everywhere, but his best position (and favourite one) was catcher. "I also played third base and left field," he adds. "But I was not a good third baseman; my arm was very erratic. I was OK in left field, but catching was my thing." His career highlight? "Winning the championships in 1994, definitely. We had been so close, so often. I hit a two-run homer in the first inning of that game, too. I think we ended up winning 5-4."

So how did his enthusiasm and love for the game lead to a position as Scouting Coordinator for a major-league ballclub in his mid-20s? "I really kind of snuck in the back door in terms of scouting," he says. "My interest in scouting was the direct result of my enthusiasm for the game. I love to play it, I love to watch it. As you guys know, everyone who is a fan of the game is a scout in some regard. Every fan is constantly evaluating performances and forming opinions on players they like and don't like."

But Jon knew he still had a learning curve ahead of him, and applied himself to the task. He attended Major League Baseball's famed Scouting Development Program in Arizona in 2001. "That was a great resource," he observes. "It allowed me the opportunity to learn some of the science involved with scouting — how to properly write reports, how to compare one player to another, what to look for when evaluating players."

Jon also has had the benefit of working with all the organization's scouts over the last three years. "I've watched games with them and spent countless hours discussing players with them," he says. "Naturally, since I began working in the Department, I've watched all of our major-league games and had assignments to the Arizona Fall League, spring training assignments and selected amateur assignments."

His experience as Scouting Coordinator helped prepare him for the role he assumed in July. "There's a natural link between that role and the Scouting Director's role," he notes. "I've dealt with the administration of the Department, and will continue to be involved with things like budgets, pro coverage assignments and staffing decisions. My involvement will not be quite as hands-on, however. Some of those responsibilities will be delegated."

So what does a Scouting Director do? "My role is essentially to oversee the activities of the Scouting Department. I'm responsible for ensuring that our scouts are seeing the right players and are making the best use of their time and the club's money."

The key to the Scouting Director's year, of course, is the First-Year Player Draft in June. "That's my focus," says Jon. "I'll travel this fall and next spring to evaluate players in preparation for the Draft. As Scouting Director, I'll see the top 75 to 100 players next year and offer an opinion as to how I feel they rank."

What is the organization looking for in draftable players? How does the club's budget affect the scouting philosophy? Does Jon have any advice for Jays fans who'd love to follow in his footsteps? Answers to these and other questions will be provided as our interview with Jon Lalonde continues over the next couple of days.
---

https://www.battersbox.ca/article.php?story=20031008124858999