A Conversation With Kevin Cash
Wednesday, April 14 2004 @ 09:45 AM EDT
Contributed by: Coach
Weíre delighted to welcome another Blue Jays regular into the Batterís Box. Thanks very much to Kevin Cash for taking the time to chat prior to a game last week at SkyDome. The rifle-armed rookie is off to a great start this season, taking his biggest step yet toward shedding the "good field, no hit" label with the first 4-for-4 game of his young career last night in Detroit.

The accompanying photos are by Aaron Reynolds. In addition to his important duties as the Blue Jays Cheer Club founder, "Named For Hank" is now the official photographer of Da Box.
High schools in Tampa, Florida have produced a steady stream of major leaguers over the years: Dwight Gooden, Fred McGriff, Tino Martinez, Kenny Rogers, Brad Radke, Gary Sheffield and Luis Gonzalez, to name just a few. In that competitive baseball hotbed, a teenaged Kevin Cash was an all-state shortstop at Gaither High. He built on that success over three years at Florida State, one of the top baseball schools in the NCAA. After playing sparingly as a freshman on a club led by J.D. Drew, Kevin hit .296 as a sophomore in 1998, with seven homers and 48 RBI in a 71-game campaign. The following year, he boosted those numbers to .317-14-58 in 252 AB and received All-Conference recognition in the ACC, when the Seminoles went to Omaha, losing 6-5 in the championship game. As the starting third baseman for FSU, he had been MVP of the regional tournament.

With those impressive credentials, it had to be a shock to Cash when all 30 teams bypassed him in the amateur draft.

"I was a little surprised," he admits. "My senior year in high school I had a really good year. My junior year in college was pretty good, and usually a lot of players get drafted from Florida State, so it was a bit of a disappointment."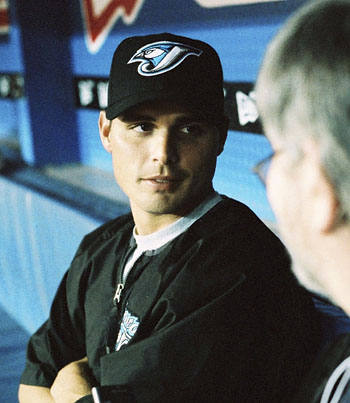 Ever notice how some players seem "larger than life" up close? That's not the case with Cash. I suspect that he was wearing full equipment, including spikes, when measured at an even six feet and 190 pounds. Though he's wiry and athletic, pro scouts believed he simply wasnít big enough to be a big-league corner infielder. In hindsight, Kevin doesnít disagree with that notion.

"I trust their judgment, and obviously it proved to be right. Looking at it now, I donít think I would have made it to this level playing third. The guys up here can hit with a lot of power ó certainly more than I have ó so I understand what the scouts were seeing."

The idea of becoming a catcher had never occurred to him, though he was a versatile infielder.

"My freshman year of college, I played everywhere, just to get in ó first, third, a little short ó then my junior year, I mostly played third, but when our shortstop was hurt for about a month, I moved there."

Undeterred by his free agent status, Cash spent the summer in the Cape Cod League, where he made the All-Star team ó as a third baseman. Thatís where, he says, "I was fortunate to be seen by the right people."

It came as a mild surprise when he was asked to take infield behind the plate at the CCBL All-Star game, but Kevin, a team player, was willing.

"I didnít care; I figured if it was going to help, why not go ahead and do it?"

What the young man didnít know was how closely that warmup was being observed. At the time, it seemed like a coincidence.

"About a week prior to that, both our catchers were hurt, and I had volunteered," he recalls. "After the first inning, a scout walked over to my coach and asked him to get me out of the game. They pulled me and put somebody else in there ó I didnít really understand why at the time."

It was Ted Lekas of the Jays, still with the team as a pro scout, who first spotted Cashís defensive potential as a backstop, and wanted to keep his find a secret. Tim Wilken also got involved in signing the diamond in the rough.

"A couple of other teams were interested," Kevin says, "but the Blue Jays were the most persistent."

In 2000, he began his pro career with Hagerstown in the South Atlantic League. Having never played short-season ball, the leap to a full-season league would have been enormous for almost anyone, but Cash was also trying to learn a new position, arguably the most difficult in the game, from scratch. He gives a lot of credit to his first tutor.

"Ernie Whitt has been the biggest factor in my career, without a doubt. You donít find too many guys who can transform players as well as he did with me."

Even on an accelerated program, with a personal instructor, the conversion didnít happen overnight.

"I think I caught on fairly quickly, but Ernie showed a lot of patience with me. At third, it was mostly catch the ball and hit the ball, but thereís a lot of thinking going on when youíre catching."

From the beginning, Cash had no trouble throwing out runners, nailing 37 of 67 that first year, and Whitt continued to help him with the mental game.

"Thatís a big part of being a catcher," he believes. "Itís a learning process; Iím still learning now. There are times when I look back on a game and think maybe that wasnít the best pitch to call ó you try to limit those."

Heís calling his own game in the Show, but Kevin keeps his role in perspective.

"For the most part up here, pitchers have the final say," he explains. "What Iím doing is more of a suggestion. I donít have a problem with that being on my shoulders ó I like it that way ó but Iím not going to tell Doc Halladay what to throw. I put down what I think he should throw, and if he shakes to something else, weíre gonna throw what he wants."

When that does happen, Cash has a pretty good idea what Roy is thinking, though it takes time to develop that rapport.

"Weíve got a couple new pitchers, Miguel Batista and Ted Lilly, that Iím still getting used to," he admits, "but it went pretty smooth in spring training."

The feeling is mutual. After his first start as a Blue Jay, Lilly told reporters, "I definitely like working with Kevin back there. He calls a good game."

At the same time he was mastering the nuances of his position in the minors, Cash was challenged as a hitter each time he moved up the ladder. His .245 with 10 homers in Low-A was promising, under the circumstances, and he had a fine season for Dunedin in 2001, batting .283 with 12 homers and being named the Florida State Leagueís all-star catcher. He advanced two more levels the next year, spending just half a season in AA before earning a promotion to Syracuse. He played for Team USA in the Futures Game in 2002, and was an All-Star again in AAA last year. His stellar defence hasnít missed a beat, but as a hitter, each step up to a new level becomes more difficult, says Kevin.

"It took more time in Triple-A, for sure, and of course, in the big leagues. From AA to AAA is a big jump ó you see a lot more offspeed pitches in fastball counts."

Sometimes a hitter can be his own worst enemy. Cash is candid about his early struggles.

"If I was slow to adjust, itís mostly because of my stubbornness. I was taking checked swings at pitches I shouldnít be swinging at; it took a while to learn to lay off and wait for a better pitch. Iím making progress, but obviously itís something I have to continue to work on."

Reminded of a Spencer Fordin piece from spring training that mentioned his success emulating one of Vernon Wellsí hitting drills off the curveball machine, Cash nodded and smiled.

"I do that every day. This team is great; you get to watch a variety of different types of hitters, and I donít think I can go wrong watching a guy like Vernon."

He also gets daily advice from hitting coach Mike Barnett.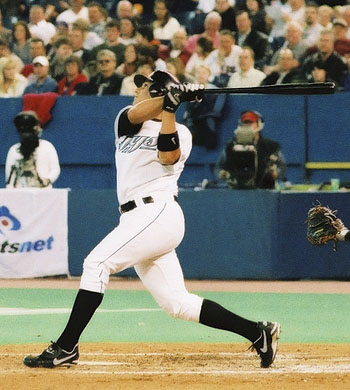 "Donít overswing is a big thing with me. Barney points that out, and I agree. When you overswing, it seems like you tend to be late on pitches. If you just relax and take a nice, easy cut, your timing is a lot better."

In a spring training report by Mike Rutsey of the Sun, Barnett said he believed Kevin had "turned a corner" with the hard work he put in over the offseason.

"I think we've got to the point in the past few weeks where he's real comfortable with his mechanics and now he's got a lot more confidence and can let the ball travel and make adjustments on the pitches."

Our conversation was after batting practice on the second day of the regular season. Needless to say, Cash wasnít satisfied with the opening day loss to the Tigers, giving his own performance (1-for-4 with a baserunner erased) a mixed review.

"I came up earlier with an opportunity to knock a run in, and didnít do the job. I canít let that happen too many times, but it did help to get that first hit."

Since then, Cash has more than held his own with the bat, as one of the bright spots in a Jays lineup that has yet to explode the way it did in 2003. He'll never be Mike Piazza with the stick, but the memory of last yearís .142 with 22 strikeouts in 106 AB is beginning to fade. A 3-for-5 at Fenway Park last Friday included two doubles and three RBI, then he added three more doubles and an infield single last night in Comerica to raise his average to a lofty .364 for the young season.

While no doubt pleased to be contributing to the attack, Cash knows itís his glove that makes him valuable. Lightning-quick feet and superb balance are the foundation for his arm ó he gunned out his third runner of the season (in just four attempts) last night, and has almost picked off several others already with snap throws to every base after pitches. The rookie has been getting pointers from bench coach Joe Breeden, who is also the new Toronto catching instructor. Thatís just fine with Kevin.

"For four years, I heard one main person, Ernie Whitt, so itís always good to hear from different people, with different philosophies," he says. "Joeís brought a lot of interesting thoughts about the game, and I enjoy having him here. Last year, John Gibbons was working with the catchers. They all have a lot of good ideas; I just have to find what works best for me."

If it's a matter of dedication and intensity, Cash will succeed. It's hard to believe he has come so far in just four professional seasons, and encouraging to realize how focused he is on improving every aspect of his game.

Most organizations in baseball envy Toronto's young talent behind the plate. Hard-hitting prospect Guillermo Quiroz, no slouch defensively, has advanced through the system to AAA, and is expected to reach the majors by next year. With the continued development of Kevin Cash into a top-flight big-league receiver, it looks like the Jaysí catching for the next several years will be in excellent hands.
---

https://www.battersbox.ca/article.php?story=20040414094519999