Jerry Howarth Q & A (Vol. 1)
Tuesday, April 20 2004 @ 11:31 AM EDT
Contributed by: Coach
Welcome to the first installment of a new Batter's Box feature. Impressed by the quality of questions presented in the "Ask Jerry Howarth" thread, the Blue Jays broadcaster has agreed to do this with us again on a regular basis. We're very grateful.

My apologies if I paraphrased, combined or omitted any of your questions. Though Jerry was generous with his time on Sunday morning, he did have a game to call, and we tried to get to as many as we could. Perhaps as this season progresses, there will be more focus on what he's seeing on the field and in the Jays' clubhouse. This time, we get to know Jerry a little better, beginning with his responses to our Roster questionnaire.
2B Jerry Howarth
Bats: Right
Throws: Right
Born: March 12, 1946
Resides: Toronto, Ontario, Canada
Major-League comp to Little League career: Dave Berg
Favourite Team: San Francisco 49ers
Favourite Player (current): Greg Myers
Favourite Player (all-time): Willie Mays
Best Game attended in person: Game 6 of the 1992 World Series in Atlanta. Final Score in 11 innings: Blue Jays 4 Atlanta 3
Best Baseball Book: Sixty-One: The Team, The Record, The Men by Tony Kubek and Terry Pluto (The Story of the 1961 Yankees)
Favourite Plays in Baseball: A bases clearing double or triple; a double play with one out and the bases loaded; a strike him out-throw him out double play; a successful pick off play; a runner thrown out at home plate on a base hit.
Favourite Ballpark: Pretty Safeco Field in Seattle
Striding-To-The-Plate Music: Cabaret
Three Unshakable Baseball Beliefs: Walks are essential for long rallies; don't walk people; the best pitch in baseball is strike one.

BB (Thomas): At what age did you know you wanted to go into broadcasting?

JH: I was a latecomer; not until I was about 27 did I really feel in my heart that I wanted to pursue a career in broadcasting. I always felt that I would be a journalist; when I was the sports editor at the University of Santa Clara newspaper, I wanted to be a feature writer for Sports Illustrated. Had I not gone into broadcasting, thatís where I would have liked to end up. When I was at Santa Clara raising money for the athletic department, I couldnít get on the radio, so I bought a tape recorder and taped a few football and basketball games. They were so poor, I said "I think I can do better than this," and that became an ultimate challenge, far more than writing, which was always easier for me. I opted for that challenge, and Iím glad I did. Itís still a challenge, trying to make each broadcast better than the one yesterday.

BB (Craig B): What is the one most positive change youíve seen in baseball since you started?

JH: I think that would be the new facilities; the new ballparks. I love Safeco Field in Seattle ó thereís a stadium with a retractable roof that may be an upgrade from the SkyDome, which I also enjoy quite a bit. Camden Yards in Baltimore, Pac Bell, which is now called SBC Park, in San FranciscoÖWhen you see how comfortable and fan-friendly they are, with better playing surfaces and conditions for the players, even though a lot of them are smaller which lends to more offense, I think thatís the most positive change ó fans really enjoy the settings, and the comfort, of the new ballparks.

BB (perlhack): Do you have any interesting or embarrassing "on-air" stories?

JH: A lot of interesting stories; I enjoy the human nature part of the game, visiting with players, finding out about their families and their backgrounds, who they are off the field, and relaying that to the fans during a game. We all have a number of embarrassing stories, but nothing that was so glaring Iíd look back on it and single it out. When you broadcast, you donít have an eraser to erase mistakes, so (laughing) Iím forgiving with myself on what comes out.

BB (Gitz): What player would you pay to see play now, and which player from the past would you have paid to see play?

JH: I grew up in San Francisco, and Willie Mays is the best player I ever saw. I also consider myself very fortunate to have seen Roberto Alomar. I think heís a no-doubt Hall-of-Famer, even though his career has had its ups and downs after his fabulous years here. With the problems that heís had, spitting in an umpireís face, and at that time other immature acts, he may not get in on the first ballot, but for me he is definitely going to Cooperstown as one of the finest second basemen the game has ever had. I would pay to see Barry Bonds, because he does things in the game that even other players just dream about. Mark McGwire would be another one; we all like to see the long ball.

BB (Coach): How did you feel about the snub of Joe Carter by the Hall of Fame voters?

JH: I was embarrassed for the baseball writers that Joe got only 19 votes. Whether you thought he was a Hall-of-Famer or not ó and I thought he should go in ó he certainly deserved better. If after three or four years, he didnít accumulate enough votes to get near that 75 percent mark, that would have been different, but Joe compares very favourably to Jim Rice, Tony Perez ó whoís in the Hall of Fame ó and others, so I thought it was a travesty that he didnít stay on the ballot.

BB (Ken Kosowan): With Detroit in the AL Central, the Brewers in the NL and the Yankees and Red Sox focused wholly on each other, what team do you see a bitter rivalry developing with for Toronto?

JH: They just donít have a natural rivalry like they had with Detroit. That was a real shame when the Tigers moved to the Central Division, because in the late Ď80s, that was the rivalry. Having said that, the Yankees are always a rivalry, because they are so big and have those resources other teams donít have. Itís always monumental if you can beat that team. Montreal isnít really a rivalry, interleague play being what it is, so the Jays may not have a real traditional rival.

BB (perlhack): Do you look forward to seeing particular players or teams?

JH: I enjoy the west coast, because I grew up there. This year, Iíll really enjoy going out there to see the Giants, because Iíve never been in their pretty new park. Iíve always enjoyed Seattle, and weíll be going to San Diego to another one of those improved new ballparks weíve talked about. I thoroughly enjoy Interleague play, because Iíve always been a National League guy ó I just like baseball more without the designated hitter.

BB (Mike D): If you could only pick one Blue Jay from the '80s, one Jay from the '90s and one player from the Jays' current roster to have over for dinner, who would be your three guests?

JH: There are a number of players who have been great friends over the years, but I think from the Ď80s, Tom Henke would be the player I would have over. Tom is a wonderful guy, a family man; Iíve known his family for years, and we see each other and correspond regularly. In the Ď90s, I would say Dan Plesac, the most positive, friendly person Iíve ever met in the game. He and I just seemed to click right from the very beginning and weíve shared a lot of baseball insights together. Here on this current team, I would say Reed Johnson, and I would want to have my boys, Ben and Joe, come over for that dinner. Reedís the epitome of a talented athlete who gets the most out of his abilities, works hard, is enthusiastic, and came from a nondescript beginning in the Blue Jays system to make himself a starting player.

BB (Craig B): Are there any lessons you can impart on the subject of working as a team with others, given that youíve been working with Tom Cheek for so many years?

JH: The thing to do is always try to complement your partner and be the best that you can be. Youíre there to inform and entertain the audience, but you also have to be fundamentally sound ó give the score, and let people know what inning it is. Our team includes Mike Wilner, working on the pre- and post-game show, and commenting throughout the broadcast, and our engineer Bruce Brenner ó putting a broadcast team together is not unlike what a manager is trying to do on the field.

BB (Steve Z): How has the transition been to the three-person booth, with Wilner, for home games?

JH: Mike has a real passion for baseball, so Iíve enjoyed his enthusiasm. I think one of the greatest blessings that someone can have is to have a passion for what they do. Mike enjoys baseball, itís something that heís consumed with, and thatís good, because the fans ó and myself, too ó learn a lot about whatís going on around the game. Thatís what Mike brings to the broadcast. Tom and I can hone in ó (laughing) Iíd better not say that ó we can concentrate on the Blue Jays, while Mike brings another element, an overall knowledge of what else is going on in baseball.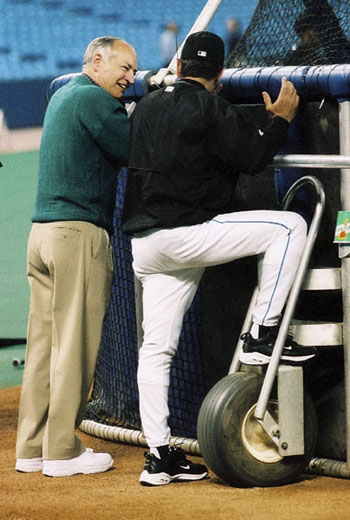 BB (perlhack): What research do you do to prepare for a game? Are your anecdotes prepared, spontaneous, or both?

JH: From March 1 until the end of the baseball season, whether thatís the end of September or the end of October, my preparation begins when I wake up in the morning. Whether itís on the Internet, reading newspapers, coming out early visiting with managers, coaches, players, umpires ó thatís what preparation is for me, itís 24 hours a day throughout the entire course of the season. I absorb as much information as I can get, then try to use it judiciously throughout the broadcast. Thatís what I enjoy the most, though when the seasonís over, I enjoy coaching high school basketball and get totally away from baseball.

BB (Thomas): On an average day, when do you show up to the ballpark? When do you leave?

JH: If itís a night game, I read the stories, have breakfast, and try to get out here about 2:30 or quarter to three. The clubhouse opens at 3:30, then from that point on, Iím down on the field, mixing with players, managers and coaches. Then Iíll go upstairs, read the notes from the teams and the statistics from Major League Baseball, maybe get something light to eat, or maybe not, and then get ready to go on the air for the pre-game show. As I said, itís an all-consuming thing every day, but as a radio announcer, when the gameís over, Iím out of here. Thatís when the writers are really doing a lot of their work, coming down to get their quotes to use for their stories. My role is the opposite; I do more of my work before the game, and when itís over, I can wind down. Once in a while, if weíre on the road, I might go into the clubhouse to congratulate players on a big win, but usually I just do that when I see them the following day.

BB (Thomas): Do you fly from city to city on the team jet? How does that work?

JH: Tom, Bruce Brenner and I do fly with the team; weíre on the buses that carry the manager and the coaches, and we stay in the same hotels. Thatís major-league travel at its best, because you donít have to handle your bags, and as we get older and our backs get a little sorer, thatís a real godsend. The proximity to the players is also nice; you donít socialize with them, but you get to know them as people, and share thoughts with them about their families, maybe meet their wives, their kids, or their parents. I enjoy seeing them as more than just ballplayers, and sharing some of that with the audience.

BB (Steve Z): How has the Internet changed your job, and the way that traditional media cover the Jays?

JH: Itís changed it considerably, because it allows you a lot more time to prepare. I remember years ago, I used to get in a cab in every city and go to the public library, get about the last 30 days of newspapers leading up to that series, and take notes. I donít have to do that any more; itís right there for me. The other thing is the immediacy of coming back to your room at night, at home or on the road, and seeing the box scores, culling information that you can use the next day. The details, and the close proximity, having any information you might want at your fingertips, makes it so much easier to prepare for games. I might add, you have to make sure that you donít broadcast your notes, and all your wonderful prepared material ó broadcast the game. Over the years, I think Iíve learned to do that, whereas initially, I had a tendency to broadcast my notes. Now I really feel that I can analyze the game pitch-by-pitch, and work in my prepared material where itís appropriate.

BB (Matthew E): In 2002 I thought the '02 Jays were loosely comparable to the '82 Jays. In '03 I thought the '03 Jays were loosely comparable to the '83 Jays, and the pattern is continuing in '04. Do you see the same thing?

JH: Thereís always a tendency to compare that way, and I used to do that myself. Up to a point, itís fair, but today, those comparisons are harder to make because of free agency, and how teams can change so dramatically. That also applies to the teams youíre playing. The Blue Jays might have similarities with those teams from 20 years ago, but the competition, from Detroit, from Baltimore, with the money theyíve spent on free agents, from Boston, makes the won-loss record skew different. Just when you think a team might be ready to win 90 games, or 95 games, it may not necessarily happen, because the competition is so different. Today, with so much turnover via free agency, things have changed along those lines, so I donít think you can make those comparisons as much as you could in the past.

BB (Ken Kosowan): With so many great young pitchers arising today, do you think there may be a movement away from the home-run centred offense in the near future? Can the era of the stolen base, the hit and run and the squeeze ever arise again?

JH: I donít think so. The pitching is what it is, and unless they have contraction at the next contract negotiations between the owners and players to reduce baseball by a couple of teams, it will stay that way. We mentioned that ballparks are smaller, more conducive to scoring, and with the money in the game now, players are taking far better care of themselves, 12 months a year, than they used to. Theyíre better conditioned, stronger, quicker. The hitters are able to do more at the plate, and the pitching has been diluted, so the offense will always be there. I donít think youíll see a return to little ball, because itís too costly to give up outs if you donít have to, when a three-run homer can win a ballgame for you.

BB (Mike D): What's the one fact about the game and the men that play it that you wish more fans understood?

JH: Their even-temperedness about the game, realizing itís 162 games, they donít get too high, they donít get too low. They enjoy wins, but they donít get too despondent when they lose, especially tough losses or losing streaks. Even now (prior to last Sundayís game) at 3-8, with an 0-5 start at home, fans have a tendency to get on the emotional roller-coaster. Some broadcasters do, too, but Iíve been blessed with a disposition kind of like the players. I enjoy the length of the season; the thread of a season tells you why theyíre winning and why theyíre losing ó and thereís always a reason ó so I try to reflect that in the broadcast so the fans might understand how the players view it.

BB (Ken Kosowan): The rise of statisical analysis has changed the way many look at baseball, especially the realm of player development and scouting. Has it in any way affected the way you call games?

JH: No, but it makes me aware of the trend, and thatís good. Iíve really enjoyed following the Oakland Athletics, because of Billy Beane and his approach. I enjoyed the book Moneyball, where I saw how Billy put into effect what he preaches, and how he uses those numbers. Then J.P. Ricciardi, his friend, comes here, and now Iím very close to what J.P. is doing, and I can appreciate where heís going. If the fans will be patient, they can see where heís taking the team, and I like the fact that there is a direction. I donít think there was a direction prior to when he came here. Even players would say to me, ďWhere is this team going?Ē and frankly, I couldnít give them an answer. So I like the trend to statistical analysis, and I think itís going to continue with the young general managers being hired in so many different areas.

BB (Keith Talent): Could you give us your two cents on Carlos Tosca and his bullpen use?

JH: First of all, Carlos Tosca is a very experienced, seasoned manager whoís done extremely well here with the team that J.P. Ricciardi has given him. I think thatís a good mix, too ó J.P. and Carlos reflect the same values, not just the statistical analysis we talked about ó and you have to have that, if youíre going to be successful on the field. What the manager has to do in any month of April is find out what he has in his bullpen, then begin to structure it in May. What fans donít appreciate sometimes, is that you donít always start the season with a set hand. You have to find your own level, in many different areas: your hitters, your defence, your platoon system, how your rotation is going to line up, and your bullpen. When you donít have a closer ó the Blue Jays tried to get one this year but they couldnít ó and you have a number of quality veteran relievers, you have to kind of let the process take care of itself. I think Carlos Tosca has done an outstanding job, and when you continue to see the team play hard, that shows that they respect Carlos, and they also like him, which I can see around the cage and in the clubhouse.

BB (Thomas): The Jays have spoken about a new, positive clubhouse atmosphere that's present in the last couple of years. Have you observed a difference in the 2003 team, compared to the 1998-2000 team, for example?

JH: The Blue Jays have always had good clubhouses, but this one is as good as any. They brought in some veterans ó remember, there are six or seven new pitchers here ó and you have to allow a certain amount of time for the chemistry to develop. There are a lot of real good ďcharacterĒ people, and thatís a credit to J.P. Ricciardi for bringing them in here.

BB (Ken Kosowan): Do you believe that the Jays' Baseball North campaign is a good blueprint for other organizations to follow?

JH: The best blueprint for any team is simple ó getting to the playoffs. (laughing)

BB (Thomas): Do you have any suggestions for ways for the Jays specifically, or baseball generally, to try to increase the number of young fans at the game?

JH: Thereís always room for improvement in that area, but the Blue Jays are a classic example of implementing what many people have suggested over the years. When you donít have a marquee game, why not get the kids and their families in? Patrick Elster, whoís in charge of ticket sales now, has made all 500-level seats this year just $9.00, for every game. In April and May, on Tuesday nights, they are just two dollars. This coming Tuesday, Pedro Martinez meets Roy Halladay in a classic matchup, and a family of six can come out to see it for twelve dollars. A family of four can see the Yankees, any time, for just $36.00, and those are very good seats up there. I like what the Blue Jays are doing; theyíre saying that thereís a place for everybody, in addition to the corporate boxes and relatively expensive seats down below. Thatís what will get the kids back into the game; good for them.

BB (Ken Kosowan): What would you say is the most positive thing about the internationalization of the game? Most negative?

JH: I always think itís positive, but baseball is one game that might be more difficult to internationalize than the others, because of the travel, and the wear-and-tear that it takes. Just like Japan ó the Yankees and Tampa Bay gave up a lot, and their body clocks were turned upside-down, for just two games. They might end up with some kind of a World Cup, but itís hard to interrupt the season for that, like they do in other sports. I think itís coming, and there will be more inroads, but apart from a World Cup after the season, I canít really speculate what might be next.

BB (Mike D): Did Tom know in advance that you'd be handing the microphone back to him for the eleventh inning in Game 6 of the 1992 World Series?

JH: He did not know; that was something that just happened. When Dave Winfield doubled home two runs, giving the Blue Jays a 4-2 lead, I had the pleasure of making that call. At the commercial break, I just said to myself, the right thing to do here, for what could be the first World Series win, would be to turn it back over to Tom. He was the team's first announcer, had gone through all those years with the Blue Jays, and the fans identify with Tom completely. They really appreciate Tom ó he is the Blue Jays voice ó so I was very pleased to do that.

BB (Mike D): What's your all-time favourite play for which you handled the play-by-play?

JH: That Dave Winfield call was a lot of fun, but my favourite moments in baseball would be in 1992 and 1993 in the clubhouses in Atlanta and here in Toronto, with my two sons at my side. I congratulated all those players on their world championships, with Ben on my right and Joe on my left. They were 16 and 14, and that father-son moment is the highlight of my career.

BB (Thomas): Do you have any thoughts of retirement in the future?

JH: Iíve been blessed with an attitude of enjoying the moment ó right now, Iím enjoying this interview, later today Iíll enjoy the broadcast, and Iíll enjoy the season as it unfolds. I donít go too much beyond enjoying the moment, and Iím thoroughly happy with that approach ó get the most out of today, because youíre not promised tomorrow.



---

https://www.battersbox.ca/article.php?story=20040420113106999