Blue Jays 12 - Red Sox 5
Sunday, April 10 2005 @ 09:48 AM EDT
Contributed by: Pepper Moffatt
There's room for you if you say "I do"
But don't say no or you'll have to go
We've done no wrong with our blinkers on
It's safe and calm if you sing along

If you didn't see any of yesterday's game, you'll want to read "A grand day for Zaun, Blue Jays" by Spencer Fordin.
The were all kinds of hilights in yesterday's game, such as Gregg Zaun's homerun. What was most notable for me, though, was the back-to-back-to-back homeruns the Blue Jays hit off of Arbuckle Wells in the 3rd inning.
First there was Vernon's shot to left: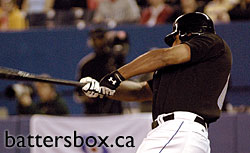 Then Canuck Koskie followed suit: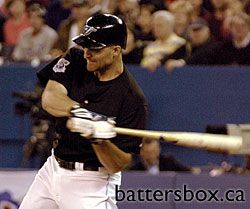 And not to be outdone, Shea "Moffatt Will Pay" Hillenbrand cleared the fences:


You can imagine how the Boston hurler felt about this. But if your imagination is broken, here's a picture to help you out: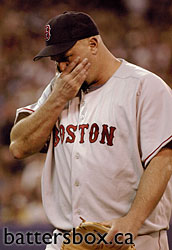 It's a cruel, cruel summer
Leaving me here on my own
It's a cruel, cruel summer
Now you're gone

There have been 3 other times in Blue Jays history where the Jays have hit back-to-back-to-back dingers:
April 26, 1983: Oakland 7 - Toronto 4
The Jays hit 4 homeruns in this game, yet managed only 4 runs. Willie Upshaw hit one in the 4th inning off of starter Mike Warren, then victimized Warren in his very next at-bat, which was in the sixth inning. The next two batters, DH George Bell and RF Jesse Barfield hit solo shots off of Warren. Surprisingly, manager Steve Boros allowed Mike Warren to stay in the game after allowing three consecutive homers. He managed to cause Ernie Whitt to ground out to first then allowed a single to Rance Mulliniks before getting yanked and replaced by Keith Atherton.

Warren was credited with the win, bringing his record to 3-2 on the season. Giving up homeruns would eventually be his undoing, however, as he left major league baseball just two years later with a career record of 9-13. In his career he gave up 28 homeruns in 204.7, a fairly high total for someone pitching his home games in the Oakland Mausoleum.
September 12, 1987: Toronto 13 - New York 1
A much better game for the Jays than the previous one. This was a particularly notable game for Yankee hurler Bill Fulton, as it was his major league debut.

In the top of 7th, reliever Pat Clements began the inning by plunking George Bell. Fulton then came on in relief and had a pretty decent inning. First Ernie Whitt flied out to left. Barfield was up next and he hit a single, but Fulton bounced right back by striking out Kelly Gruber. Willie Upshaw walked, leaving the bases loaded with 2 outs. Fulton got out of the inning unscathed by having Canadian Rob Ducey ground out into a fielder's choice.

The 8th inning started out very well for Fulton, with rookie Nelson Liriano flying out and Lloyd Moseby grounding out to third. It was all downhill from there. First Manny Lee and George Bell hit singles. Then Ernie Whitt homered. Then Jesse Barfield homered. Then Kelly Gruber homered. Then Fulton hit the showers and was replaced by Pete Filson.

Bill Fulton gave up 3 homers, a walk, and 5 runs over an inning and 2/3rds. This didn't not deter manager Lou Piniella from using Fulton against the Jays, as he had Fulton pitch an inning of relief against Toronto a week later. That outing was a little more successful, as he only gave up one run in one inning of relief. That run was a solo shot by Willie Upshaw. Fulton would keep improving: in his third outing of the season he pitched 2 scoreless innings against the Red Sox, picking up the win!

It would be the last game of his career. But at least he went out on top.
April 18, 2000: Anaheim 16 - Toronto 10
Before yesterday, the Jays went 1-2 in games where they hit 3 consecutive home runs. Who would have guessed that?

The Jays victimized a Canadian hurler in this game, with Craig Grebeck?!?, Raul Mondesi, and Carlos Delgado going yard against London, Ontario's Jason Dickson. Dickson went 5.1 innings, gave up 4 runs (all courtesy of the 3 homeruns) and collected a win, bringing his record to 2-0 on the 2000 season. He would go on to collect 2 more decisions in 2000, both losses to Tampa Bay. He has not thrown a single in pitch in the major leagues since.

Notes: Thanks to Bauxites Named For Hank for the pictures, and Jonny German and Mick Doherty for locating games where back-to-back-to-back homers were hit. The specific game information comes from Retrosheet.
Fishwrap Roundup
Fordin: "Wells concerened about wall"
Fordin: "Three Jays' Minor Leaguers suspended"
Zwolinski: "Workers soften boards' impact"

---

https://www.battersbox.ca/article.php?story=2005041008484790