Cannon Fires Twice
Monday, April 18 2005 @ 10:23 AM EDT
Contributed by: Gerry
Only one win on the farm, as the bats are unable to take advantage of good pitching. Keep reading for bonus, and double bonus coverage.
bbb
Scranton WB 2 Syracuse 1 in 14 innings
Pitching was the name of the game in Syracuse. This was the third start forScott Downs, the first two started well but fell apart in the fourth inning. Not so on Sunday as Downs pitched seven strong innings allowing two hits while recording nine strikeouts. A home run by Ryan Howard, his first of the year, was the only blemish on his record. Jason Arnold, Spike Lundberg and Mike Nannini provided strong relief until Nannini allowed a home run in the fourteenth, Nannini's third inning.
The Chiefs had only nine hits in 14 innings, Aaron Hill had three of them to run his average to .354. Gabe Gross scored the only Chiefs run in the fourth. Gross singled, stole second, and scored on a single by Jason Alfaro. The Chiefs had a chance to tie or win in the bottom of the fourteenth, after Eric Crozier had a lead-off double, but could not get the run home.
New Hampshire 2 Binghamton 4
The Fisher Cats were facing Mets pitcher Brian Bannister, the league leader in ERA and son of former major leaguer Floyd Bannister. Bannister continued his fine pitching holding the Fisher Cats to an unearned run in 5.1 innings. The Fisher Cats allowed an unearned run of their own in the first. A throwing error by Rob Cosby contributed to the run off Fisher Cats starter Ismael Ramirez. In the fifth inning the Mets used two bunt singles and a sacrifice bunt to score a second run. A home run in the seventh made it 3-1. Ramirez pitched 7 innings, allowing three runs, two earned, on seven hits and two walks. Jordan DeJong conceded the fourth run in the eighth inning. The Fisher Cats had only six hits, Mikael Jova had three of them while Carlo Cota scored both runs.
Dunedin - scheduled day off
Lansing 3 Beloit 2
Casey Janssen continued his fine pitching allowing only one run in six innings. Beloit scored the first run of the game in the third on two singles and a sac fly, but Janssen only allowed two hits in the other five innings. Janssen walked one and struck out five. Chip Cannon was the offensive star, hitting a solo home run in the fourth and a two run shot in the sixth. Danny Hill allowed an unearned run in the ninth while earning his fifth save.
Your Three Star Selection
Third star - Scott Downs
Second Star - Casey Janssen
First Star - Chip Cannon 2 home runs
Standings Update
Syracuse record is 6-5. The Chiefs are tied for second, one game back of Scranton.
The Fisher Cats are also 6-5, also tied for second, but are four and a half games behind undefeated Portland.
Dunedin's record is 7-3 which puts them in second place, one game behind Lakeland.
The Lugnuts are 7-3, the only Jays team in first place, by one game.
Bonus Coverage
I saw three Fisher Cat games in Binghamton this week, here are some mini scouting reports on some of the players I saw as well as a picture of opening day, Binghamton style, at the bottom of this report.
Vince Perkins does indeed throw hard, 94-95 mph fastball. Perkins is a big guy, 6'4" or 6'5", with big wide shoulders, see his picture at the bottom of the report. On the day I saw him his off speed stuff was not working but he still had seven strikeouts in six innings. Only one hitter pulled a Perkins fastball in the air, pitching coach Dave LaRoche says that Perkins throws a "heavy ball". I completed an interview with Perkins which should be on Da Box within a week. He is working on some drills, from spring training, to keep his delivery as straight as possible.
Bubbie Buzachero also pitched on Thursday. Bubbie is listed at 5'11" but is more likely either 5'9" or 5'10". Surprisingly Bubbie is not the shortest memebr of the bullpen, Lee Gronkiewicz is about an inch shorter. Bubbie throws a 90 mph fastball with a slider and changeup. The hitters looked like they saw his stuff better than Perkins though, so decption will be something he will need to work on.
Shaun Marcum pitched on Sunday. Marcum is 5'11" or maybe 6'. When Marcum comes out to the mound to start the game and throws you wonder what is he doing, he throws so relaxed that it looks like he is playing catch with the catcher. But that is Marcum's delivery, a short, almost straight leg kick, and a quick 3/4 throw home. Marcum's fastball is 84-88 mph. He also throws a very good changeup that looks just like the fastball and drops late; a sweeping slider, and a curveball. Looking at Marcum pitch you wonder if his "stuff" will work in the major leagues, but as a couple of scouts told me "it will if he keeps getting outs like this." AAA will be a big test for Marcum, when he faces the more experienced hitters. Deception and location will be the keys to his success.
Jamie Vermilyea was as advertised, lots of movement on his pitches, a sinker, a sweeping slider and a cutter for left handed hitters. As with Marcum, his stuff does not blow hitters away, deception and location will also be the key for Jamie.
Miguel Negron is very fast and an excellent centre fielder. In the three games I saw Negron was 1-16, and the one hit was a groundball between first and second. Negron tends to roll over and hit ground balls to second or short or hit flyballs to centre. This is a good spot to talk about the problems with making judgements based on three games. Negron could have been in a "funk" or developed some bad habits that he will cure tomorrow. But for the three games I saw Negron was struggling at the plate.
Carlo Cota is listed at 5'10" but he is more Menechino size, with broad shoulders on his short frame. Cota had good at-bats in the games I saw, with a good eye, recording only one K in ten at-bats. Cota also played a good second base. The only issue I noticed with Cota was that his hits were mainly bloops or soft line drives over the infield, so I wonder about his stength. But a hit is a hit, right?
Raul Tablado returned for his first game of the season on Thursday and his hitting was "off". Tablado's "eye" needs some work and the Mets were working him away with sliders a lot. Tablado hits the ball hard when he makes contact but he needs to make better contact and develop a better eye. Tablado will not be a major league shortstop, he made an error and did not get to a few balls that a major league shortstop should get to. Tablado does have a strong arm.
Vito Chiaravalloti has the most power of any of the younger Fisher Cats. Vito had four doubles in the three games, a couple of which were off the wall. Look for a Vito interview later this week.
Double Bonus Coverage
Gary Cathcart, the Pulaski manager in 2004, is now the hitting coach for the Fisher Cats. I talked to him this week about the 2004 team to get a belated look at the prospects on the Pulaski Blue Jays.
I first asked about Yuber Rodriguez. "As far as tools go, he probably has the most talent of any player at the younger levels, it's going to be up to him how he develops. He needs to develop the mental game, he needs to learn how to hit better, not just go up there and swing, but he is a young guy, just 20 years old, time is on his side. He will be a good centre fielder, he is still learning where to play the hitters, getting good jumps, which base to throw the ball in to."
The most notable pitcher was Chi-Hung Cheng. I asked Gary if Cheng could be compared to a typical crafty lefty? "Cheng is more than tricky, he has 87-88 mph fastball with a little life, and last year, as a 20 year old kid, he had a major league curveball. He has a change up as well and he needs to develop command of that so he can throw it in any count. The problem he had last year was that he was behind in the count too often because he didn't throw his fastball for strikes, which is normal for a young guy. But as he develops command of his fastball, and can use his curveball in any count, if I was a betting man I would bet he would pitch in the big leagues."
David Hicks was one of the better hitters at Pulaski and has started well in 2005. "David Hicks went to Auburn after the draft but wasn't playing very much as we had three first basemen there so I talked with Dick Scott and said I could use another bat, so David came down from Auburn and was as enjoyable a kid to be around as you will find. He has worked hard on his swing, he is good defensively, and he got better at the end of the year. He picked up where he left off in the spring. He is very coachable, the kind of kid you pull for to get better."
Another hitter that Gary mentioned is Luke Hetherington who missed a year due to a vehicle accident. "He has a lot of tools, very strong and fast, hopefully he will get a lot of at-bats this year."
I asked about Brian Grant, a high school pitcher drafted by the Jays. "Brian Grant is in his fourth year, he still needs to make adjustments. He is more talented than where he is, he needs to learn another pitch. He is a fastball change-up guy and they look alike the second or third time through the order. He needs a breaking ball but he is still a young guy."
Gary also talked about Daryl Harang saying he was a lefty who knew how to pitch. Harang was injured at the time of the draft and was brought along slowly in 2004 by the Jays.
Adrian Martin was called up to Dunedin the day we talked. "Martin is a strike throwing machine", said Cathcart. "Sometimes he catches too much of the plate; he has an 88 mph fastball, an overhand curve and a changeup. To succeed in the FSL you need to be able to command your fastball and of all the guys in extended spring training, Martin can command his fastball the best." And Cathcart added,"Rick Langford, the Dunedin pitching coach, will help him with his off speed pitches."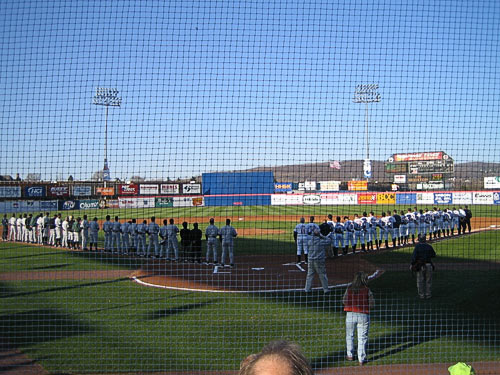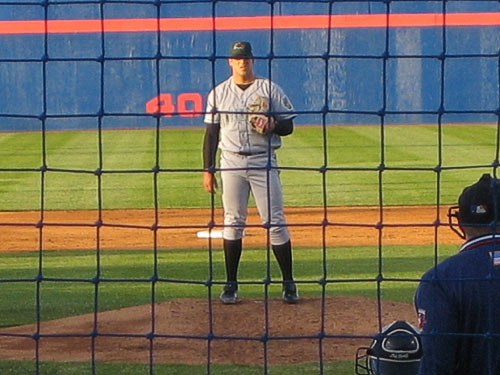 ---

https://www.battersbox.ca/article.php?story=20050417223604937