AL Central Report
Wednesday, May 04 2005 @ 08:00 PM EDT
Contributed by: Gwyn
Will someone get Chicago and Cleveland a copy of the script please ?
Standings

CENTRAL		W	L	PythW	PythL	RS	RA	
Chicago		18	7	16	9	114	81	
Minnesota	15	9	13	11	114	95	
Detroit		12	12	14	10	129	109	
Cleveland	9	15	10	14	91	108	
Kansas City	7	18	8	17	94	140	

Run Differential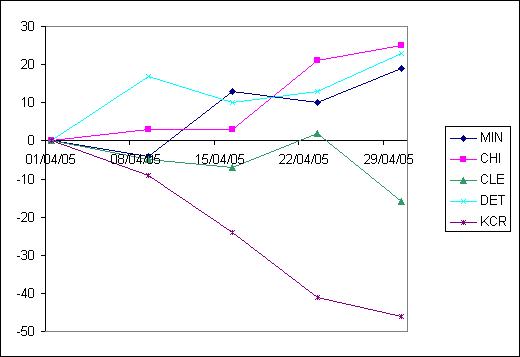 We know how this division was meant to go. This was supposed to be parity, MLB style. The Twins were probably going to win, but not by a huge amount, 90 wins maybe. Cleveland has a great young team, challenged for a little while last year and were meant to be the main competition taking Minnesota to the wire, some of us even picked them to win it. Detroit were the wildcard, they were going to continue the rebuilding process, get to .500 and maybe even mount a challenge if the planets aligned correctly and Pudge's back held up. Kansas City were going to suck. Chicago, well, the White Sox traded Carlos Lee away for Scotty Podsednik and kept talking about speed and small ball and other such tasteless activities. We all know that's no way to run a team, they weren't going to win.
Chicago and Cleveland are refusing to stick to the plan.
Chicago
They're not going to keep this up, honest.

Name			IP	ERA	K	BB	HR
Jon Garland 		39	1.38	17	6	1
Jose Contreras		26.2	3.04	21	15	3
El Duque		30	2.70	20	13	1
Mark Buehrle		37	3.89	25	9	2		
Freddy Garcia		35	2.83	19	9	3 

They're doing it with pitching (and some smoke and a few mirrors), mostly starting pitching and the rotation just isn't this good. It's had a heck of a start to the year though. The staff as a whole has an ERA of 3.01, and the starters are at 2.80 in 167 Innings. The rotation isn't striking a whole lot of people out, but they're (mostly) not walking many and they're keeping the ball in the park. Eric Milton alone has given up more homers than the whole White Sox rotation.
There are warning signs though that this kind of thing will not continue. The strikeout rates are a big cause for concern, only Contreras is striking out over 7 an Inning and Garland and Garcia are both under 5. Further Garland, Garcia, Contreras and Buehrle are all in the top 20 in the Majors in Batting Average Against. All these guys are having career years, that isn't going to last.
The starters have been so good that the bullpen hasn't needed to do that much, they've thrown under 60 Innings as a group. Dustin Hermanson and old friend Cliff Politte have been terrific combining for 21 2/3 Innings and just two runs. Hermanson has also picked up three saves, closer Shingo Takatsu sports a gaudy 8.10 ERA but has only thrown 6 2/3 Innings.
Don't be fooled into thinking this great start means that there was something to this small ball malarkey or that Scotty Podsednik really is better than Carlos Lee. They need good pitching, because this offense looks like it's going to score a whole lot fewer runs than it did last year, when they were hitting homers left, right and centre. The hitters so far have squeezed a decent amount of runs out of some extremely middling individual performances. Carl Everett has been their best hitter with an .800 OPS, Tadahito Iguchi has been getting on-base at a good clip (.371) but displaying nothing in the way of power. Jermaine Dye has been the only real disappointment, (.175/.205/.313) although Aaron Rowand has had a pretty poor first month as well. The only bright spot is that their 25 stolen bases ranks the team fourth in the majors, and those steals have come at a very respectable 75% success rate.
Frank Thomas is easily their best hitter and figures to be back at some completely unspecified point in the near-to-distant future. He is currently having electric shock therapy to speed up the healing process on his ankle (really), apparently the process breaks up scar tissue that has formed around the screws in his ankle.
The next couple of weeks allow the White Sox to beat up on the Royals and Devil Rays, but also offers some sterner tests at Toronto and at home to Baltimore. In other words, they could still be hanging onto first the next time I write one of these.
Minnesota
The Twins are going along with the script, bless them.
They staggered a little out of the gate, but a six game and then a five game winning streak have pushed them to a good record, mostly at the expense of the hapless Royals. The White Sox have owned them so far this year (5-1) which can't be going down well with the fanbase.
The Twins pitching hasn't been quite the equal of Chicago's, but has been fine in its own right with a 3.62 ERA. As usual Santana (52 Ks to 5 BBs) and Radke have done most of the damage, with Carlos Silva and Joe Mays chipping in usefully. The bullpen has been fantastic, as a group they've only given up 14 runs and six of those belong to Mulholland, who is getting an awful lot of work considering the talent that sits around him in the 'pen. Nathan has yet to give up a walk or a run.
Jacque Jones has been leading the offense and is doing his best Brian Roberts impression, his OPS currently stands 342 points higher than last years figure. Justin Morneau is providing sterling support despite not walking in 45 ABs ( he has a .400 average and a .404 OBP thanks to being plunked once). Old friend Shannon Stewart is off to a slow start with a .684 OPS, as his power stroke has abandoned him in the early going. The middle infield is the usual offensive non production zone we've come to expect. Luis Rivas is performing a miracle of non-hitting with an OPS of .420 (yes, I did mean OPS), Bartlett and Castro are doing a little better than that, and Nick Punto is threatening to be almost decently offensively with a .367 OBP.
The Twins are well set up to do their usual walk away with this division when the Sox return to earth.
Detroit
Just like last year, the Tigers are under performing their pythagorean record. Question for the bauxite crowd: Is a continued record of finishing below the pygathorean record an indicator of a bad manager? This has been raised as an idea from time to time, and I'm not convinced by it at all. Does it have merit?
By the standards of the division, Detroit are bashing the ball about like it's going out of fashion and comfortably lead the way in runs scored. Carlos Guillen is happily continuing where he left off last year and is right in the mix with Tejada, Jeter and Clint Barmes as the games most productive shortstops. Guillen looks like doing one of those Melvin Mora things of suddenly coming good at a relatively advanced age, though he's a couple of years younger than Mora was when he broke out. Brandon Inge has gone nuts so far this year and has a .929 OPS. Wasn't it a couple of years ago this guy didn't have an offense good enough to keep him in the bigs as a catcher? Now he's an everyday third baseman and leadoff hitter. The rest of the regulars are giving you what you expect of a group of solid veterans, good consistent performance.
The pitchers have a collective ERA of 4.29 which is smack bang in the middle of the major league pack. This is not a strikeout staff by and large, Bonderman and Robertson get their share of Ks, but the rest of the rotation struggles. Johnson, Robertson and Ledezma are all striking out less than 5 per 9. They make up for this a little by not walking many (Robertson being the conspicuous exception). The bullpen has been inconsistent, and hasn't yet lived up to some lofty expectations. Percival has blown a couple of saves, Urbina got off to a poor start but has been much better since mid-April, Farnsworth has been solid apart from one awful outing. There's more and better to come from this group I suspect.
Detroit don't have an easy time of it the next couple of weeks, they get Boston and 6 against the Angels with a visit to Texas in between. There are no easy pickings there, but this team has the division leaders firmly in its sights.
Cleveland
Well colour me embarrassed and perplexed, I picked this bunch to win the division. That takes a little more than a .375 winning percentage unfortunately. The Indians offense has disappeared, only Pittsburgh have scored fewer runs, even Kansas City have scored more than these guys. Their team OPS is .667, and just four players have an OPS over .700. All is pretty much doom, gloom and disaster, Casey Blake has a .259 OBP, Aaroon Boone lies awake nights and dreams of having a .259 OBP (he's at .198 and hasn't taken a walk since April 14th). Victor Martinez is hitting .209, Jhonny Peralta .213 and Grady Sizemore .237.
The pitching has been pretty good, at least when compared to the hitting, the team ERA of 4.00 is 12th best in the bigs. It's early days, he's only thrown 19 Innings, but C.C Sabathia is showing signs that this might be something of a breakout season. I watched him pitch last week and he was tremendously impressive. He has 16 strikeouts to 4 walks and an ERA of 0.92. His numbers have been strikingly similar over the last four years, but, if he can keep fit for the rest of the year, he's going to be worth keeping an eye on. As DIPS predicted Kevin Millwood has returned to form and is putting the beginnings of a nice season together. The rest of the rotation has been up and down, Elarton has struggled, Westbrook hugely inconsistent and Lee has been fine. The peripherals are looking very good for this group (Westbrook excepted) they're all striking out twice as many as they walk.
The bullpen has been a definite plus, and the Indians have needed one. Wickman has not been particularly good in the closers role, he's blown two of his seven save opportunities and has an ERA north of six. The middle/setup relief crew though have done everything that could have been asked of them. Howry, Betancourt and Riske all sport miniscule ERA's and only Sauerbeck has had a couple of bad outings.
Cleveland have a trip out west coming up, with dates in Texas and Anaheim then a home series against the Jays.
Kansas City
Ugh!, really I mean just ugh.
A run differential of -46, this means they're giving up almost two runs a game more than they score. That is right around what Detroit was doing in 2003. Only Stairs, Sweeney and DeJesus are hitting (Joe McEwing is fourth on the team in OPS for crying out loud). Greinke is doing well, Bautista is showing some signs of life in the rotation and the bullpen has the odd bright spot.
Life is just too short to spend too much time discussing these guys, if you want to read about them Rob and Rany on the Royals is a good place to go. They'll tell you that "This is the worst team in the majors by quite a lot", but there's a lot of enjoyable ranting about Tony Pena.
Given that their next three series are against Chicago, Baltimore and the fighting Jays things are unlikely to get better in the near future.
---

https://www.battersbox.ca/article.php?story=20050504153502107