AL Central All Stars
Wednesday, June 01 2005 @ 11:00 PM EDT
Contributed by: Gwyn
Things are starting to shake out a little bit in the Central.

               W	L	PythW	PythL	RS	RA	
Chicago Sox	34	17	30	21	224	184
Minnesota	29	20	28	21	222	187
Cleveland	24	25	24	25	196	198
Detroit		23	25	25	23	213	205
Kansas City	13	37	17	33	206	291

Run Differential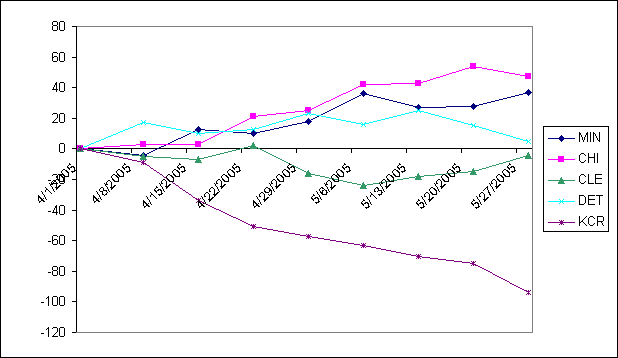 The class of the division are clearly the White Sox and Twins, who are running neck and neck for all Chicago's gaudy win numbers. Detroit and Cleveland are both decent teams, but are clearly a level below the teams above them. They're also going in different directions, Detroit have been in something of a tailspin lately - despite a three game sweep of the Orioles - whilst Cleveland are starting to get their act together. Kansas City aren't looking to go anywhere positive and continue to be historically bad.
With almost a third of the season over, let's pick the AL Central All Stars for the season to date.
Catcher

A.J Pierzynski 	.263	.338	.460
Joe Mauer	.307	.390	.431
Pudge		.283	.294	.433
Victor Martinez	.210	.280	.331

The young Twin is outhitting his more illustrious rivals. Victor Martinez continues to struggle mightily at the plate, I'd have figured to be the best of this bunch before the season.
Choice: Mauer

First Base

Paul Konerko	.223	.336	.462	
Justin Morneau	.290	.342	.534 
Ben Broussard	.283	.335	.494
Mike Sweeney	.308	.350	.533

Mike Sweeney is having a Magpie-like season (all-star level efforts always in a losing cause), he may not be in Kansas City much longer, but he's doing them proud while he's still there. Justin Morneau is doing equally well, but I'm letting the old dog have his day.
Choice: Sweeney

Second Base

Tad Iguchi	.302	.355	.450
Nick Punto	.292	.346	.400
Ron Belliard	.293	.345	.473

Very level performances here, I don't have a good feeling as to who is the better fielder so I'm going to follow the power.
Choice: Belliard

Third Base

Michael Cuddyer	.263	.324	.369
Brandon Inge	.311	.394	.489

This one isn't close, it's not the best division for third sackers. For a guy who couldn't cut it offensively as a catcher a couple of years ago, Inge isn't doing so badly.
Choice: Inge

Shortstop

Juan Uribe	.250	.277	.388
Jason Bartlett	.242	.310	.374
Carlos Guillen	.361	.414	.497

Again not even close; if it wasn't for that pesky Tejada fellow, Guillen might be the best in the league. There is a huge step down to the rest of the shortstops in the division.
Choice: Guillen

Right Field

Jermaine Dye	.228	.279	.462
Jacque Jones	.278	.373	.430
Craig Monroe	.267	.346	.453

This is not a power position in the AL Central, Craig Monroe edges his way ahead of the others, and he can play center which gets him extra brownie points.
Choice: Monroe

Left Field

Scot Podsednik	.284	.371	.320
Shannon Stewart	.291	.348	.427
Rondell White	.309	.331	.463
Coco Crisp	.283	.347	.428

I've always been a Shannon Stewart fan, but despite his lead in OPS I'm not picking him. Scotty Podsednik's edge in OBP, successful base stealing and fielding get him the nod.
Choice: Podsednik

Center Field

Aaron Rowand	.279	.337	.410
Torii Hunter	.238	.305	.398
Nook Logan	.301	.324	.378
Grady Sizemore	.264	.303	.410
David DeJesus	.274	.340	.394

Torii Hunter has the reputation and makes the great defensive plays. I'm going for Rowand, although in a key defensive position I will admit, to my shame, I don't have a great feel for how good he is with the glove.
Choice: Rowand

DH

Lew Ford	.275	.352	.386
Dmitri Young	.273	.333	.494
Travis Hafner	.269	.390	.429
Matt Stairs	.265	.394	.479

A second Kansas City hitter is going to make the team - that just doesn't seem right.
Choice: Stairs.

Second Catcher

Chris Widger	.347	.396	.551

Middle Infielder

Juan Castro	.271	.303	.435

Corner Infielder

Matt LeCroy	.261	.352	.435

Fourth Outfielder

Lew Ford	.275	.352	.386

Rotation

Mark Buehrle L		85	48/15	3.07
Carlos Silva R		67	21/3	3.09
Jon Garland R		72.2	34/12	3.22
Jose Contreras R	60	47/24	3.30
Jeremy Bonderman R	67.1	56/20	3.48

It's the what have you done for me lately approach here. No sentimental picks for former Cy Young award winners, or guys who wear their hats at a funny angles. Just the starters with the best ERA who have gone over 60 Innings (otherwise Kevin Millwood and Nate Robertson would be here). Give it another couple of years and Jeremy Bonderman is going to be horribly nasty (in a good way).

Left Relief

Arthur Rhodes		21.2	18/3	1.25
Damaso Marte		19	23/13	2.29

Right Relief

Jesse Crain		18.2	9/5	0.96
Cliff Pollitte		20.1	24/5	1.77
Rafael Betancourt	24.1	20/8	1.85
David Riske		22	16/5	2.05

Closer

Dustin Hermanson	21	15/6	0.00

That is a heck of a bullpen.

Lineup:				Bench:
Podsednik L			Widger R
Guillen S			LeCroy R
Sweeney R			Castro R
Stairs L			Ford R
Inge R
Mauer L
Monroe R
Belliard R
Rowand R

Rotation:			Bullpen:
Buehrle L			Rhodes L
Silva R				Marte L
Garland R			Crain R
Contreras R			Pollitte R
Bonderman R			Betancourt R
				Riske R
				Hermanson R


These guys might not score a ton of runs, but they're going to be tough to score on, especially when they get the bullpen going. Pitching and defense counts in the Central.
---

https://www.battersbox.ca/article.php?story=20050601194158306