AL Central Update
Wednesday, June 15 2005 @ 08:45 PM EDT
Contributed by: Gwyn
The struggle at the top continues as the Twins and White Sox continue neck and neck.
Standings

                W       L       PythW   PythL   RS      RA
Chicago         42      21      37      26      292     239
Minnesota       36      25      37      24      288     231
Cleveland       31      30      32      30      252     242
Detroit         28      32      29      31      262     270
Kansas City     21      41      24      38      278     352

Run Differential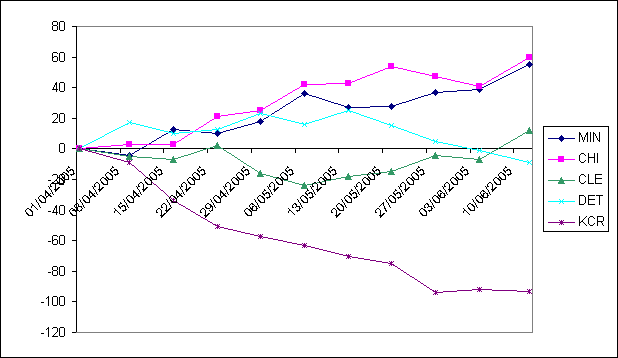 It could hardly be closer at the top, at least if you're going by the pythagorean results. The Twins pitching quality is starting to tell as they have the edge in runs conceded over the Sox for the first time this year. Lower down the Tigers and Indians are moving in different directions whilst Kansas City will be taking comfort that they have managed to establish some stability and stopped leaking runs.
Chicago
The recent past
They just keep on keeping on, winning series against the Angels, Cleveland, Colorado and San Diego. Most of the games were close, the offense is getting just enough runs to allow the excellent pitching to keep them ahead, more often than not. This team isn't blowing anyone away, but they're grinding out the close victories.
The immediate future
The Sox are just starting a big homestand. Arizona are in town right now, they'll be followed by the Dodgers, Kansas City and the Cubs. This is their longest stretch at home all year.
Notes
Frank Thomas returned, he has been DH'ing and pinch hitting in the National League Parks, and there seems to be little chance of him appearing at first this year. Thomas hasn't missed a trick in his time out, he has come back hitting .333/.400/.833 and asking for a new contract (the Sox can buy him out next year for $3.5 million)…. Jon Garland is showing no signs of realising he's supposed to be a fifth starter he's up to 10 wins now and his ERA is still at an excellent 3.23....Big time prospect Brandon McCarthy came up for a look at the bigs when El Duque went on the DL, the kid was roughed up in his two starts, but earned rave reviews from Kenny Williams for 'the way he conducted himself and the way he went after hitters'….Paul Konerko is having a June hot streak, he's hitting .343/.452/.543 for the month….Dustin Hermanson blew his first save against the Padres, he is now 15-1 in save chances for the season….Sun-Times journalist Jay Marriotti is urging Kenny Williams to trade for Shea Hillenbrand - Joe Crede is only hitting .240/.309/.422.
Minnesota
The recent past
won series against Cleveland, the Yankees and Arizona and then dropped 2 out of 3 to the Dodgers.
The immediate future
Also have a big homestand coming up. They entertain the Giants, San Diego and Detroit before traveling to Milwaukee.
Notes
If you want to get after the Twins top pitchers do it early, Brad Radke's ERA in the first inning is 12.46, compared to 2.55 thereafter. Johan Santana meanwhile has an OPS against of 1.018 in the first frame…In a division dominated by pitching the Twins have the best ERA in the AL at 3.39, the White Sox, Cleveland and Detroit are also in the top five…The staff K/BB ratio of 3.57 leads the league by a huge margin (Chicago are second at 2.37), no surprise that this is mainly due to Johan Santana…A surprising number of Twins hurlers have low K/9 figures - Joe Mays, Carlos Silva, Kyle Lohse, Jesse Crain and Terry Mulholland are all under 4.00…Joe Nathan has been outstanding, but Jesse Crain (ERA 0.69 in 26 Innings) and J.C Romero (1.38 in 26) have been even better.
Blogger the 'Twins Geek' has put together a Twins Blogger Night at the Metrodome on June 21st, for the Twins Blogging community and the Admission Possible program - which helps promising low-income students earn admission to college.
Cleveland
The recent past
The Indians have just finished their longest road trip of the season. They stopped off elsewhere in the Central to lose series to both the division leaders and then had a headed off West to kick some ass, taking 5 of 6 from San Diego and San Francisco.
The immediate future
Another long homestand. Colorado, Arizona, Boston and Cincinnati visit Jacob's field, before Cleveland leave to take on the two best the AL East has to offer.
Notes
Cleveland's offense has woken up a little in the last 20 games, when they've averaged 4.1 runs a game, leading to their 12-8 record and a move above .500…While they're finally playing somewhere near how some of us thought they would, they're still a way away from the top two…Grady Sizemore and Travis Hafner both have an OPS over 1.000 for June and Coco Crisp is at .992…Even AAron Boone has managed an .885, and continues to cling onto the third base job, there had been rumors Casey Blake might be moved back there…Victor Martinez continues to struggle, with an OPS hovering just above .600.
Typically for a team in this division the pitching has been the team's strong point…Despite the struggles of Westbrook, Elarton and Davis who all have ERA's of five and over. Lee, Sabathia and Millwood are more than picking up the slack and the bullpen is coming up aces….Scott Sauerbeck has an ERA of 3.63 and that's comfortably the worst in the Cleveland 'pen…only Bob Wickman (12/11) and Matt Miller (12/7) have a K/BB ratio of worse than 2...Robby Thompson has taken from Buddy Bell as the Indians bench coach.
For interested parties, at the time of writing Cleveland are 4.5 games out of the Wild Card lead.
Detroit
The recent past
The Tigers have been struggling through June so far, they've lost series to the Orioles, Dodgers and Rockies going 3 - 6 over that stretch.
The immediate future
San Diego are in town this week then San Fransisco come in at the weekend, next week Detroit travel to the Twins and the on to Arizona.
Notes
Ugueth Urbina and Ramon Martinez were sent to the Phillies for Placido Polanco last week. Ugie apparently had a couple too many on a flight to LA the Sunday before last and fought with some of his erstwhile teammates precipitating this deal. On the face of it, it's a nice trade for Detroit as it improves an area of weakness, and they're dealing from an area of strength. Whilst Urbina has been excellent this year with German, Farnsworth and Jamie Walker Detroit are not short of quality right handed relief pitching. Polanco though is a free agent at the end of the year, with Detroit going nowhere there must be a chance that he won't be a Tiger for long, you figure he'll be an attractive commodity for contending teams at the trade deadline....if you want to deal a reliever in a hurry is there a better guy to call than Ed Wade ?....Pudge Rodriguez is having a decent June (.308/.325/.538) after having an OPS of .635 in May....Nook Logan has been hottest Tiger over the last couple of weeks though, he has a .415 OBP for the month....Polanco will probably see some time at Shortstop while Carlos Guillen is on the DL, and would then be expected to take over from the disappointing Omar Infante at second, he can also spell the amazing Mr Inge at third occasionally....Kyle Farnsworth hasn't allowed a run in 13 outings....Jeremy Bonderman has been a bit off his last few starts giving up 13 runs in 19.1 innings....Having Doug Creek on the roster has to be a sign that somethings not quite right.
Kansas City
The recent past
Break up the Royals! series wins against the Yankees (the famous sweep after Bell took over), San Francisco and Arizona, with a series loss to texas sandwiched in the middle. The offense has come up with 70 runs over the last 12 games.
The immediate future
The Dodgers and Astros come to town this week, then next week Detroit get to travel to the White Sox and Rockies.
Notes
When will it be Lima time ? Jose is still looking for his win of the season....Phenom Zack Grienke has had a horrible last couple of weeks, he's given up 18 runs in 8.2 innings and his season's ERA has jumped from 4.23 to 6.01....D.J Carrasco is riding a torrid hot streak, he's given up just 3 runs in his last four starts...The Royals are denying any intention of shopping Mike Sweeney around at the trade deadline...Tony Graffanino loves Buddy Bell - he's hitting .419 since the new boss took over...prospect Justin Huber has been moved from catcher to first base at Witchita.
---

https://www.battersbox.ca/article.php?story=20050615200822589