Fourth of July - A Nationals Holiday
Monday, July 04 2005 @ 09:10 AM EDT
Contributed by: Pistol
The surprise team of the season is threatening to run away and hide.
Standings as of July 3rd (prior to the late Atl/Phil game):

Team             W	 L	 PCT	 GB	
Washington	50	31	.617	 -	
Atlanta	        44	37	.543	6.0	
Florida	        42	37	.532	7.0	
Philadelphia	41	40	.506	9.0
NY Mets	        40	41	.494   10.0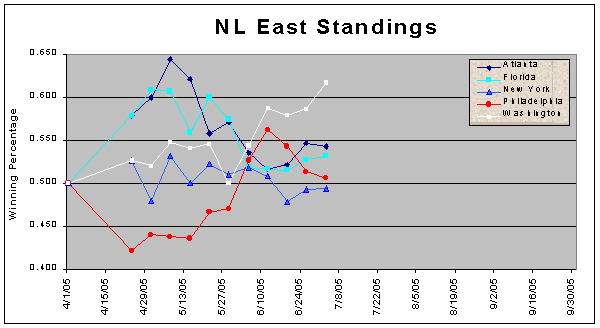 There's a bigger gap between the Nationals and the Braves than there is between the Braves and the last place Mets.
The Nationals are finally positive in run differential, but are still fourth in the division in run differential. But they're still six games up so what to they care?
This update will take a look at who made the All Star team, and who should have.
Atlanta Braves
Overall Record: 44-37
Run Differential: +66
Record in last period: 4-7


All Stars:

John Smoltz - The conversion back to the rotation has gone just fine so far this season. The concerns prior to the season were whether is arm would hold up. So far so good - he's thrown 124.3 innings.

Andruw Jones - Has a HR leader ever been left off an All Star team?


All Star Snubs:

Marcus Giles - The backup to Jeff Kent is a close call which I give to Giles over Chase Utley and Craig Biggio. And of course Luis Castillo ends up being the selected backup.



Florida Marlins
Overall Record: 42-37
Run Differential: +25
Record in last period: 8-5


All Stars:

Dontrell Willis - An easy All Star pick here, although Clemens deserves to start the game.

Miguel Cabrera - Another easy All Star selection, Cabrera deserves to start the game. However, coming off the bench allows him to make a difference at the end of the game. He's my MVP pick.

Luis Castillo - This selection struck me as odd as I thought Castillo was 4th or 5th best 2B in the NL. I would have gone with Giles.

Paul LoDuca - Catcher isn't the deepest position in the NL, but LoDuca clearly is ahead of the rest of his peers


All Star Snubs:

Carlos Delgado - One of the best players in the NL, Delgado was snubbed because of all the OFs on the team. There's 9 total, and the 6 reserves either deserve to be on the team or are required team selections. Delgado isn't on the team because Beltran and Edmonds are starting and taking two undeserving OF spots.



New York Mets
Overall Record: 40-41
Run Differential: +4
Record in last period: 7-5


All Stars:

Carlos Beltran - When the two players ahead of you in VORP are Damian Miller and Wilson Betemit it's a good sign that you didn't make the All Star team on merit.

Pedro Martinez - While Beltran is an All Star on past reputation Pedro is legitamately going to the game....or at least being named to the team


All Star Snubs:

David Wright - Morgan Ensberg has been the best NL 3B this year, and while Aramis Ramirez and Joe Randa (yes, Joe Randa) have played similarly to Wright, Wright gets the nod from here based on defense. Wright won't be in Detroit because Scott Rolen was voted in despite playing about half the first half.



Philadelphia Phillies
Overall Record: 41-40 
Run Differential: -19
Record in last period: 3-8


All Stars:

Bobby Abreu - One of the easiest All Star selections and one of the NL's best players.


All Star Snubs:

Billy Wagner - How can you put Isringhausen on the team over Wagner? Well, I know how you CAN (2 more saves, marginally lower ERA), but I don't agree with it.

Washington Nationals
Overall Record: 50-31
Run Differential: +2
Record in last period: 10-2


All Stars:

Livan Hernandez - Washington's horse is a big reason why the Nationals are still in first.

Chad Cordero - Fifteen June saves will get you noticed.


All Star Snubs: None



Changes: So here's how I'd change the NL All Star Team

In:                   Out:
Ensberg               Rolen
Delgado               Beltran
Giles                 Castillo
Wright                Ramirez    
Oswalt                Edmonds
Wagner                Isringhausen
Agree? Disagree? If you think someone is snubbed you have to take someone off the team. Let's hear it.
---

https://www.battersbox.ca/article.php?story=20050703184948673