AL Central Update
Wednesday, July 13 2005 @ 09:52 PM EDT
Contributed by: Gwyn
The trading deadline looms.
Standings

		W	L	PythW	PythL	RS	RA	
Chicago Sox	57	29	51	35	413	339	
Minnesota	48	38	47	39	396	360	
Cleveland	47	41	48	40	406	365	
Detroit		42	44	44	42	387	375	
Kansas City	30	57	34	53	376	485	

Run Differential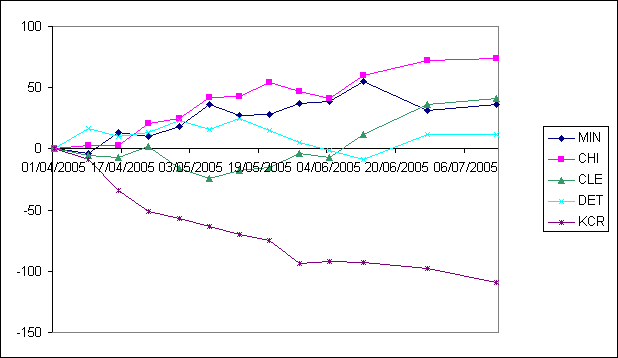 Chicago White Sox
Last Two weeks
The Sox have a losing record in July; they swept the Devil Rays at home, but lost two series to the A's by a combined 5-1.
Next Two Weeks
Some tough games ahead, they travel to the hot Indians and then entertain Detroit and Boston.
Trading Deadline
Will obviously be buying. Although their name has been mentioned in the Burnett sweepstakes, lots of seemingly more substantial rumours have them on the verge of landing Jason Schmidt from the Giants with Omar Vizquel (who they pursued in the off-season) possibly being added to the deal.
Second Half Player to Watch
Bobby Jenks. The 24 year old Jenks is from the Nuke LaLoosh school of the million dollar arm and the five cent head. He has racked up gaudy strikeout numbers in his minor league career with his 100mph heater, but is just as well known for his walks and his off-field brushes with the law. The Angels cut him lose last year and Jenks has impressed in 2005 in the closers role at Birmingham putting up a 2.85 ERA in 41 Innings, with 48 strikeouts and just 20 walks.
Minnesota Twins
Last Two weeks
A 6-4 in record in July, but one that flatters to deceive. All the wins came against Tampa bay and Kansas City, whilst they were swept by the Angels on a trip to Anaheim.
Next Two Weeks
They have to face the Angels, and then get difficult series against the Orioles and Tigers.
Trading Deadline
Already made a move, adding Brett Boone, the Mariners will also send the Twins cash in the deal for a PTBNL. Second base has been an offensive vacuum for the Twins so far this year; Boone should get plenty of chances to contribute. How much he is able to contribute is obviously an open question, but the Twins have paid very little for him. The Twins don't tend to be wheelers and dealers at the deadline, the only big trade they have made at this time in recent years was acquiring Shannon Stewart in 2003. The rumours of Joe Randa coming in to play third continue to crop up here and there though.
Second Half Player to Watch
Carlos Silva. Silva has been the Twins best pitcher in the first half, even outshining Santana. He had his struggles in June and July though and in his two full seasons to date has never put up an ERA under 4 - he is at 3.52 so far this year. His K/9 totals are down again, to 3.22, but his success this season has been based on his amazing walk totals, he's given up just 5 free passes in 115 Innings, and consequently sports an incredible 8.20 K/BB ratio. If he starts to walk people at his previous rates things could start to go south. There has been no sign of that happening so far in July, he hasn't walked anyone in two starts.
Cleveland Indians
Last Two weeks
A combined 5-6 record, but it came in tough series against the Orioles, Tigers and Yankees.
Next Two Weeks
Entertain the White Sox, but then get to beat up on Kansas City and Seattle.
Trading Deadline
Maybe buyers and sellers. The emergence of Fernando Cabrera could make one of the other middle relievers available. Chris Kahrl suggested in BP that Bobby Howry might be moved.
The trade of Alex Cora to Boston has freed some money up and the Indians would dearly love, by all accounts, an upgrade from the right side of the plate. Aaron Boone had a desperate start to the season, but has posted good numbers in June and July, Casey Blake has struggled recently and might be vulnerable, if the Indians can find an outfielder available. Like many teams this year, they are claiming not to be interested in a 'rental' player and want someone they have control of past this year.
Second Half Player to Watch
Fernando Cabrera
What do you think of these apples?

Year	Team	IP	ERA	H 	HR	K	BB
2004	Buffalo	75	3.84	57	9	92	43
2005	Buffalo	45.1	0.99	33	2	62	9

I don't think I'm going out on a limb here if I say I think he's ready. Cabrera is a Right Handed relief pitcher, he throws a mid-90s fastball, an apparently great forkball and mixes in a changeup and slider.
Now it's true in 2005 he is repeating a level, something which seems to make minor league watchers all fidgety and antsy, but what an improvement. The power and dominating stuff was obviously there last year, this year he has exquisite control of it too. You couldn't really ask for better numbers than that - and he's only 23.
The Indians have such an embarrassment of riches in the bullpen that his role is unclear, simple seniority might keep him away from the high leverage roles for a while, and as a former starter he might have the stamina still to take on the long-relief role. His future clearly, and one suspects sooner rather than later, is at the end of games, I would expect him to take on a setup role soon and at some point become a closer, and a very very good one.

Detroit Tigers
Last Two weeks
A 6-5 record that was helped out by taking 3 of 4 in Tampa bay before the break, before that they'd hung in tough against the Yankees and Indians.
Next Two Weeks
Keeping it in the division, they get an easy start at home to Kansas City, then have to travel to the south-side of Chicago before returning home to entertain the Twins.
Trading Deadline
It really could go either way here, indications are the Tigers are willing to sell if the right prospects are offered. At the same time, they clearly won't be selling for the sake of it, this team hasnít has a wining season in a while and they may hang on to what they've got just to have a run at finishing above .500 and showing the fanbase they mean business. Placida Polanco will surely draw some interest and a few papers have suggested the Angels might be interested in Dmitri Young.
Second Half Player to Watch
Magglio Ordonez. Came back from injury on July 1st and immediately started hitting for power. He put up a .611 SLG, with 3 homers and 4 doubles in 36 At-bats. If Ordonez can hit for decent power over the course of the second half it'll be a huge boost for a team thatís on pace to score less than 800 runs.

Kansas City Royals
Last Two weeks
No surprise a 4-6 record, although they did win a rare series at home to the Mariners.
Next Two Weeks
Travel to Detroit and Cleveland and then entertain the fighting Jays.
Trading Deadline
Strangely aren't figuring to be big players at the deadline. Mike Sweeney is obviously the main name involved in any speculation but the Royals have some other veterans who might attract some interest - Jeremy Afeldt, Tony Graffanino and Matt Stairs for instance. Sweeney has been doing his best over the last couple of weeks to impress scouts, he has hit .452/.485/.806 in July so far. He has a huge salary outstanding and a long injury history which seem to be putting off potential suitors unless the Royals would be prepared to eat a large part of Sweeney's salary, and this doesn't appear to be something they will want to do. Baird is sure to be burning the phone lines in the next two weeks trying to scare up a market for Sweeney.
Second Half Player to Watch
Zack Greinke. The presumed future cornerstone of the rotation is still only 21, so ups and downs should be expected. The down of June (10.08 ERA) and July (8.44 ERA) though was a doozy. Baird has insisted he has no plans to send him down, and the Royals will give him every chance to find his way out of the quagmire, they seem to think it will be character building. Greinke seems to have Ted Lilly disease, not trusting his fastball enough and going to his breaking stuff too much.
---

https://www.battersbox.ca/article.php?story=2005071321294930