The AL Playoffs - How three weeks makes all the difference
Tuesday, August 23 2005 @ 04:05 PM EDT
Contributed by: Pepper Moffatt
I wasn't able to get an AL East report up this week due to illness, so I hope this suffices.
As you have no doubt figured out, I'm rather addicted to the Playoff Odds Report at Baseball Prospectus. Now that the Jays are out of the running, I've been cheering for anybody but the Yankees to make the playoffs. There's a good chance that might happen, but anything can happen in a 3 week period, as shown by the following: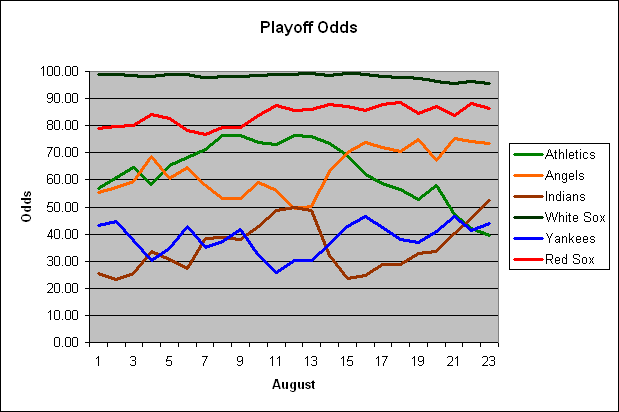 This graph tracks the odds that the major contenders will make the playoffs. A few things to note:
Check out the Indians (in brown). Their odds of making the playoffs took a serious nosedive on the night of August 12th when they lost a 8-6 game to the Devil Rays while the Yankees beat Texas 6-5 and the Jays beat the Orioles 12-0. They'd lose their next two games to Tampa 8-2 and 1-0. Getting swept by the D-Rays dropped their odds of making the playoffs from 49 to 25%.
Since then? They've gone 6-1, sweeping Texas, taking 2 out of 3 to Baltimore and winning their first in a set to the D-Rays. That coupled with losing streaks by the A's and Jays have rocketed them back up to a 52% chance of winning the division.
Between the strong play of the Indians and the poor play of the White Sox, there is a chance (albeit small) of the White Sox missing the playoffs. That chance grows larger by the day, as shown by the chart.
The Angels are 6-4 in their last ten. The A's are 3-7. This is reflected in their playoff odds. Due to the mediocre performance of both teamsthe odds that the Wild Card will come out of the West is shrinking every day.
Speaking of the Wild Card, here's the odds that each of these teams (minus the White Sox) will be the Wild Card winner: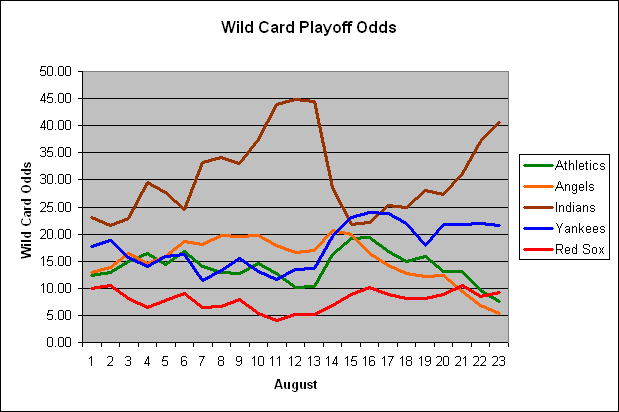 The Red Sox have such a low shot at winning the Wild Card simply because they have such a great shot at winning the division. If we figured out their odds that they win the Wild Card given that they don't win the division, they'd probably be pretty high.
Right now it looks like a two team race for the Wild Card, with the Angels and A's falling out of the WC race. It appears that the Indians are the clear favourites, but look how much things have changed in the last week. I wouldn't be surprised if things once again look a whole lot different next week.
Your thoughts?
---

https://www.battersbox.ca/article.php?story=20050823160514514