Advance Scout: Indians, August 26-28
Friday, August 26 2005 @ 05:18 PM EDT
Contributed by: Mike D

The disappointing news about Roy Halladay's fracture casts a cloud over the otherwise excellent news that the Jays are finally home again. If I'm in the Jays front office, I'm using all the influence I have this off-season to lobby against a 13-game Baltimore-Anaheim-Detroit-New York trip in August.


Don't expect any sympathy from the visitors from Cleveland; they're locked in a virtual three-way tie for the lead in the wild card chase, and are red-hot of late. Although a successful weekend will sadly benefit the Yankees more than anybody else, it'll still do the young Jays some good to get back on track after playing a somewhat lower quality of baseball over their last seven games.

This week's Scout features a surprising shortstop, some front-office AL Central gamesmanship and a lefty that hasn't been quite as deceptive as he'd like to be. Plus, another Trivia Challenge!

On to the Advance Scout!

* General: After a shocking sweep at the Jake by the D-Rays, Cleveland has gotten back on track, winning eight of its last ten ... The team leads all of baseball in August, winning 17 of 23. In fact, Cleveland has posted a lofty .602 winning percentage since May 9 ... The team has played .600 ball all season on the road ... Cleveland's bullpen paces the AL with a 2.87 ERA, although it's a bit less stingy now that Arthur Rhodes is injured (right knee) ... Cleveland has rallied from deficits of four or more runs to win six ballgames -- tied for best in the bigs ... In other bullpen injury news, Matt Miller has started a rehab assignment ... Rafael Betancourt has been touched for eight earned runs in his 14 innings pitched since his steroid suspenion ... Speaking of suspensions, David Riske's four-gamer could start at any time. He argued in his appeal that he accidentally hit Ichiro in the midst of a beanball war with the Mariners. No ruling has come down yet ... Texas has been shopping Phil Nevin to the Tribe aggressively, assuming Cleveland needs help at third base. But Cleveland isn't interested in assuming $10 million for 2006 ... Watch for the oft-daring third base coach, Joel Skinner. He tests outfielders' arms ... Likely September callups: Pitchers Jason Davis and Fausto Carmona, plus three position players including a catcher -- likely Ryan Garko ... Rumour is that the Twins put in a waiver claim on Alfonso Soriano to prevent Cleveland from acquiring him in an August deal ...

* Travis Hafner: When he drives in a run -- which is quite often -- the club is 32-13 ... Is third in batting and second in OPS in the American League ... Has worked hard and consulted a wide range of players and coaches in his (successful) quest to hit lefthanders better ... Manager Eric Wedge: "Hafner can drive the ball or he can punch the ball...He has a great understanding of what the situation is" ... Can be tied up with fastballs up and in ... Excellent low-ball hitter ... Tremendously strong and can drive the ball even when he reaches for it ... Has hit just .211 against the Jays over his career ...

* C.C. Sabathia: Has won four consecutive starts ... Had an awful July (1-5, 6.68) despite consistently hitting 97-99 on the gun with his fastball. Video sessions, though, confirmed that his delivery -- which clearly involved more strain when he was overthrowing his fastball -- was tipping hitters off to his pitch selection. He's lost a touch of velocity but has been pitching with a much more consistent -- and hence, less, transparent -- delivery. The key, according to Sabathia: "I've got to stay tall in my delivery and throw the ball downhill" ... Throws a fastball, an occasionally flat slurve and a changeup ... A southpaw that Corey Koskie hits well! Corey's hit .320 with six walks and four K's against the large lefty ...

* Jhonny Peralta: Has hit an impressive .304/.387/.581 since the All-Star Break ... Thought his father was joking when he proposed 20 home runs as a goal for this season -- but that's what he has, here in late August ... Goes with pitches very well, and has power -- not light-tower power, but certainly power -- to all fields ... Front-foot hitter, but with tremendous poise and balance ... Level, quick swing makes him a dangerous fastball hitter ... His range at short is no better than decent ...

* Coco Crisp: Went 0-for-5 and stranded seven runners on Coco Crisp Bobblehead Day ... Flies open a bit early from the right side of the plate, but he can drive pitches up and in ... Sometimes careless in the field ... Alert baserunner ...

* Grady Sizemore: Long but fluid inside-out swing ... Prefers the ball in, and can be caught reaching for fastballs away ... Plays hard and is not afraid to get his uniform dirty in centre ... Smooth baserunner ...

* Ronnie Belliard: Mildly injured his neck in a rather girth-laden collision with umpire Eric Cooper ... Belted his first-ever grand slam last night ... Waits well on breaking pitches and likes the ball out over the plate ... Violent swing, but he stays down on the ball ... Surprising range at second for a self-described "fat guy" ...

* Victor Martinez: After an awful April and May, he's turned on the jets offensively. Martinez is hitting a robust .397/.459/.624 since the All-Star Break ... Very good plate coverage, as he can drive the outside pitch with authority .. Does not like pitches down around the knees ... Has thrown out just 19% of would-be basestealers. For what it's worth, his catching ERA is about two-thirds of a run higher than Josh Bard's ...

* Ben Broussard: Vulnerable to changeups and other off-speed stuff unless he sits on it ... Hit a walk-off home run, though, off Steve Kline on a breaking ball last weekend ...

* Kevin Millwood: Oddly poor run support, considering he pitches for a fine offensive team ... Throws a curve, slider and change to complement his fastball ... Four-seam fastball regularly works in the low 90s, but without a lot of movement. He can't leave it up in the zone, where it's a huge homer risk ... Two-seamer is better, as he likes to throw it in on lefties. It breaks back over the plate ... Likes to backdoor lefties with his looping mid-70s curve ... Nice late bite to his high-80s slider, which he throws away from righties ... Has been pummelled for 14 runs in his 13 career innings against the Jays ...

* Bob Wickman: An effective but hair-raising closer ... Has allowed 66 baserunners in 48 2/3 innings ... Got away with a rather obvious balk on Tuesday with runners on second and third in a one-run game. The Devil Rays were fuming after the game when Wickman nailed down the save ... One of Doc's competitors for the Comeback Player of the Year award ...

* Casey Blake: Old friend was removed from Wednesday's game after getting beaned by a Seth McClung fastball. He's still sore, but will play ... Will roll over outside pitches, grounding them harmlessly to the left side ... Has gamely played the outfield to fill the team's needs. He's not a natural out there, and often misjudges line drives ... Likes fastballs down and in, and has legitimate power ...

* Jake Westbrook: Leads the American League in groundball outs ... Throws a low-90s fastball with considerable sink ... Strangely, has only posted two no-decisions all season ... Not to put the cart before the horse, but Westbrook will likely be used out of the bullpen should Cleveland win the wild card. The tentative plan is to go Millwood-Lee-Sabathia-Elarton in the playoffs ...

* Jose Hernandez: Has yet to commit an error this season, despite being used all over the diamond ... Wedge seldom lets him face righties, against whom Hernandez is .169/.264/.182 with 27 K's in 77 at-bats. He's laughably vulnerable to righthanded breaking stuff ... Lunging, almost wild swing. But he recognizes lefthanded breaking stuff well ...

* Brian Tallet: Called up for the fourth time on Tuesday, he's only been able to spend about five nights in his Cleveland apartment since the All-Star Break. Tallet's had to rely on hotel laundry services ... Has pitched about 100 innings in Buffalo and Cleveland, and he's been noticing a tired arm lately. He's coming back from Tommy John surgery ...

* Aaron Boone: Can still hurt you on inside breaking pitches, a la 2004 ... A bit of an inside-out hitter on fastballs ...

* Trivia Challenge: Jhonny Peralta is the second Cleveland shortstop ever to hit 20 home runs at the position. Who was the first? It's a toughie ...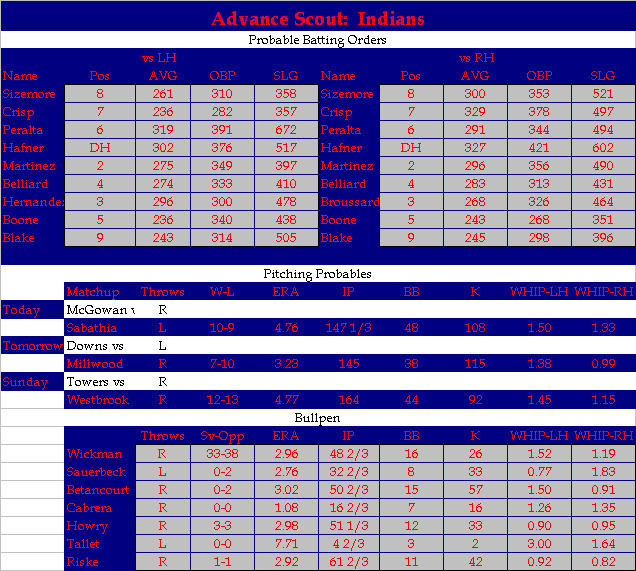 ---

https://www.battersbox.ca/article.php?story=20050826170453316