Advance Scout: Orioles, August 30-September 1
Tuesday, August 30 2005 @ 04:27 PM EDT
Contributed by: Mike D

The Jays face the only team with a more disappointing last two weeks, as the weary and demoralized Baltimoreans come to town for a three-game set that was, at one time, shaping up to be a meaningful pennant-race series. After being swept by the A's in a four-game set at Camden Yards, Baltimore is simply hoping for a return to normalcy and an escape from the controversy that has surrounded this club without any real respite since Jose Canseco named three players in the Orioles' spring training camp in his book.


This is not, however, going to be easy for the Jays. Rodrigo Lopez was brilliant in his last start, and 21-year-old Hayden Penn, who was nearly traded away mid-season, hopes to give Baltimore and its loyal fans some optimism with a strong start on Thursday, when rosters expand.

This week's Scout features an impending end to a streak, an ex-MVP candidate and a troubled pitcher with a troubling amount of money still guaranteed by Baltimore. On to the Advance Scout!

* General: The Orioles are delighted to see August end -- a month featuring a manager's firing, a slugger's humiliation, a pitcher's arrest and plenty of losing (10-16) ... After getting pounded by the A's for 12, 10 and 10 runs -- and with yesterday's game going 12 innings -- the O's bullpen must be absolutely gassed today ... Sammy Sosa, who was in an awful 5-for-50 slump, is on the DL with a toe lesion under his toenail. He missed 20 days in 2003 with a similar injury ... Daniel Cabrera's back is feeling much better, and he'll make a rehab start tomorrow with AA Bowie ... Jim Palmer publicly beseeched Sidney Ponson to seek treatment for alcohol abuse after the Aruban pitcher was arrested yet again for driving under the influence -- an offence that could land him in prison for a year. Ponson was arrested once in A-ball and now twice as a big leaguer for drunk driving, and has been involved in other alcohol-related incidents. Manager Sam Perlozzo: "Fortunately, nobody got hurt" ... Ponson, for his part, has vowed to "take care of business" with his life. If convicted, Ponson is in serious danger of having his work visa revoked ... Insiders are divided as to whether the O's have sufficient grounds to void the whopping $10 million due to Ponson next year ... The O's are smarting from their failure to acquire A.J. Burnett, who has really heated up for the Marlins. The package -- Larry Bigbie, Jorge Julio, Steve Kline, Hayden Penn and the willingness to take on Mike Lowell -- was satisfactory to Florida, but the O's didn't think they could lock up Burnett long-term ... First-round pick Brandon Snyder started the season in rookie-level Bluefield, and only recently was promoted to Low-A Aberdeen ... Sendy Rleal (how's that for a name?) has fifteen saves and a 2.23 ERA in Bowie ... Prospects Walter Young and Nick Markakis are unlikely to get much playing time in September. Perlozzo does not want to unduly influence the pennant race by playing inexperienced rookies ...

* Rodrigo Lopez: Throws a high-80s two-seam fastball and cutter, a good low-80s change, and a curve along with the occasional slider ... Runs his two-seamer in on righthanded hitters, and backdoors lefthanders with it. When it's working -- as it was last Thursday -- its late movement is superb ... Occasionally throws a four-seamer, which he can dial up to the low 90s ... The mid-80s slider doesn't move much, and it can be really appetizing to lefthanded hitters thinking offspeed. He needs to keep it out of the strike zone ... Throws a straight change. There's no trick to it if you're not fooled by it ... Wears his emotions on his sleeve when he pitches, and seems to get very discouraged after getting hit hard ...

* Javy Lopez: Only 11 walks this season against 50 strikeouts ... That said, he has been making solid contact early in counts with his long swing ... Very strong hitter with pitches over the inner half ...

* B.J. Ryan: Incredibly tough on lefties with his three-quarter arm delivery. His fastball gets in on them very quickly ...

* Miguel Tejada: Slugging just .365 in August. He's been grounding out a lot lately ... Continues to chase breaking stuff down and away ... Waits well on curveballs up in the zone ... Gives tremendous defensive effort, and if he can knock the ball down, he will ... Quick release at short ... His 886-game ironman streak is the eighth-longest such streak of all time, and ten games shy of Stan Musial's seventh-longest streak...but its days are numbered. Tejada: "My streak will be over, probably this year. I am going to take a day off...I have to rest my body, too" ...

* Rafael Palmeiro: Struggling badly, and Perlozzo has said that Palmeiro no longer owns the starting job at first -- even against righties ... Remains a dead pull hitter, and he can be pitched to down in the zone ... Steadfastly supports Ponson, who was Raffy's staunchest ally during his steroid suspension ...

* Brian Roberts: Continues his rather pedestrian second half, hitting just .252/.316./.340 since the All-Star Break ... A decline in selectivity has been the biggest factor behind his slump. He's chasing more (both up and down) now than he did earlier in the season ... Fluid baserunner that is starting to become more active on the basepaths after only eight stolen base attempts in June and July combined ...

* Bruce Chen: Strangely, he's been far tougher on righthanded hitters than on lefties ... He throws with an overhand arm angle and doesn't conceal the ball from lefties the way many southpaws do ... Throws a standard mix of high-80s fastballs, sliders, curves and changes ... Throws a sinking, low-70s change that he keeps down and away from righties ... Looping overhand curve is thrown in the mid-70s ... Surprisingly spry fielder ...

* Eric Byrnes: Still has that violent swing. He needs to keep his head down on the ball ... His head flies off pitches up and in ... Needs to use centre and right more at the plate ... Can be frozen down and in ... Aggressive fielder who has yet to develop outfield chemistry with the rangy Matos ... Hustles down the first-base line ...

* Luis Matos: Can be pull-happy at the plate. Pound him away and he'll roll over pitches ... When he runs, he likes to run at the first movement. It leads to more than his share of pickoffs ...

* Melvin Mora: His swing has become a bit choppy lately, leading to a lot of grounders ... Prefers the ball out over the plate ... Brings an outfielder's athleticism to third base, meaning his reaction skills aren't great but he's tremendous at tracking down difficult foul balls and pop-ups ... Prone to baserunning miscues ...

* Eric DuBose: Likes to throw his mid-80s slider up and in on lefties ... Slow low-70s curve that he throws down, inducing hitters to chase ... Some cutting movement on his low-90s fastball, but he has to keep it in on righties or it's very hittable ... Not afraid to pitch inside ... BREAKING NEWS: Hayden Penn will replace DuBose on Thursday, when the rosters will expand ...

* Jay Gibbons: One of the real good guys on the Orioles, his latest charitable initiative has been to rally players and fans for a massive blood drive at Camden Yards ... Has been very frustrated with the team's hitting lately and has urged the Baltimore media to focus on he and his bat-mates, not the beleaguered pitching staff...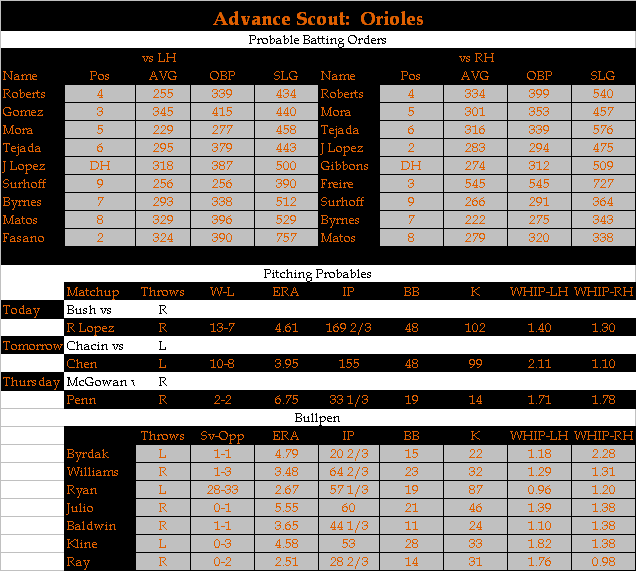 ---

https://www.battersbox.ca/article.php?story=20050830161520675