The End Is Near
Friday, September 02 2005 @ 10:00 AM EDT
Contributed by: Magpie
The west is the best
The west is the best
Get here, and we'll do the rest

WEST	         W	L	PCT	GB	HOME	ROAD	RS	RA	
San Diego	67	66	.504	-	37-31	30-35	575	603	
LA Dodgers	61	72	.459	6	32-33	29-39	576	632	
Arizona	        61	74	.452	7	29-37	32-37	590	745	
San Francisco	59	73	.447	7.5	30-37	29-36	544	630	
Colorado	52	81	.391	15	33-35	19-46	576	722	

Shall we look once more at the slow and tortured progress of this five teams in a graphical format? I think we shall: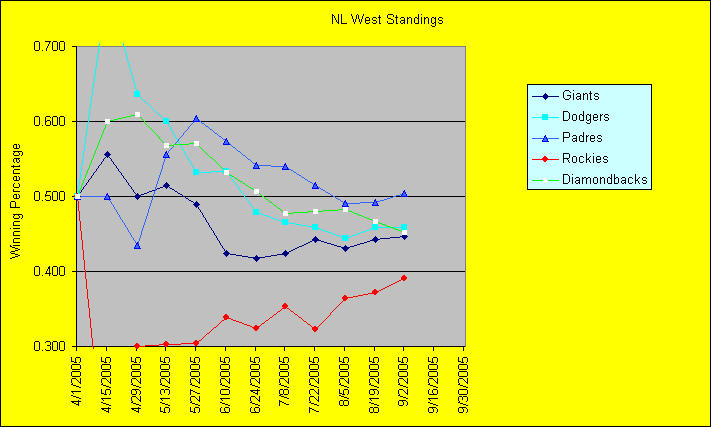 It's not pretty, I admit. But four of the teams have actually started to improve, which is news in this division.
The Padres, bless them, have actually crawled back above .500. San Diego took two of three from real contenders Houston and Atlanta, and two of three from Arizona, who would be not-so-real contenders, I suppose. The news was pretty good in southern California. Brian Giles tweaked a knee, but missed just one game (and actually appeared as a pinch-hitter.) Khalil Greene returned to the lineup. Pedro Astacio went on the DL, just in time to clear a spot in the rotation for the returning Adam Eaton. Astacio went 2-0, 2.42 in four August starts. His fellow Texas reject, Chan Ho Park, didn't pitch as well as Astacio - Park did go 4-1 in August, however. After struggling a bit in mid-summer, Jake Peavy has returned to form (4-2, 2.22 in August.) The Padres are in the best shape they've been in for a long time.
The Dodgers slipped into second place, past the sinking Diamondbacks. There haven't been very many good stories out of Los Angeles this summer, but Jeff Weaver pitched very well in August (5-0, 3.00). Cesar Izturis went on the DL - while this probably didn't help the defense, it at least got him out of the leadoff spot in the batting order. Hee-Seop Choi batted .343, with a .429 OB and a .543 slugging percentage. Of course, Choi only had 35 at bats as Jim Tracy used him mainly as a pinch-hitter, because... well, I'm not going to try to explain what Jim Tracy thinks.
Reality - as in they're really not a good team - may finally be catching up with the Diamondbacks. All season long, the Snakes have specialized in getting absolutely pounded and crushed once every couple of weeks, and playing .500 ball the rest of the time. This is not normal. Over the past few weeks, they managed to drop 11 of 13 at one point, while adding losses by 17-3, 14-1 and 18-4 margins to their weird season log. Some of you may recall that in This Day In Baseball: 22 August 2005, I tallied up all the games decided by 10 runs or more this season - at that time, the D'Backs had six such losses (and no wins) - now they have eight. This is one strange, strange team.
There is a word for what's happened this year in San Francisco. That word is disaster. The Giants brought in some aging talent in order to make a push for a championship while their aging superstar was still around to lead the way. Barry Bonds still hasn't played a game this season, and without him, the Giants stand exposed as the fourteenth best team in a sixteen team league.
But Colorado - a little respect is in order. We have mocked the Rockies many times this season, because... well, they suck. But since the All-Star Break, they've gone 21-24. In this division, that makes them a regular powerhouse. They've played a lot of young inexperienced players, and have been rewarded for it. Brad Hawpe, Garrett Atkins, Jeff Francis - not to mention Clint Barmes - actually give this franchise reason to feel cautiously hopeful about 2006.
Particularly when there are all kinds of reasons to foresee trouble in Los Angeles, San Francisco, and Arizona.
---

https://www.battersbox.ca/article.php?story=20050902020956525