Bring on the Cardinals!
Friday, September 30 2005 @ 08:00 AM EDT
Contributed by: Magpie
We have a winner, ladies and gentlemen! The 2005 San Diego Padres! And if they win one just one game this weekend from the reeling Dodgers, they will not be taking a losing record into the post-season.
Which is an enormous relief to everyone, I'm sure.
One last pretty picture: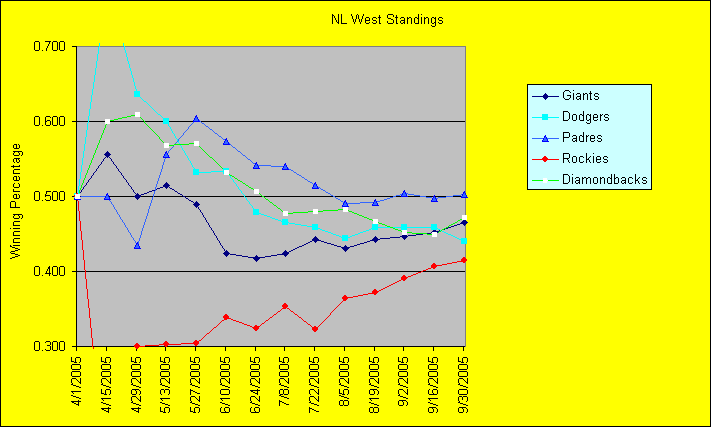 As I noted a few months back, 84 Bauxites predicted the division races prior to the season. At this point, no one called the NL West correctly. This could change, though - if the Giants can somehow overtake Arizona this final weekend, then cedvicious will have actually placed the five teams in the correct order.
Why was this so hard?
Mostly because the Dodgers drew 59 of 84 first place votes. Since starting the season by winning 12 of their first 14 games, the Dodgers have been utterly awful. They've gone 58-87 since then. If the season went on for two more weeks, they would probably have fallen behind the Colorado Rookies.
The Dodgers and the Giants can blame injuries for much of their misfortunes. The Dodgers did without Eric Gagne for most of the season, lost J.D. Drew about halfway through, and saw Milton Bradley, Cezar Izturis, and Odalis Perez all miss a considerable chunk of the season. The Giants did without Barry Bonds for almost the entire season, and with Barry missing, managed to score fewer runs than 28 other teams.
So what. The Padres had plenty of problems too. The Padres problems were not trivial - they lost both middle infielders and their star catcher for lengthy stretches. Mark Loretta was out for almost two months. Sophomore shortstop Khalil Greene was shelved twice. They lost catcher Ramon Hernandez twice - he missed the entire month of August. All of these people are back and healthy now, and Hernandez was hitting up a storm in September.
Starters Adam Eaton and Woody Williams were shelved for lengthy periods, and fifth starters Tim Redding and Darrel May were... not up to the job. They took on Chan Ho Park's contract in exchange for Nevin - Park went 4-2 in 8 starts. They picked up another Texas reject, Pedro Astacio, and plugged him into their rotation. Astacio went 4-2, 3.17 as a Padre, pitching very well indeed down the stretch, and has probably earned a post-season start against the Cardinals.
The San Diego bullpen has been intact all year, and has been a consistent strength since Day One. Trevor Hoffmann gets the glory, and has saved 42 games to date - but they have also received excellent work from Scott Linebrink, Akinori Otsuka, Chris Hammond(!), and Rudy Seanez(!!). Not so with the starters. The only constants in the rotation were ace Jake Peavy and Brian Lawrence. Lawrence had an awful year, going 7-15, 5.06 in one of the best pitcher's parks in baseball. Peavy got off to a brilliant start, but scuffled a little in mid-season. Over the last two months, however, he has been getting stronger and stronger. He's been pitching much better than Chris Carpenter over the last month.
The Padres did some redesiging of their team as the season went along. They dumped first baseman Phil Nevin, and turned the job over to the platoon combination of vet Mark Sweeney, who posted on OBP of .400, and Xavier Nady, who chipped in with 13 HRin half a season's worth of at bats. They got tired of watching young 3B Sean Burroughs get one extra base hit a month, and brought in Joe Randa at the trading deadline. Randa isn't a star, but he hit 16 doubles in two months for the Padres, which made him an instant improvement.
The starting outfield - Brian Giles in RF, Dave Roberts in CF, and Ryan Klesko in LF - managed to stay intact for most of the season. Klesko has been struggling: he hit .202 with just 2 HR over the last two months of the season. But Giles has had a superb season, although Petco depresses his offensive numbers something awful. Giles is at .304, with 15 HR and 82 RBI, which is certainly respectable for a corner outfielder. He also drew 119 walks, more than any other hitter in the major leagues, helping him to a .427 OBP, which ties him with Albert Pujols for second in the NL, behind Todd Helton. He's actually a good sight better than that, but his ballpark does much to diguise it. Giles hit almost .60 points better away from his home field this year.
And Giles isn't the only one. The Padres offense doesn't look that impressive, does it? Ryan Klesko led the team with 18 home runs. Twelve National League teams have scored more runs than the Padres this season.
Yeah, but. Get them out of Petco, and see what happens. In road games, the Padres were second in the NL in runs scored. Behind St. Louis, of course. This team can hit.
Thus endeth the final NL West Update of 2005. Hey, it's been fun. It gave me a reason to look at the major league division I have always paid the least attention to - wrong league, wrong time zone - and we almost saw a little history made. If the Padres get swept by Los Angeles this weekend, we will. But that's not going to happen. The last time the Dodgers swept three games from anyone came when they took a series from Colorado at Dodger Stadium. At the end of April.
---

https://www.battersbox.ca/article.php?story=20050930014946961