Advance Scout: Royals, September 30-October 2
Friday, September 30 2005 @ 04:58 PM EDT
Contributed by: Mike D

Alas, this will be the only October baseball played at the Rogers Centre. And after seven pulsating games in Boston and the Bronx, the meaningfulness of the games played by the Jays couldn't take any more dramatic of a turn than to welcome the Kansas City Royals to town. That doesn't mean there's nothing to play for; a sweep will bring the Jays back to .500 -- a mark that most honest observers of the club would admit the team deserves, at a minimum.


As this is the final series of the season, so too is it the final Advance Scout. It'll be back next year, so please feel free to offer comments and criticism about how to make it better. I'm always open to suggestions!

This week's Scout features some young arms, a no-hitter (interrupted) and a bonus baby signed by a team that has had some rotten luck with bonus babies.

On to the Advance Scout!

* General: Unless Kansas City sweeps this weekend series, they'll record their worst season in franchise history. With 104 losses, the '05 club tied the dubious mark set in '04 ... All three 100-loss seasons in franchise history have occurred over the last four years ... Still, the Royals succeeded in their most important task for 2005: Signing Nebraska third baseman Alex Gordon ... The burly slugger will receive a $4 million signing bonus that will also cover his forthcoming stint in the Arizona Fall League ... Some media types asked Gordon if he was making a mistake by signing rather than hold out to play for a less inept organization. Gordon handled the press conference well ... The Royals' previous record for a signing bonus was the $2.7 million paid to pitcher Jeff Austin (who?) in 1998 ... While we're at it, the next-highest bonus was the $2.5 million to Mike Stodolka (!) in 2000 ... The Royals went just 26-48 in divisional play ... Vancouver's Aaron Guiel, who still makes his home in B.C., recently witnessed the birth of his third child ... Guiel led all Canadian-born minor leaguers in home runs and RBI ...

* Paul Phillips: Not the minor-league reliever in the Jays' system ... This Phillips is a 28-year-old catcher with good plate coverage, and he's a good two-strike spoiler ... Dealt Cleveland a significant setback by lofting a fly ball into centre field on Sunday. Grady Sizemore lost the ball in the sun, misplaying it into a game-winning double ... The Royals will lose him this offseason if they don't protect him ...

* Emil Brown: At 30, he's made himself an everyday player on the Royals -- and not a bad one, either ... Good low-ball hitter ... When he's sitting on a breaking ball, he's dangerous. But he'll swing over sliders when he's thinking fastball -- he doesn't always adjust quickly ... Prefers the ball in and will watch outside strikes go by ... Hustles in the outfield ... A real bargain at $355,000, he's not expected to make more than $1.5 million in arbitration this offseason ... Claims that he doesn't feel slighted by the Royals' stated desire to pursue a corner outfielder with power ...

* Mike MacDougal: At age 28, the lanky KC closer is finally starting to harness his stuff ... His slider is flat-out nasty. He throws it in the mid-80s, and it drops almost impossibly sharply ... Has improved his mechanics such that his release point has been far more consistent ... Still a poor fielder coming off the mound ...

* Mark Teahen: His production hasn't matched his picturesque swing ... Nice balance at the plate, and he uses the whole field ... Can drive pitches down and away to the opposite field. His last two homers have been to left and left-centre ... Like Eric Hinske, he has a huge hole down and away against lefthanded pitching ... Will chase up and away ... Great throwing arm at third, but he'll make careless physical errors ...

* Andres Blanco: On the roster for his glove, and he can make spectacular plays. But he'll also occasionally "nonchalant" the ball on groudners ... Hangs in well on the double-play pivot ... Lacks bat speed and can be overpowered at the plate ...

* Zack Greinke: Still searching for consistency. Then again, he's still just 21 ... He's prone to snapping off hanging or only slightly moving sliders. It's why lefties are slugging .541 off him ... His one superior pitch is his two-seam fastball, which has tremendous bite in on righties and away from lefties. It's the reason why many observers remain optimistic for his future ... Likes to backdoor righties with his tailing fastball ...

* Mike Sweeney: Battling a sore back, but should play ... Lacks only patience in his offensive package ... Stays down on low pitches very well ... Will take pitches into the right-centre gap for doubles when he can't pull a pitch for power ... A low-walk, low-strikeout hitter who should be pitched around ...

* J.P. Howell: Was pulled on Monday despite throwing a no-hitter through five innings ... However, he threw 97 pitches to get through those five innings, which included seven strikeouts, three walks and a hit batter. Howell: "I argued for about two seconds and then [Buddy Bell] told me to sit down...He said, 'If you didn't throw 70 pitches in the first three innings, I'd let you go'" ... Mixes fastballs and changes well ... A real nibbler, but he works quickly ... Nice slider that he doesn't hesitate to throw up in the zone ... Just 22 years old, Howell started the year in single-A ...

* Andrew Sisco: Huge, imposing presence on the mound ... Slings mid-90s heat from a three-quarter-arm angle, and he can be overpowering ... Not always careful with his location, so he's homer-prone ... Falls behind in counts too often, and his catch-up fastballs are a bit too straight ... His mid-80s slider, though, is a devastating pitch. He conceals it well ... Takes forever between pitches with runners on base ...

* John Buck: After a mostly awful season offensively, Buck has come alive in September, posting a .324/.346/.568 line ... Long swing, but a powerful one ... Has started to go the other way more, which has helped. He can drive the ball to all fields ... Much weaker on the outer half ... Still fooled by hard breaking stuff out of the strike zone ...

* Chip Ambres: The swag from the Tony Graffanino trade ... Bats with a tightly closed stance ... Big leg kick as a timing mechanism ... Can catch up to fastballs ... Likely to chase up and in ... Can get way out in front of breaking pitches down and away. It's what to throw him with two strikes ...

* Runelvys Hernandez: Will be the final starting pitcher the Jays face ... Throws a high-80s two-seam fastball that he has to keep right on the fists of lefthanded hitters, or else it's vulnerable ... When he spots it well, he can backdoor lefthanded hitters over the inside corner ... Not overpowering with his four-seam heater ... Likes to run a changeup away from righthanded hitters ...

* Chris Demaria: The righty just turned 25 ... Hasn't fooled enough hitters since he was called up ... High-80s fastball without much movement ... A much better pitch is his tight high-70s curve. Opposing hitters have trouble waiting on it, which has almost a changeup-like velocity ... Lots of busy arm movement in his delivery ... Will join Alex Gordon and Aussie prospect Justin Huber in the Arizona Fall League ...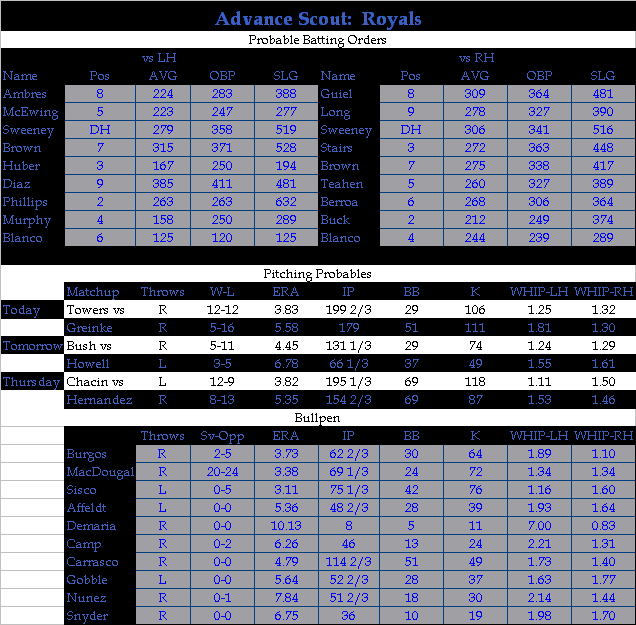 ---

https://www.battersbox.ca/article.php?story=2005093016501837