Gone But Not Forgotten- Orlando Hudson
Thursday, February 16 2006 @ 08:59 AM EST
Contributed by: Mike Green
There will be no pretence of objectivity today. Orlando Hudson is my favourite current ballplayer, and I was disappointed to see him leave Toronto. His heart, his unique diction and his smile are all appealing, but it is his blend of artistry and toughness around the bag which most captivates me.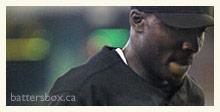 Orlando Hudson was a 43rd round pick of the Jays in the 1998 draft. He was 20 years old, and reported to Medicine Hat where he went .293/.363/.475. It was a good start, but hardly the basis for an expectation of major league success. He made steady slow progress up the system in 1999 and 2000, and made a successful conversion from shortstop to second base. In 2001, he took a big leap forward, hitting .300 at both double A Tennessee and triple A Syracuse. He had also developed a reputation among scouts as a fine defender.

In 2002, he had a rough start in spring training, and was sent to Syracuse for more seasoning. He responded well, and was called up in mid-season. He was an immediate hit with fans for his flamboyant defensive play, and the obvious joy that he brought to the diamond. He carried these qualities with him throughout his stay in Toronto.

Listing his offensive statistics first is a lot like beginning a review of a sushi joint with a discussion of dessert. Here they are: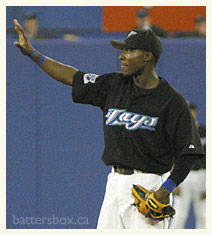 Year  PA    BA/OBP/Slugging
2002  207  .276/.319/.443
2003  521  .268/.328/.395
2004  551  .270/.341/.438
2005  501  .271/.315/.412

What he is known for is his defence- his excellent range, his steadiness and his ability to turn the double play. A second baseman's pivot on the double play is part gymnastics and part martial art. Getting rid of the ball quickly and accurately with an oncoming runner takes a combination of athleticism, guile and toughness. Sometimes avoidance (leaping over the runner) is called for. Sometimes it is discretion (holding onto the ball). And sometimes, it is toughness- taking one's lumps and administering a few in return. In Orlando's first significant collision at the bag with a baserunner, the runner ended up on the DL. That was when I knew that I had a new favourite player.

Please share your remembrances of Orlando Hudson in this thread. Thank you to Aaron Reynolds for the photographs.
---

https://www.battersbox.ca/article.php?story=2006021220591283