Roy Halladay signs extension
Thursday, March 16 2006 @ 01:00 PM EST
Contributed by: Named For Hank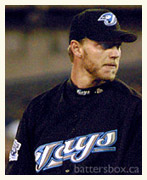 This morning's buzz turned out to be true: in a 1:00 press conference today, the Toronto Blue Jays announced that Roy Halladay has signed a 3 year, $40 million dollar contract extension, locking him up as a Jay until 2010.

Now, A.J. Burnett's wife gets free limo rides, and Troy Glaus's wife gets an operating budget for her ranch as part of their spouses' contracts --

What perks will Mrs. Halladay be receiving? Speculate away!

Oh yeah, and let's talk about what this means to the future of the team and stuff like that, too. I suppose that's also important.
---

https://www.battersbox.ca/article.php?story=2006031612234718