Advance Scout: Devil Rays, April 7-9
Friday, April 07 2006 @ 04:00 PM EDT
Contributed by: Rob
After losing 2 of 3 to the Orioles, the D-Rays come into town. They're no longer the pest they once were -- the Bad Blood of Luke Prokopec is gone now, don't you know? -- and they only won one-third of their road games last year, so colour me optimistic about this series.

Scott Kazmir struggled on Monday and Seth McClung needed 84 pitches to get through three innings on Wednesday. Sure, Mark Hendrickson somehow pulled a three-hit shutout out of thin air last night, but the pitching is still not very good on this team. And, honestly, this is the kind of series we won't remember two years from now, but any three-game set with Roy Halladay is worth watching.

On to the Advance Scout!
General: Players with at least 400 AB and OPS+ over 100 in 2005: Travis Lee, Julio Lugo, Carl Crawford, Jonny Gomes, Jorge Cantu. Pitchers with 70 innings and an ERA+ over 100? Scott Kazmir and the departed Danys Baez. This is not a good pitching staff ... New manager Joe Maddon feels that you can't have players sitting for too long: "I really want the bench to play. I don't want our bench guys sitting around and not getting in the action and getting frustrated. So I really would like to get them involved." ... Despite that statement, he didn't make any non-injury substiutions Monday night ... Maddon also got a huge delivery of hoagies from his mother before Monday's game, making some players quite happy ... Still with Maddon, he's one of the most positive managers in terms of his quotes after a loss. Probably good that he has that skill, being the manager of the D-Rays ... The team is considering a name change, and the St. Petersburg Times suggests "The Snowbirds? The Blue Hairs? The Red Tide? The Strip Malls?" ... Left SS B.J. Upton in the minors when two shortstops went down this week; they say he needs more time there ...

Mark Hendrickson: Old friend won't pitch this weekend, but I want to draw attention to his shutout from Wednesday night. It produced a Game Score of 85, which is the best pitching performance of his career ... It came against a team that raked the other lefty they faced, Scott Kazmir, for eight hits including 3 HR in 4 innings ... Roberts/Mora/Tejada went 0-for-12 against Lurch ... Called "Mr. Hendrickson" by Maddon after the game ... This game, by the way, was a record low in attendance for Camden Yards ...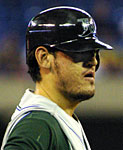 Jorge Cantu: Wears his helmet lower than any major leaguer I can remember, as you can clearly see (left) ... Still just 24, and he actually got a 10th-place MVP vote last year ... Among league leaders in both doubles and double plays in 2005 ... In case you're wondering, that shot of him was taken minutes after this fun event ...

Ruddy Lugo: Yes, he's the younger brother of Julio, who is like a father to him after the boys grew up in Brooklyn without one ... In 40.1 innings for Double-A Montgomery, struck out 48, walked 23 and allowed just 12 earned runs ... In 2002, the fans in Vero Beach said he should dye his hair "back to Black with braids" in an online poll. Not sure if he did it ... ML debut was Wednesday ...

Julio Lugo: Placed on the DL after leaving Monday's game with a strained abdominal muscle ... His backup at SS, Luis Ordaz, is also on the DL, so that leaves Nick Green and Tomas Perez to cover shortstop ... Led Tampa Bay in walks with 61 ... Called the table-setter of the team. I wonder if Ruddy gets to wash or dry the dishes ... Stole 60 bases in just 75 attempts in the last two years ...

Carl Crawford: Keeps getting better and better... HR totals from 2003-2005: 5, 11, 15 ... Slugging average: .362, .450, .459 ... Comments about the Jays having only two good players: 1, 0, 0 ...

Jonny Gomes: Had a .360 average on balls in play, a remarkably high number that can't be sustained. Can it? ... His worst season above Rookie ball is .249/.348/.441 with 17 homers and 28 doubles in AA -- the dude can hit ... His full name is Jonny Johnson Gomes. No, really ...

Russell Branyan: I keep thinking he's retired ... Called up when Ordaz went on the DL ... 597 strikeouts in 1464 career AB (or, if you prefer, 536 games) ... To make room for him, the Rays DFA'd old friend Kevin Cash ... Should platoon in the outfield with Damon Hollins ...


Joey Gathright: The shot on the right is not him admiring a home run ball -- it's actually a single to centre -- since he has yet to hit a homer in the majors (and has just one in 1221 minor league AB) ... His lack of HR can be explained by his 5.79 groundball/flyball ratio in 2005, second only to Pablo Ozuna among AL hitters with a decent number of plate appearances ... And let's not forget: he can jump over a car ...

Scott Kazmir: Youngest pitcher to start on Opening Day since Doc Gooden in 1986 and seventh-youngest since 1970 ... Threw over 100 pitches to Baltimore hitters on Monday and didn't get through the fifth ... Gave up three homers in that game, surprisingly on 0-2, 1-2 and 1-2 counts ... In 2005, Baseball America said he has "better pure stuff than any young lefty in the game" ... Tweaked his shoulder blade on Monday, but felt no pain as of Wednesday ...

Doug Waechter: Sadly, one of four poster-worthy Devil Rays ... Had ERAs of 6.75 and 9.22 in AAA and 6.01 and 5.62 in the majors the previous two years ... Drafted in the same round as Hank Blalock and Justin Morneau, and a round before Kevin Mench -- I guess the D-Rays didn't need any more hitting ...

Casey Fossum: Vernon Wells is just 3-for-20 lifetime against him ... Hits a wall around 75-80 pitches, though it's not like he's avoiding walls on pitches 1 through 74 ...

Jesus Colome: Released yesterday after taking himself out of Wednesday's game ... "They think I don't have pain. They think I don't want to throw." ... Baseball Operations VP Andrew Friedman: "We thought it was best just to go in another direction. I think a change of scenery will be good for him." ... Replaced on the roster by Scott Dunn, a waiver claim from LAAoA ...

Scott Dunn: In 2005 with Salt Lake (AAA), threw 92 innings, had an ERA of 3.82 and struck out 98 against 41 walks ... A surprisingly half-decent pitcher to find in a Tampa Bay bullpen ... Last seen having a cup of coffee with Anaheim in 2004 ... Yes, that means the Rays have three relievers who weren't in the majors in 2005 ...

Jason Childers: Career minor leaguer made ML debut on Monday at age 31 ...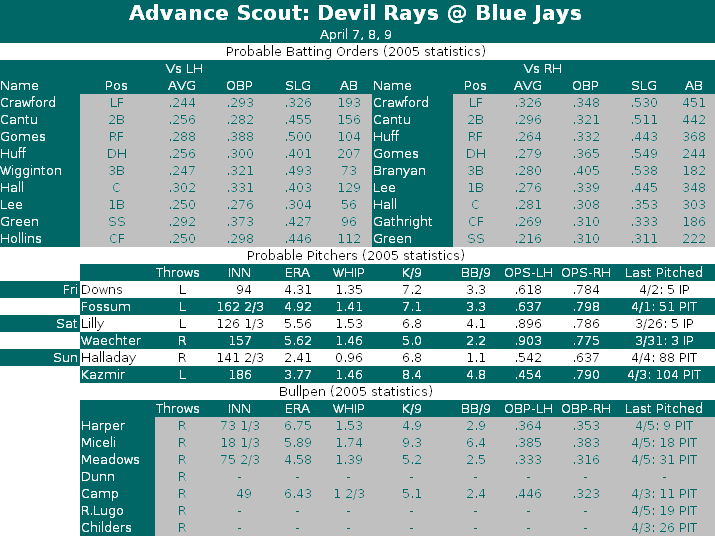 ---

https://www.battersbox.ca/article.php?story=20060404222405668