T.D.I.B: Wednesday Report
Thursday, April 06 2006 @ 08:30 AM EDT
Contributed by: Gwyn
After pride cometh the fall.

Game Summary

The Jays drop the second of the year to those lovable Twinkies 13 to 4. A night to forget all around, as Josh Towers starts well and then gets smacked around, most of the bullpen has a night to forget and the middle infield has a fourth inning to forget. Bat-Girl seemed to enjoy it though.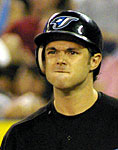 * Star of the Game: Troy Glaus gets his first homer as a good guy and goes three for four with three rbi

* Unsung Hero: For the Jays, well Cat had a nice night with a couple of hits and he looked quite sprightly in the field, but I was more impressed with Liriano throwing 22 strikes in 27 pitches.

* Defensive Play of the Game: I really don't want to talk about the defense. Hey, what did we all think of Hinske in the outfield ? He didn't have much to do from what I saw, but I only watched about half the game.

* What's on tap today: Chacin vs Silva 7:07

Elsewhere

Everyone's favourite Bauxite NFH has been on a high profile media campaign recently, after his appearance on The Star's website he has most recently been on CBC radio, check out this great interview. Aaron's a radio natural.

Jim Turner has been casting the Blue Jays movie over at the torontobaseballguys site, and he needs your help to cast Ernie Whitt, Mickey Brantley, Justin Speier (good luck), John MacDonald and Pete Walker. Quagmire to play Scott Downs is simply inspired by the way.

Is there a better baseball writer around right now than Dave Studeman ? He has another excellent piece at THT using WPA to look at bullpen performance in close games

In Boston, Keith Foulke didn't get the save last night, although he might tonight, or not, At least it gives the Boston media something to talk about, Ultimately Foulke will lose the job, his fate was sealed after I drafted him in the BBFL.

---

https://www.battersbox.ca/article.php?story=20060406075752970