Series #1 Report - It's Early
Friday, April 07 2006 @ 09:44 AM EDT
Contributed by: Gerry
Did we learn anything from this series? No not really. A baseball season has to be 30 or 40 games old before you know what you have. Sometimes you know sooner, if your team is 16-4, or 4-16, you have a good feel for the season but 2-1 tells you little. A series win is a series win and as long as the Jays keep recording them they will be fine.

The Jays went into this series without their #2 and #3 starters so their #4 and #5 starters had to face the Twins #2 and #3. Towers looked like a #4 but Gus pitched well. The fifth inning last night was a showcase for the fans divergent opinions on Chacin. He pitched brilliantly to Morneau and Batista, mixing his pitches and painting the corners. The Chacin fans could look at that and say wow! this guy is good. Then Chacin lays in a couple of batting practice fastballs to Redmond and Punto and the Twins score to tie the game. Was it a mental let-down or did he just miss on two straight hitters? We will never know but as the old story goes "when he is good he is very, very good. When he is bad he is wicked".
The Jays had several questions coming into the season, how much production would they get from Alex Rios, Aaron Hill and Russ Adams? How would the infield defense play? And could Towers, Chacin and Lilly replicate their best seasons? Once again one series doesn't decide anything, just ask Andy Pettitte or Barry Zito.
Alex Rios has started well and the debate over his playing time has started. This weekend the Devil Rays throw two lefties at the Jays meaning eight or so at-bats for Rios. If he continues to hit well John Gibbons will have to consider changing his platoon arrangement. The righty hitter in a strict platoon would only get a couple hundred at-bats in a season, that is too few for Rios. Aaron Hill hasn't registered many hits but he doesn't look lost and Russ Adams is hitting like he did last season. The lineup looks line one without any holes which was JP's intent.
The questions on defense have definitely not been answered. Russ Adams is on pace for 108 errors but I think he will do better than that. Aaron Hill is fine at second and 30 seconds after I told my son that Lyle Overbay was a very good fielder he made his first error of the season. But it is early and we need another 20 games to evaluate the defense.
Finally Towers struggled but Josh usually bounces back from a bad outing like that, although his next start is opening day in Boston.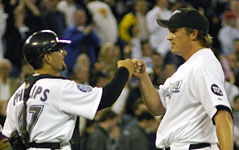 Overall, and other than the above points, the Jays arrived as advertised, Roy Halladay was good but not great, the "new guys" all hit well, and concerns over the defense linger. BJ Ryan was very impressive, given his pitching speed. The jerky delivery and the almost sidearm delivery make him a nightmare on lefties and tough on righties. His arm slot is somewhat similar to Randy Johnson and makes him hard to hit.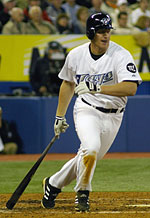 Finally the series shows why spring training stats mean nothing. Jason Frasor had a great spring and Brian Tallet pitched his way onto the team, their ERA's today are ugly. Lyle Overbay did not hit well in spring, but his first series was pretty good.

Game Summary
* Star of the game: Chacin, the Twins are a good team and Gus held them in check for six and two thirds
* Not the unsung hero: the stories today are all about Jason Phillips. Greg Zaun could be back by Tuesday and Phillips could be sent down. The papers and JP have talked about maybe keeping Phillips on the roster, but still keeping 12 pitchers. Barring an injury or trade the odd-man out would be Eric Hinske but I don't see anything happening to him. I think the Jays are being nice to Phillips but he will be sent down anyway.

* Today's game: All lefty matchup, Casey Fossum vs Scott Downs
---

https://www.battersbox.ca/article.php?story=20060407093436198