This Saturday In Baseball
Saturday, April 08 2006 @ 09:00 AM EDT
Contributed by: Rob
Some disconnected thoughts on this first Saturday of the season...

More Runs This Year?

Sure, it's early, but there sure do seem to be a lot of double-digit run totals. Cleveland, Boston, KC broke 10 yesterday while Detroit, Arizona and the Mets did it on Thursday. Not sure what that means, but it's something I've definitely noticed.

Easy Saves Galore

In the American League, through last night's games, 9 of the 12 saves recorded count as "easy" saves (where the first batter is not the tying run and the pitcher goes one inning or less). Close to home, we've witnessed B.J. Ryan pick up two of these easy saves, while K-Rod has a couple as well as Fernando Rodney. Nobody's blown a save just yet, but it will happen soon enough.

Last Night's Game


I actually got to watch most of it, and everything was going fine until another person in the common room here in residence mentioned that Scott Downs had a no-hitter through three innings. We then changed the channel and watched Las Vegas. That didn't turn out so well. Neither did the game. Jordan Bastian has the details at MLB.com, including a wary look at today's game with the unpredictable Ted Lilly and the currently struggling bullpen.

Star of the Game: For the losing team, Vernon Wells with two homers, including one that gave us hope in the ninth. For Tampa, Ty Wigginton and Jonny Gomes tied and put the Rays ahead with their home runs. There were eight HR in the game, total. Can't remember the last time I saw 8 in a game.

Unsung Hero: Shawn Camp, who allowed just one hit in 1.2 relief innings.

Defensive Play of the Game: The rare 1-4-6-3 DP turned by the Jays in the top of the fourth. (I didn't think they had the runner at second, though.) I had my mind focused on other things, saw them turn two and thought, "Hey, nice job by Adams!" It took me about fifteen seconds to realize McDonald was playing instead. I guess that explains that.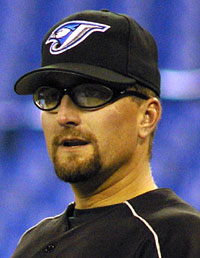 After the game, the Blue Jays designated Ali G for assignment.

Today's Game

Ted "The Tease Lilly" against Doug Waechter. Neither has pitched since late March. Game time is 1:07.

David Bush Update

Making his first start of the season for Milwaukee, Bush went 7 innings, allowing just one run on two hits against the Diamonbacks. He struck out 7 and walked 2. 61 of his 88 pitches were for strikes and he had to face just 24 batters to get 21 outs. Game Score: 74. Bush is now 1-0 with an ERA of 1.29.

In Other News

Wonderkid Felix Hernandez took the tough loss against Oakland as Joe Blanton and Justin Duchscherer shut out the Angels.

Globe and Mail writer Jeff Blair has been updating his blog every day since Opening Day. Stop by and check it out.

It's a few days old now, but the Mets and Nats got into a near-brawl. Watch the footage and you'll see two things: the home plate umpire restraining Jose Guillen, and Carlos Delgado placing himself between Pedro and Guillen as a human shield. Well worth the two-minute diversion.

What else is happening today?

---

https://www.battersbox.ca/article.php?story=20060408010545418