TDIB: Sunday, April 9th
Sunday, April 09 2006 @ 09:30 AM EDT
Contributed by: Rob
Today around MLB:

Ted Lilly, Walking Man...undefeated and winless teams remain undefeated and winless...Kenny Rogers, Back Home Again...and it's "Don't Trust Anyone Under 30 Day" at AT&T Park.

Yesterday's Game

Just when you thought he'd done everything possible, Ted Lilly walked six batters, including four in the third inning. He didn't make it through the third, and Brian Tallet had to save the day. Gregg Zaun put the Jays ahead for good with a two-run shot with two out in the fifth. As always, Jordan Bastian has the full story.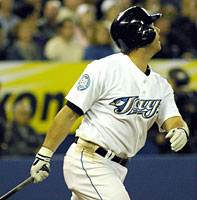 Star of the Game: Tallet, who not only recorded eight outs in relief of Lilly, but he stranded all three baserunners, cleaning up Lilly's walks quite nicely. Honourable mention to Zaun.

Unsung Hero: Frank Catalanotto went 3-for-3 with two doubles and two RBIs, and didn't leave anyone on base. He reached base four times, as he was confused for Reed Johnson and got hit by a pitch.

Defensive Play of the Game: This has to be Aaron Hill's neat little flip to Russ Adams for the forceout in the third to nab the speedy Gathright at second. It's linked from the story above, as "Hill's great stop."

Today's Game

Roy Halladay. That's all I really need to say. He's against Scott Kazmir, and the game starts at 1:07.

Elsewhere

Curt Schilling has had two great starts to kick off the 2006 season. I watched some of yesterday's 2-1 win over Baltimore on Gameday and when he pitched to Kevin Millar, I had no idea what outcome to cheer for.

Barry Bonds was kept off the scoreboard as the Giants scored 12. Bonds did have a single and two walks, but the closest he got to having an effect on the scoring was this play: "With Barry Bonds batting, wild pitch by Joey Devine, Omar Vizquel scores." That made it 10-4 for the Giants, who won 12-6. Tim Hudson was the unlucky stiff getting knocked around for eight runs in four innings. The Giants also had the oldest starting outfield, ever, as well as nobody under 30.

Milwaukee is still undefeated and Pittsburgh is now 0-6. The Brewers got a single from Carlos Lee to score the winning run in the bottom of the ninth, while the Pirates gave up 11 to the Reds. Jason Bay went 3-for-4 with a double, though.

The first doubleheader of the season comes today at 1:05 as the Phillies and Dodgers make up for their rainout yesterday. Philadelphia is still looking for their first win of the season -- though, really, four games in is not very many. All of this "undefeated/winless" stuff won't matter in a couple of weeks.

Even so, the Tigers are the only undefeated team in the A.L. and Kenny Rogers returns to Texas as Detroit looks to get their sixth win, or approximately 33% of their win total from 2003.

---

https://www.battersbox.ca/article.php?story=20060409090520114