Advance Scout: Red Sox, April 11-13
Tuesday, April 11 2006 @ 01:00 PM EDT
Contributed by: Rob
It's the first road trip of the season for the Fighting Jays, as they take a trip to Fenway for three games with the Bostonians. Unlike last year and 2003, there will be no 11:06 AM start, as Toronto is not in town during the Boston Marathon this time. Today's game is at 2:05, though, and with that early start time and a busy day (and week) for yours truly, the Scout is not as full of information this time around.

The Red Sox have started off 5-1 this year, and it looks like the Jays will dodge Curt Schilling just as the Bosox won't face Roy Halladay. Unfortunately for Toronto, they have no real edge in any of the pitching matchups this series -- and as good as some of the Blue Jay hitters might be, there are two guys batting 3-4 in Boston who'll have something to say to the Toronto pitching staff.

On to the Advance Scout!
General: Different media sources have different thoughts on Thursday's matchup, but I'm assuming Ted Lilly gets the ball ... For all of Lilly's supposed Red Sox killing, he's got a 5.08 ERA lifetime at Fenway Park ... Though, to be fair, he did have Boston's number in 2005: 5 starts, 3-0 with 2.40 ERA and the Sox hit just .243 ... The team was 3-22 last year when scoring fewer than three runs and they're 2-1 in that department this year ... Played the Orioles last weekend, which means Kevin Millar was around. Ian Browne of MLB.com has the best line: "In a shocker, the jovial Millar chatted up several ex-Red Sox teammates during pregame stretching." ... Debate over Keith Foulke vs. Jon Papelbon as closer is here, but most of the pro-Papelbons use words like "heart", "stuff", "will" and "swagger" and seem blown away by this rookie's first three saves ... Gordon Edes has the "smart" answer: "Of course, Francona should go with Papelbon at this stage[...]but Foulke's track record should not be thrown out on the basis of one bad year." ... There are two roster moves that have yet to be made: Coco Crisp on the DL and David Wells returning from rehab in the minors ... The buzz is either Willie Harris or Dustan Mohr to replace Crisp, and one of the relievers should be gone to make room for Wells ... David Ortiz on Josh Beckett's Fenway debut this afternoon: "I keep telling the new guys, wait until you play your first game at Fenway. You might need a diaper. And it will be like that every day." Thank you, Papi ... Today is the 227th consecutive sellout in Boston ... No fooling: there's a children's book being written about Manny Ramirez, "The Story of Manny Being Manny." An excerpt: "He wasn't like other sluggers/Wanting this, worrying about that/Sometimes he used a teammate's bat/Often he misplaced his outfield hat" ...

Jonathan Papelbon: ERAs in A, AA, AAA and the majors the last two years: 2.64, 2.48, 2.93, 2.65 ... Top-notch prospect who struck out more than a batter per inning and keeps the ball in the park ... Yes, three saves so far, and two of them were one-run saves, so he's doing slightly better than B.J. Ryan so far ..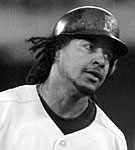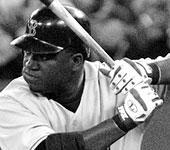 Manny Ramirez: Scary ...

David Ortiz: Scarier ...

Coco Crisp: Out for at least 10 days after fracturing his finger on a slide into third base Saturday ... This means more playing time for Real Canadian Hero Adam Stern ...

Adam Stern: Started just one game before Crisp's injury, despite being a Real Canadian Hero ... He appeared in 36 games but had an un-Real Canadian Hero number of PAs last year (16) ... Might bat leadoff, or might not, so don't take the lineup charts below as gospel, though a Real Canadian Hero should be allowed to bat wherever he wants ...

Josh Beckett: In his own words, was "physically and mentally fatigued" at the end of Wednesday's game, in which he threw 109 pitches and went seven strong innings ... 81 of those pitches came in the first four innings ... Players on Toronto's active roster have combined for just 10 AB against this pitcher who was, until this year, always in the National League ...

David Wells: Rehab start with Pawtucket didn't go so well, as the hefty lefty was knocked around by the Indy Indians ... Last year was his first with a below-league-average ERA (99 ERA+) since 1996 ... Shea Hillenbrand is 17 for 40 lifetime against him, and look for John McDonald to start Wednesday to give Russ Adams a day off and because he's 8 for 21 against Wells ... Not that it means anything, but that's what's likely to happen ...

Matt Clement: Cruised through six innings vs Baltimore last time out, but tired in the seventh and the O's put together a 4-run rally ... Still won, as the Sox scored 14 ... Has 8.34 ERA last year (and lifetime) vs. Toronto, the highest against any team in his career, albeit in just 22.2 innings ...

Wily Mo Pena: Has been outhomered by Bronson Arroyo so far this year ...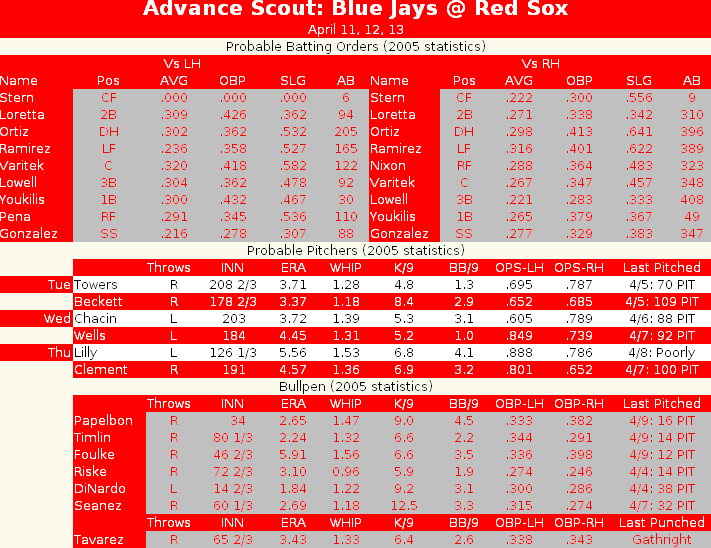 ---

https://www.battersbox.ca/article.php?story=20060409112707143