Advance Scout: White Sox, April 14-16
Friday, April 14 2006 @ 04:00 PM EDT
Contributed by: Rob
The White-hot Sox are next on the docket. They've won four straight, including a three-game sweep of the Detroit Tigers. Standings mean nothing this early in the season, but those three games only put Chicago in a tie with Detroit. Both Toronto and Chicago are at 5-4, one game behind a favoured division leader, but the Jays don't have anyone hitting .059 at the top of their lineup.

Aside from Scooter Podsednik's early season woes, the Chisox have a masher at first, a big guy in the bullpen, a legitimate #1 workhorse, and a "dink" in the press box.

On to the Advance Scout!

General: So far, Ozzie Guillen's running the bullpen the same way he did at this time last year: three guys get most of the work and the "closer" doesn't matter. Pitching coach Don Cooper: "Right now we have a closer -- Bobby Jenks. But I don't have a problem with using [McCarthy] in the ninth. I don't think it would be a bad move." ... That Cooper quote, by the way, is from a story by Joe Cowley, the ignorant writer (and May 11, 2004's "Dink Of The Day" on the FAN 590) who was "no longer welcome" in Toronto after choosing to disrespect our country. We'll miss you too, Joe ... The Sox aren't stealing as much because Scott Podsednik is slumping -- and Jim Thome is raking, so the team doesn't want to get caught stealing and take ABs away from the boppers in the middle ... Fans everywhere don't understand that the season is 162 games long, as MLB.com beat writer Scott Merkin explained to one reader in his mailbag: "Cindy, worry about getting your taxes finished by April 15. Worry about the fate of Tony Soprano on the ever-popular HBO classic. But don't worry about Podsednik or Konerko's offense." ...

Bobby Jenks: Has not yet reached the velocity -- or the results -- from last year ... Don't take his 3-for-3 saves record too seriously -- he gave up a two-run shot to Chris Shelton yesterday and still got the cheap save ... 6-3, 280 -- and he looks every bit of it ...

Jim Thome: Before checking out his 2006 stats, I read a story (that was apparently a few days old) that said he has five homers this year and was really surprised...then I read a newer one that said he had six. Needless to say, he's hitting better than he was in '05 ... If he homers tonight, he'll tie Carlos Lee's 2003 team record with five games straight. He can do it, as he hit a HR in seven games straight in 2002 ... A favourite in the clubhouse already ... Under no circumstances should Vinnie Chulk face Thome in any sort of crucial situation. I'll save Mike Green the trouble and say "Jim Thome, meet Scott Schoeneweis. Scott Schoeneweis, meet Jim Thome." ...

Javier Vazquez: Started off very well this year against KC ... Much improved last year with Arizona, but he was still second in HR allowed in the National League ... However, he gives up more homers than expected on outfield fly balls (thank you, Hardball Times folks) ...

Mark Buehrle: Way harder to spell than "Schoeneweis" or "Pierzynski" ... Would like to play for the Cardinals before he retires, but this ace is going nowhere anytime soon ... At least 221 innings and 32 starts every year since 2001, and his worst ERA+ was 108 ... Not a big strikeout guy, but who cares? Ground balls are more democratic, and he's above league average in that regard ...

Freddy Garcia: Has a most unfortunate sponsorship message at Baseball-Reference ... If Troy Glaus needs a day off, Eric Hinske should get the call (with Shea Hillenbrand covering third) on Sunday -- Garcia is much tougher on righties than lefties, and Glaus is just 7-for-40 lifetime against him ...

Brian Anderson: New centre fielder is off to a slow start, but should get better based on his minor league numbers: .301/.374/.482 in three years, though he struck out a lot in his first Triple-A year ...

Boone Logan: I wonder what it says about my life when I see his name and think of these two people ... Before this year, had a grand total of 5.1 innings above Rookie ball. No, that's not a typo ... And it's not like he's skipping AA/AAA like Doc Gooden here -- his ERA in the minors was 5.49 and his K/BB ratios are mediocre at best ...

Pablo Ozuna: Despite what the chart says below, he will start tonight against Scott Downs. I just have no idea where, and I'd rather keep Podsednik's stats against lefties in there for SS LOOGY purposes ... He hit .306/.340/.357 against lefties in 2005 but the trend isn't the same over his career ...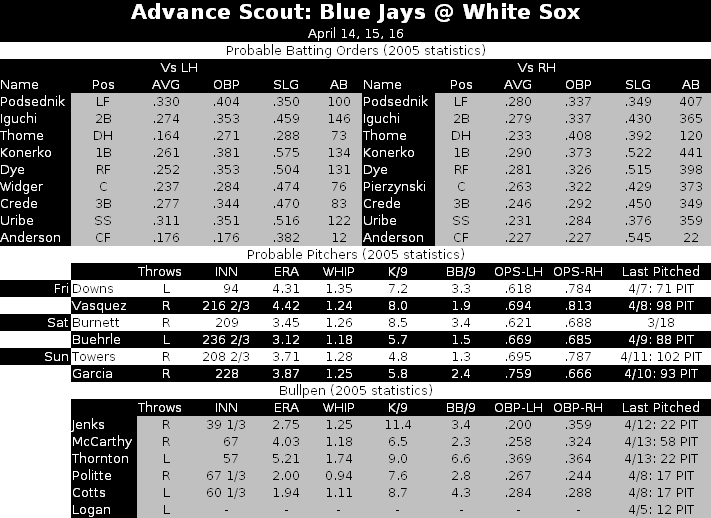 ---

https://www.battersbox.ca/article.php?story=20060414125738730