TDIB: Sunday
Sunday, May 07 2006 @ 09:00 AM EDT
Contributed by: Rob
A maddening ex-Jay defeats a maddening current Jay, Dave Bush has it going on, a couple of statistical notes on Your Fighting Jays, and much more! Okay, that's about it. But read anyway!

Star Of The Game: Kelvim Escobar, I suppose. Not the first guy I'd want to give props to, but that's how the game goes.

Unsung Hero: Well, why don't we give it to Francisco Rosario? Struck out the first ML batter he faced and pitched a scoreless inning to start his career.

For The Jays: Ted Lilly. I picked a bad day for recognizing the oustanding members of the game, didn't I?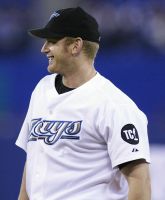 Defensive Play Of The Game: How about Lyle Overbay's running catch in foul territory? That was a lot harder than it looked.

Boxscore: Right here.

Did You Know? The Jays have given up way more homers than expected? Their HR/Fly rate (through May 5) is 21% -- much higher than any other team and far behind the league average at 12%. Everything else is pretty much in line with the rest of the American League, so once A.J. Burnett (37.8 this year, 11.2 and 10.6 the previous two years), Josh Towers (17.4, 9.8, 11.6), Gustavo Chacin (16.1, 9.0) and even Roy Halladay (14.2, 12.2, 12.4) regress back towards the expected 11-12 range, this team's ERA will go down and we won't have callers yearning for Aaron Sele on Wilner's postgame show.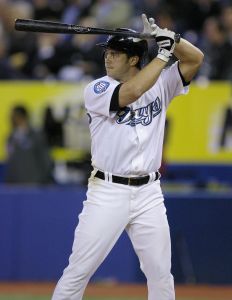 But I Thought They Sucked Vs. RH? Entering the Kelvim Shutdown Game, the Jays had the following individual numbers vs RH: Wells, .321/.380/.679 (84 AB); Overbay, .324/.429/.535 (71 AB); Hillenbrand, .313/.356/.582 (67 AB); Catalanotto, .377/.525/.623 (61 AB); Rios, .392/.400/.588 (51 AB). And for all the complaining, they're still way better than last year:
.283/.358/.480 (2006)
.267/.331/.406 (2005)

DP Watch: Just one yesterday (though it came at a terrible time), giving the Jays 32 in 29 games. That's good for third, two behind San Francisco and Pittsburgh, who had 34 before yesterday's games. Shea Hillenbrand has 8 and is on pace for 48, 33% more than the current Jim Rice record of 36.

He Can Be Fixed In Five Minutes: Victor Zambrano is out for the year; surgery is required. On a completely unrelated note, Scott Kazmir has 39 strikeouts in 42 innings, an ERA of 3.43, and 0 Torn Flexor Tendons this season.

David Bush Update: A terrific start on Wednesday night against the Giants, but his offense didn't do a thing for him and he lost 2-0. Sounds like the Bush of 2005. He retired -- get this -- the final 20 batters he faced in the game; a two-run shot in the second was the only blemish. After facing Greg Maddux, he was up against Jason Schmidt this time. Tough break. A Game Score of 74 means his new average is 57.3. What does 57.3 mean? Well, it's tied for 17th in the majors this year, and would have been 11th-best last year, ahead of the AL Cy Young Award winner.

He also got Barry Bonds out three times, whatever that's worth these days.

---

https://www.battersbox.ca/article.php?story=20060506163554541