New Hampshire: April Review
Monday, May 08 2006 @ 09:00 AM EDT
Contributed by: Rob
New Hampshire didn't start off very well -- a four game losing streak in the first week, then five losses out of six games to close out the month with only 8 wins in 22 games. Kevin Gray's article from Sunday morning contains the line: "If it weren't for the Wichita Wranglers of the Texas League, New Hampshire would own the worst winning percentage in all of Double-A baseball." That tells you pretty much all you need to know about the Fisher Cats, but, of course, more information on their "dismal start" follows.
Okay, here's something positive. For once, the home park isn't hurting offense that much. Teams scored more runs in fewer games on the road than at Fisher Cats Ballpark -- pardon me, Merchantsauto.com Stadium. If I may say so, that's a terrible name for a stadium that used to be the delightfully simple Fisher Cats Ballpark.

In any event, the cold weather is affecting the hitters. While Adam Lind is somehow 8th in the league in SLG (through May 5), check out the other categories:
AVG: Lind (24th)
OBP: Cannon (41st)
SB: Mayorson (t-30th)
It has not been an offensive powerhouse, to say the least.

The pitching leaders are somewhat nicer:
WHIP: Romero (8th)
ERA: Ramirez (5th), Romero (14th)
SO: Ramirez (t-17th), Romero (t-20th)

So it's same old, same old in Manchester, more or less. Let's take a closer look at the players. Pre-2006 stats are linked; current stats can be found here.

Adam Lind hit just .262/.295/.488 in the first month -- and he was the best hitter on the team. Highest average, third-highest OBP and the best slugging average by far. He's struck out 18 times in 84 AB, though -- nearly a 50% increase over his 2005 and career K-rates.

Davis Romero has been the best Romero so far this year! Okay, so that doesn't mean much, but never forget that there's another Romero in the system. This one struck out 22 in 22 innings in April. Believe it or not, that's a career low for him. The only question is: will he be in the rotation all season long? In 2004, he started 14 games and appeared in 18 in relief. Last year? 18 and 16, respectively.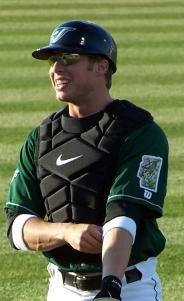 Curtis Thigpen hit just .195/.298/.390 in April, but we all know he's a better hitter than that. Actually, you can repeat that sentence with most of the players here. He has an excuse, though -- just listen to Fisher Cats manager Doug Davis: "He has two bullet holes in his lower left leg. Itís rather nasty, but itís getting much better." For those not in the know, it's a staph infection that's kept him out since April 24.

It's the same deal for Chip Cannon, though he's one of the rare players who's improved his OBP from last time in Double-A. Of course, he struggled with New Hampshire, and it's sort of interesting that his 752 OPS from April is the same as his OPS from AA last year. Cannon is striking out and walking at just about the same rate, too. What this tells us, if it tells us anything, is that it's tough to hit in the northeast in April. Most of the player summaries here will tell you that.

Jamie Vermilyea is continuing his K-rate tendencies -- in his first season, he struck out 13.5 per nine, but after the last two years, that number is down to 7.8. Just seven strikeouts in 16 innings for this Batter's Box favourite, but he hasn't walked anyone, and hasn't given up a home run. He got the call to Syracuse for four days this week, but his 1.65 ERA and 0.92 WHIP can't be ignored for too much longer. He should be up there for good soon.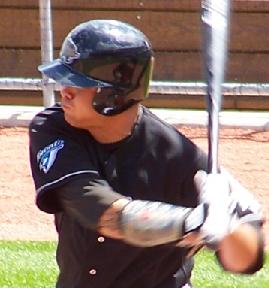 Miguel Negron slugged .260 this month. That may be bad, but he slugged .193 in April 2005. So I guess he's improved. 12 K's in 57 AB became 16 in 77...which is virtually identical. (You know, I should have just said "April = bad hitting" and saved myself the effort of writing this.)

Ismael Ramirez, as mentioned above, has started off the season quite well. Adding his WHIP and ERA gives you a number under three, which is excellent. It's not just a product of the cold weather, though -- he's been one of the best in the Eastern League. I remember being surprised when he was assigned to AA after 27 starts there last year. He's also 25 years old, and if he keeps this up, he deserves a promotion.

Also, keep an eye on Mike MacDonald. His start against New Britain wasn't too good, to say the least, but he pitched a shutout on April 28 and had a scoreless inning streak of length 19. His nine-run outing vs. the Rock Cats keeps him off the league leaderboards, but keep in mind that his ERA of 3.33 is inflated by that start. He was also rather pedestrian last year in Dunedin, which means nobody had their eye on him to start 2006. His stats aren't that flashy so far -- only 5.7 K/9 -- but again, it would be good to watch him for a bit and see where he ends up.

Special thanks to Dino Lima (FisherCatFan) for the photos of Curtis Thigpen and Miguel Negron. You can see more of his baseball photography here.
---