New Hampshire: May Review
Monday, June 05 2006 @ 08:00 AM EDT
Contributed by: Rob
The weather warms up and so do the hitters. This review is mostly a positive one, so let's all erase April from our memories.
The Fisher Cats are, unfortunately, still in second-last place with a 24-29 record as of Sunday afternoon despite winning six in a row. Not everyone can hit like Adam Lind; in fact, OPS figures of .611, .791, .735 and .602 from the regular players not named Adam or Chip (not to mention the departed Miguel Negron's .215/.266/.300) results in a middle-of-the-pack offense with a .305 team OBP. Their pitching has also been average. Interestingly, they have the lowest strikeout rate and the second-lowest walk rate of any team in the Eastern League.

So, once again, let's look at the players. Career and 2006 stats are linked through First Inning; current stats for all players with New Hampshire can be found here, and the fabulous splits provided by Brew Crew Ball are...well, absolutely amazing as far as minor league splits go.

Adam Lind did not hit well, aside from his power stroke, in April, but I'd say .314/.335/.500 is pretty good for May. Lesson: April is cold in New Hampshire. The strikeouts continue, though, at a slightly higher rate. He mentioned this to John Habib of the Union-Leader, saying the following: "Maybe I'm being hard on myself, but I do have a few flaws in my swing. I'm not as consistent as I would like, I'm striking out more than I like and lately my eyes tend to fly out more towards the pitcher instead of more into the swing zone. Everything good has come in a bunch of games and I need to start stringing them out a little more." Not what you normally hear from a .300 hitter, is it?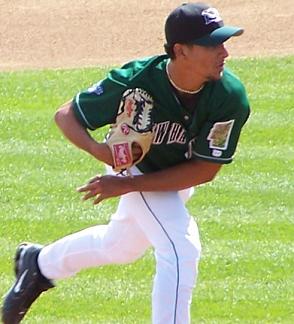 Davis Romero still has it going on. His May starts are pretty good, save for May 24 vs. Connecticut: a complete-game shutout vs Bowie, six shutout innings against Portland, and more. Batters had only a .250 OBP vs. Romero, which is lower than their average against him in April. He's made 11 starts and has pitched more than 66 innings: I like that ratio. I also like his low ERA, his low WHIP, his strikeout rate, his walk rate, his home run rate, his .233/.288/.360 line vs. righties and the fact that he's basically my size. What don't I like? The fact that I can't talk about him any longer without repeating myself.

Curtis Thigpen: Hit .195/.298/.390, .323/.436/.569 in May. Lesson: the fourth month of the year is frigid in Manchester. He apparently got his swing after missing some time in April with a staph infection: 29 line drives or fly balls against 15 ground balls in May; it was 11 against 13 in April. He now has a .385 OBP, which is nice to see in an organization that lost the last catcher who hit well in Double-A.

Every hitter's doing better, right? Meet Chip Cannon, though I imagine you already know him. After .243/.333/.419 in the first month and me declaring it to be Regular Northeast Nothittingwellitis, he follows up with .234/.318/.415. Hmm. And that's with a .345 average on balls in play, something that you'd think won't last. Of course, now that I've said that, let's take a look at his career statistics in that category: .383 and .398 in his last two years in the NCAA, .309 in Lansing, .439 in Dunedin and .333 in New Hampshire last year. Hmm, again. Well, meet me in July and we'll see how he's doing then.

I guess my Free Jamie Vermilyea campaign worked. He's pitched for Syracuse all this past month, and Gerry will fill you in on him later this week.

Ismael Ramirez is doing even better. In April, I said his WHIP and ERA added together gives you a number under three -- now, that figure is a Karen Valentine-like 2.22, which is excellent. I also said I was surprised he was back in AA after 27 starts in 2005. Well, after shutting down Connecticut twice in a row in Double-A starts 36 and 37, I think he's ready for Syracuse.

Michael MacDonald hasn't blown anyone away yet, but another fine month for him is marred by a multi-run outing, this time against the Defenders. (That's the same team that Ramirez held to three hits in 7.2 innings three days later. Did I mention he should be in Syracuse?) He's at least above the Michalak Line (5.5 K/9) and he's not a creation of the Manchester ballpark, having pitched worse at home. He's keeping the ball down with about 10 ground balls per start, less than half as many fly balls and even fewer line drives.

Once again, thanks to Dino Lima (FisherCatFan) for the photo of Davis Romero. You can see more of his baseball photography here.
---

https://www.battersbox.ca/article.php?story=20060604122342872