Jays vs. Tigers: Things Aren't That Bad
Monday, June 12 2006 @ 07:25 AM EDT
Contributed by: Rob
Why do I hate the Tigers so much?
I wasn't aware of anything in 1987. Bill Madlock means as much to me as Benjamin Matlock. Is it the Worst Opening Series Ever, watching the fresh-off-86-wins Blue Jays lose to a team that made the 1962 Mets look good? Maybe Bobby F. Higginson? No, it has to be Rondell White making diving catch after diving catch in MVP 2004, which caused me to stop playing the game immediately and forever.


Wait, maybe it's this: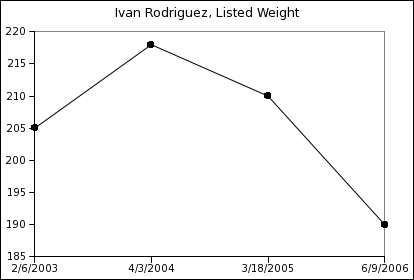 Well, whatever it is, I couldn't stand them
so much
last time they were in Toronto, I laid the Curse of Hunter S. Thompson on Alan Trammell. Tram, you see, was finally managing a decent team after one year of Bad Detroit and another year of Slightly Less Bad Detroit. Sure, they lost one fewer game in 2005 than 2004, but with Chris Shelton, Placido Polanco, Carlos Guillen and Jeremy Bonderman all doing well on the right side of 30 (or, in Bonderman's case, about 13 years old), to say nothing of their prospects on the way, there was reason for optimism. Trammell is not managing the hot Tigers this year, so he gets none of the 2003 Tony Pena Mojo. He deserves to be in the Hall of Fame, but he ends up watching at home while Jim Leyland wakes up one morning and finds out the Tigers had the best record in baseball entering this series.
Ah, this series. I was really hoping for a Toronto Sweep (wins on Friday and Saturday and a loss on Sunday). Detroit isn't that good. Anyone can beat up on the Royals, Twins and Mariners. People in that city should be aware of the Comedy Central phenomenon by now – how did those Red Wings do against the non-Columbus and non-Chicago teams come playoff time? Is this when the Tigers get declawed?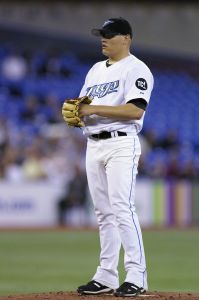 Then Gustavo Chacin hurt himself like the guy in the Ford Mustang ad who tries to jump through the window. As if this bullpen needed more work. Sure enough, Scott Downs comes out in the fourth and is replaced by Pete Walker.
Begin sidebar. One of my friends, who knows very little about baseball, has only seen a few games that do not feature Walker. I asked for his scouting report last week and he replied, "He looks like such a dope, always licking himself." Walker is now on the disabled list. There's got to be a connection there. End sidebar.
As I sat there on Friday night watching Jason Frasor doing
what Jason Frasor does
, I realized, frankly, how boring this game was. I think the crowd at the Rogers Centre fell asleep. Shea Hillenbrand probably woke up 80% of the fans in attendance with his second-deck blast, then Aaron Hill woke even more of them up with the single, and everyone got into it when Alex Rios came off the bench to hit for Placeholder Alfonzo, representing the tying run. What happened next?
Well, you know the rest. That's the Todd Jones I remember. And I promise I was not planning to do this when I linked to Frasor's chart above: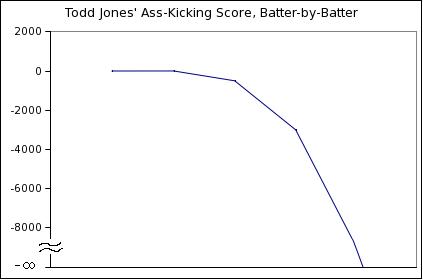 So that was Friday. On Saturday, Jones was not pitching like the Red Sox bullpen from Canada Day 2005. That's the last time I mock someone by pointing out their ridiculous facial hair. Also on Saturday, Ted Lilly did what only Ted Lilly can do, and pitched well despite giving up five runs. The day after a boring game, we have a depressing game, as one can never really enjoy a Lilly start. Jamie Campbell and Darrin Fletcher were praising Lilly to no end, however.
Okay, how about Sunday? Two out of three would have been nice to take from the team with the best KC-inflated record in baseball, wouldn't it?
Eh, maybe not. Pudge had his own ideas and the bullpen went along with him. That's the last time I mock someone by pointing out their mysterious weight fluctuations.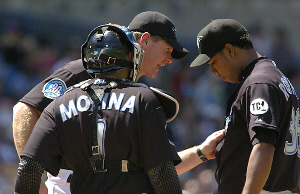 But Taubenheim was doing well enough for a rookie and the bullpen certainly didn't need
more
work
– John Gibbons continues to baffle me over the last month or so. If you don't think you can come back and score off
Nate Robertson
, how can you possibly be in serious playoff contention? Francisco Rosario wasn't in there very long, either. Maybe when the relievers suck, it's not a good idea to bring in every last one of them. Four pitchers used when three innings remain; those are two numbers I do not like. The other numbers I don't like belong to the pitchers used yesterday: 5.68, 5.51, 8.18, 7.02, 5.95, 6.31.
And what are the odds? The day I started the Alfonzo Watch, Placeholder had two hits including an RBI double to raise his OPS over .350. That's nice and all, but two hits in a blowout loss are next to meaningless. Pujols he ain't.
However, despite the current state of the second base position and pitching staff, do not despair, Blue Jay fans! Keep in mind that today is June 12. Why? Well, on June 12 last year, the Jays had just finished a terrible series in Houston and stood at 31-32. Oddly enough, they finished with 80 wins, a whopping 0.29 more than they were on pace for at the time.
And my apologies for bringing up the Season From Hell, but if this were June 12, 2004, we'd be talking about
this game
instead.
So things could be much, much, much, much, much worse.
---

https://www.battersbox.ca/article.php?story=20060611171155286