Road Trip - New Hampshire
Monday, July 17 2006 @ 02:59 AM EDT
Contributed by: Gerry
Last weekend my wife and I spent a few days in New Hampshire, a trip that included four Fisher Cat games. Merchantsauto.com stadium, otherwise known as the home of the Fisher Cats, is new and beautiful and a great setting for baseball. During my visit the Fisher Cats were playing Portland, the RedSox AA affiliate, and the park was full with 7000 fans of both teams. On our last night we stayed at the Hilton Garden Inn, just over the left field wall. We had to have a room with a ballpark view and it is a treat to look out your hotel room window and see a gorgeous ballpark. This trip summary is the first of a series of New Hampshire stories this week. Tomorrow we will have an interview with Jesse Litsch, Wednesday an interview with Fisher Cat pitching coach Dave LaRoche, and Thursday an interview with Michael MacDonald.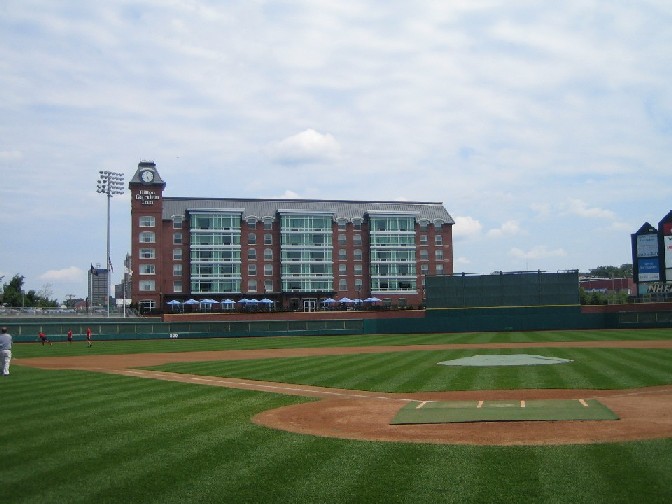 Manchester, New Hampshire is a long drive from Toronto, between 850 and 900 kilometers depending on whether you start on the east end or west end of Toronto. We stopped in Montreal for a night on the way and enjoyed Montreal in summer, which is always a treat, plus the Jazz festival which closed and packed St. Catherine street. Saturday we made it to New Hamshire in time for a doubleheader with Portland.
The park opened last year so everything is new and the food choices are better than most parks, including the Chowdah House and the BBQ Shack.
As mentioned we stayed in the Hilton Garden Inn on our last night. The hotel opened last season and is one of the nicest hotels I have stayed in. It is not cheap, between $120 and $150 per night, but for that you get a good sized room, an LCD high-definition TV with lots of channels, free internet access, a 100% non-smoking facility, and of course the view.
Michael MacDonald started game one of the doubleheader. MacDonald has been very successful with the Fisher Cats this season although he has not received much recognition from the scouting community. MacDonald is a sinker, slider pitcher with a developing change-up. He doesn't blow the ball by the hitters but succeeds by throwing a fastball, a sinker, and a change-up that look the same out of the pitchers hand but end up on different planes when they get to the plate. In that way MacDonald is very comparable to Jamie Vermilyea, now pitching with Syracuse. MacDonald gets the hitters to hit a lot of balls into the ground and relies on his defense to make the plays. On this day MacDonald retired the first eight hitters before giving up a run on two infield singles, with diving stops by Manny Mayorson, and an error. MacDonald gave up five runs in the fifth as Portland hit some balls hard, combined with another Fisher Cat error. The Fisher Cats lost 6-0 as they registered only four hits.
In game two Danny Hill made the spot start. Pitching coach Dave LaRoche told me that making some starts gave Hill a chance to work on his slider and change-up. Hill throws harder than MacDonald, his fastball comes in between 88-92. On this day Hill pitched five innings giving up four runs, one unearned and the other three coming off a pair of home runs.
Kurt Isenberg followed Hill and pitched the last two innings. Isenberg features a 88 mph fastball with a curve, change and slider. Isenberg gave up three runs on four hits in the seventh and the Fisher Cats lost 7-3. Isenberg looked like he had four average pitches with none outstanding. Two days after this game Isenberg was sent back to Dunedin.
On Sunday Kyle Yates started. Yates looked frasoresque on the mound as a 5'10" righty. He also reminded me of Lee Gronkiewicz as he threw a 86-88 mph fastball with a couple of curves and a change up. Yates throws a lot of high fastballs as a way to offset his curve which also starts high in the zone. His high fastball offsets his curve while the low fastball offsets his change-up. As a result Yates gets a lot of swings at pitches that end out of the strike zone. Major league hitters are more selective than AA hitters so Yates will have to either refine his approach, or move to the bullpen, to continue being successful. New Hampshire lost 5-4 to make my trip winless with one game left.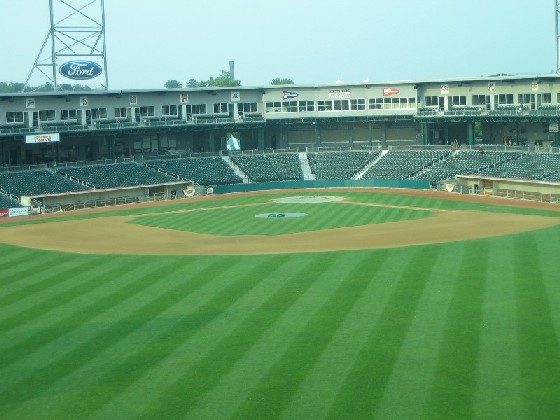 My last chance to see a win was on Monday when David Purcey took to the hill. I sat beside a major league scout who gave me his input on Purcey. The scout felt that Purcey was still opening up too much on his delivery and dragging his arm through the zone. Purcey's best pitch was his fastball especially his inside fastball that he was able to bury down and in to the right handed hitters. His fastball settled in at 90-91 mph with good tailing movement. Because of his delivery issues Purcey tended to leave his outside fastball up and away. Purcey's change-up was 80mph but the scout noted that Purcey's arm speed slowed noticibly when he threw the change. Purcey's curve was below average, it tended to be high in the zone while he needed to bury it deeper and down and in to righties. Purcey's slider looked very good. Purcey fought his control all night although he did pitch six innings. In summary Purcey has the potential to be a #2 or #3 starter but his delivery still needs work.
Ismael Ramirez made a relief appearance on his return from the DL. As usual Ramirez was able to spot his fastball away effectively and mix in his slider and change.
Tracey Thorpe came in with two out in the ninth and threw only fastballs to get the last out. However the fastballs were hard, 93-94 mph, with the last one hitting 95 on the gun. Control has been Thorpe's problem but if he finds it he has the juice to handle major league hitters.
Adam Lind hit well in these four games including a couple of infield singles and a home run. Lind comes out of the dugout swinging which might be a concern at AAA and in the majors. Lind's K rate is up this season and there is always a fine line for hitters between aggression and over agression. Lind can hit pitchers mistakes and was easily the best hitter on the team. In the field Lind is somewhat reminiscent of Frank Catalanotto although he would not be as fast at the Cat.
Curtis Thigpen has a short stroke and in my time tended to hit the ball to right centre. Thigpen is about 5'11" and to me his arm strength looked to be a little below average.
Chip Cannon looked like he was sitting on a fastball all weekend and he rarely saw one. He did get a fat one on a 3-1 pitch on Sunday and hit it out but his struggles this year might be due to not seeing too many fastballs.
On behalf of Batters Box I would like to thank John Zahr of the Fisher Cats for his hospitality during my stay. It was worth the drive to Manchester.
---

https://www.battersbox.ca/article.php?story=20060716194108622