Pinch-Hit TDIB: Sunday, July 23
Sunday, July 23 2006 @ 10:30 AM EDT
Contributed by: Rob
Once again, here's Alex Obal to tell us about This Day In Baseball:

On paper, Ted Lilly against Chien-Ming Wang looked like the most intriguing pitching matchup of the weekend, and it didnít disappoint.

The #3 starters locked horns for six tense innings before 50,000+ at the RC. Lilly struck out eight and the Jays held a 4-3 lead after six, but the Yankees rallied for two runs in the top of the seventh against the Toronto bullpen, and the dreaded Proctor-Farnsworth-Rivera troika was particularly dominant in nailing down the 5-4 lead. New York is off the schneid.

Boxscore: See ya.

Star of the Game: Guess who. Derek Jeterís intangible fingerprints were all over this game. He drew a clutch two-out bases-loaded walk against Justin Speier in the seventh that chased home Melky Cabrera with the winning run. He was 2-for-3, including a timely single in the sixth that advanced Johnny Damon to third, whence he would score on a balk. Jeter was also in Gold Glove form in the field, recording six putouts with nary an error nor even a hopeless stab at a slow roller to allow us to bust out the time-honored ďPast a diving / Derek JeterĒ chant.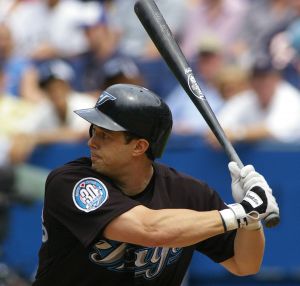 For the Jays: Frank Catalanotto was 3-for-4. He singled in the first, singled and scored on Lyle Overbayís near homer in the fifth, and smacked a double of his own off the top of the wall in the seventh against Scott Proctor. That missed homerdom by about a foot. It was the only hit the Jays mustered against the Yankee bullpen.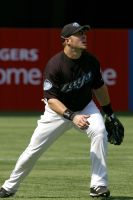 Unsung Hero: Eric Hinske smacked a solo homer in the fourth and blasted a foul liner off Farnsworth in the eighth that may or may not have been close to the foul pole but landed in a skybox. From row 25 in section 513, I saw very little of it, but it sure looked promising off the bat. Hinske was also steady in the field, manning third base for the still-a-bit-banged-up Troy Glaus.

Before todayís game, Hinske was .292/.375/.550 against righthanded pitchers in 120 at-bats; Gregg Zaun was .290/.361/.507 in 138; Bengie Molina was .253/.299/.358 in 162. Itís a small sample, but Hinske should probably start at least 75% of games against righty starters.

For the Yankees: The bullpen. Proctor, reaching 97 mph with ease on the RC gun, struck out the side around Catís double in the seventh. Farnsworth struck out the side around Hinskeís loud foul ball in the eighth, hitting 101 at least once. Rivera shut down the Jays in the ninth on 7 pitches.

Somethingís clicking for Proctor this year: his strikeout rate has jumped to a healthy 8.71 per 9 IP. His walk rate is in the mid-3s as usual and his line drive rate is still hanging around 17%. Opponents are batting .235/.307/.412, all career lows. Brian Cashman sending a 37-year-old Robin Ventura to the Dodgers for Proctor and Bubba Crosby at the 2003 trade deadline looks pretty good right about now.

Inanimate Carbon Rod Watch: Joe Torre DHíd him, but Alex Rodriguez still managed to give his detractors plenty of ammunition, going 0-4 with the Golden Sombrero. After Jeterís game-winning walk in the seventh, with the bases loaded and two out, A-Rod whiffed to end the rally. Jordan said it all in the TDIB yesterday: How bad has it gotten for Alex Rodriguez when I'm relieved to see him come to bat with the bases loaded?

Nick Green had an adventure in the field in A-Rodís place, booting hot grounders from Overbay and Hill. Both were ruled hits. I doubt Green will see the field again today.

Hillenbrand/Chulk Watch: Shea Hillenbrand (wearing #8) singled in his first at-bat as a Giant. San Fran defeated the Padres, 4-3, behind six innings from Jason Schmidt. The Accardo-free Giant bullpen pitched three shutout innings. Chulk (#31) didnít play.

Speaking of the Padres: Another reliever is off the market. The Pads flipped A-ball pitchers Fabian Jimenez and Joel Santo to the Cubs for Scott Williamson.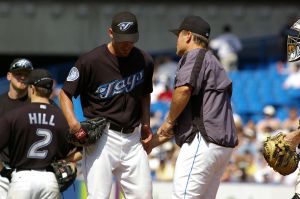 You Be the Manager: The biggest talking point from yesterdayís game was John Gibbonsí handling of the seventh inning.

With Lilly at 108 pitches and a one-run lead, Gibbons summoned Brandon League to face Bernie Williams (switch), Andy Phillips (right), Melky Cabrera (switch), and possibly Nick Green (right) and Johnny Damon (left). Jason Giambi was on the bench. At the start of the inning, Gibbons had Scott Downs loosening up in the bullpen.

League quickly got ahead 0-2 on Williams, but allowed a perfectly-placed ground ball up the middle for a leadoff single. He then got Phillips to pop up to first.

With Melky Cabrera at bat, Gibbons opted to bring in Scott Downs to turn him around. Defying his 2006 splits, Cabrera lined a single to right, and platoon edge be damned, Joe Torre didnít hesitate to bat Giambi for Green. The Giambino lined a sharp double into the right-field corner to tie the game and put runners on second and third. At some point around here, Speier started throwing in the pen. I donít remember when exactly.

Up next was Damon, a contact hitter. So platoon edge be damned, Gibbons had Downs intentionally walk Damon. Then he brought Speier in to face the righthanded Miguel Cairo with the bases loaded.

Speier fanned Cairo, but fell behind Jeter and ultimately coughed up the decisive bases-loaded walk. A-Rod struck out to end the rally.

We have several You Be the Manager Moments:


1. Why Scott Downs? Even if Melky does struggle against lefthanded pitching, certainly he should have more trouble with a guy who throws a 95-mph sinker than with a guy who doesnít. For reasons nobody really understands, Downs is an effective groundball pitcher, but because of his lack of overpowering stuff I donít think he should be allowed within a football field of such a high-leverage situation if Gibbons can help it. And of course, League is an even more extreme groundballer, so if the idea is to go for the double play why not leave him in?

The way I see it, bringing Downs in for League is at best a lateral move, and therefore unnecessary. Am I wrong?

2. Cheating and using 20/20 hindsight: If youíve had Speier throwing all inning, do you bring him in to face Giambi with two runners on (platoon split be damned)?

Also with the benefit of hindsight, after Bernieís leadoff single, do you have the guts to warm B.J. Ryan up in the pen, with the intention of keeping Giambi from ever pinch-hitting?

2a. This is a big hypothetical but bear with me: Suppose you do have Ryan loosen up. Phillips bats for himself and pops up, one out. Cabrera singles off either League or Downs. Torre calls your bluff: Giambi is announced as a pinch-hitter with runners on first and second and one out. Damon, another lefty, is on deck, and the big righty bats (Cairo, Jeter, A-Rod, Posada) will follow. Is it a good move to bring Ryan in with the intention of using him for 1.2 innings and having Speier or Accardo or someone else close the game out?

3. Walking the bases loaded? Walking Damon to load the bases looked like a brilliant move when Speier struck out Cairo on three pitches, but less brilliant when Jeter walked. Was loading the bases a good move?

While I think bringing Downs in was a poor decision, Gibbonsí decisions thereafter brought him within one pitch of getting away with it. I think you could do a lot worse than Gibbons did in the 7th, but Iím curious to hear how everyone thinks he could have done better. I wouldíve simply left League in and trusted him to face Giambi if he got Cabrera, though I realize that is a risky strategy. Speier would handle any situation with two runners on base.

Todayís Matchup: Two days removed from Aruba Day, Shaun Marcum looks to kick start another winning streak against Sir Sidney Ponson. The Yankees are a -120 favorite.

Elsewhere:
1:00 Minnesota (Liriano) -170 at Cleveland (Westbrook)
1:00 Oakland (Loaiza) +140 at Detroit (Robertson)
1:00 Baltimore (Bedard) -105 at Tampa Bay (Kazmir)
2:00 Texas (Padilla) +125 at Chicago (Garland)
2:00 Anaheim (Jered Weaver) -200 at Kansas City (Duckworth)
4:00 Boston (Lester) -135 at Seattle (Washburn)


---

https://www.battersbox.ca/article.php?story=20060723100825524