Advance Scout: Yankees, August 1-3
Tuesday, August 01 2006 @ 12:40 PM EDT
Contributed by: Rob
After their wild and crazy weekend four-gamer at the Rogers Centre, the Yankees and Jays meet up again in the Bronx this week for three. Unlike a week ago, emotions are much different for these teams as it was Toronto's turn to lose a series, and lose it bad. New York went 5-1 (the one was a laugher) while the Jays...did not. New York has pulled away, now with a fairly substantial lead over Toronto.
You already know that the Yankees "traded" for Bobby Abreu and Cory Lidle, but they also got another ex-Phillie to help with the stretch drive. They also feature a sinkerballer, a shortstop having a terrific offensive season, and a bunch of quotes that will make you shake your head.
This introduction serves a dual purpose, as I'm happy to announce the addition of Alex Obal to the Batter's Box Roster! Alex and I will collaborate to bring you all of the Advance Scouts from now through to the end of the season, and most (but not all!) of what you will read here is his original research. So, live from Toronto/Waterloo...
On to the Advance Scout!
General: Swept the Rangers, then knocked around the D-Rays for five wins on the week since losing three of four to Toronto ... Picked up Sal Fasano, who replaces Kelly Stinnett in the John Flaherty Memorial Role ... Carl Pavano won't be back for a while -- "he hasn't even started throwing breaking balls" yet ... Sir Sidney Ponson was skipped in the rotation as the Yankees started Wang, Johnson and the Moose over the weekend, then dropped from the rotation with the acquisition of Lidle ... It was quite amusing to read all the articles praising Wang for his shutout on Saturday morning, then see the score from Saturday night. Unfortunately for the Jays, they won't face Randy Johnson ... While buying Abreu and Lidle from the Phillies, the Yankees did not have to give up "super-prospect Phil Hughes", the latest Trenton Thunder player to be hyped to no end ... Hideki Matsui is still a long way away from returning. He'll have his wrist examined Thursday ... Robinson Cano, yet another Yankee on the DL, is not expected to return in time for this series ... Most useless quote ever? Joe Torre on the trading deadline: "We'll make a deal if it makes sense. It wouldn't surprise me if we made a deal, but if we didn't make a deal, I don't think it would be the worst thing that could happen." Thanks, Joe ... Cashman, in a quote that can only make people hate the Yankees more, said he wanted to get a pitcher back in the Abreu deal because "I'm tired of giving players. I want to get players." ... Apropos of nothing, the New York Times apparently puts effort into making their Web site look decent, but the print layout is about as bland as bland can get ...
Bobby Abreu: In case you forgot, the Devil Rays traded him away for Kevin Stocker ... Wasn't that popular in Philadelphia, but only because Philly fans who boo him (and Mike Schmidt) are morons ... Is noted for his plate discipline. His on-base percentage has been at least 100 points higher than his batting average every year since 1998, his first full season ... Has a very strong throwing arm ... It's anyone's guess where he bats in this potent lineup, but as long as it's not 8th or 9th, it really won't matter ...
Jaret Wright: Lyle Overbay and Frank Catalanotto are going to love this guy ... Fewest groundballs and most line drives of any full-time starter scheduled to start this series ...
Chien-Ming Wang: Had the D-Rays eating out of his hand on Friday with a 104 pitch complete game shutout. This shocked me. Shocked me, I tell you ... Strikes out about 0.0 per nine, but loves that heavy sinker, especially against righties ... That heavy sinker is the leading cause of his crazy 64.6 groundball percentage, tops among AL starters. Only NL all-stars Brandon Webb (66.1) and Derek Lowe (65.4) are higher, and Wang would probably be right there with them if he faced pitchers twice a game... In other words, expect more than one DP ball from the Fighting Jays ...
Cory Lidle: Old friend is easy to root against, if only because he was stupidly worried about SARS: "My wife has gone home and is not coming back." ... Career ERA at the Rogers Centre is 5.46; Fenway Park: 5.11 ... A very consistent groundball pitcher: his groundball rate is 49% and has been almost exactly the same in each of the last three years ...
Alex Rodriguez: Why do people make fun of him? Well, ask Mark Feinsand about Rodriguez, Andy Phillips, and the Kiss Cam in Arlington: "After showing some couples, the camera panned in on A-Rod, who grabbed Phillips and kissed him on the head." ... Playing less like a doofus now, which is good (bad?) for the fans in New York ... About one-fifth of his flyballs turn into homers. This is probably bad news for Ted Lilly, who's surrendered five homers to A-Rod over his career ...

Jorge Posada: Usually tires down -- well, hits worse, at least -- in September. Yeah, I know it's August ... Has taken Thursday starter Shaun Marcum deep twice this year. Those are the only two homers Marcum has allowed in his short major-league career ...

Jason Giambi: Broke a 3-for-16 mini-slump on Wednesday night when he clubbed the game-winning home run in an 8-7 game in Texas ... Paid about as much attention to the pitcher on Friday as I did to my linear algebra instructor; he barely had to do anything and he kept getting on base ...
Andy Phillips: Here's what a bad pitcher can do for you: he was making good contact and hitting the ball very well (and far) on Friday against Corcoran, but the way that guy was throwing, I could have singled off the LF wall ... His numbers, needless to say, ain't too impressive ...

Craig Wilson: A lefty-mashing outfielder and first baseman who will probably spend the majority of his time in the Bronx at first ...

Derek Jeter: A tough out; he's rarely jammed thanks to that quick turnaround swing of his... Groundball hitter: his GB% is 58.8 after it was 60.4 a year ago. However, he's improved his line drive rate from its usual average level this year, leading to a .404 BABIP. That, combined with his batting eye, has made him particularly hard to put away this year ... Don't fall behind him. Jeter is batting .465/.646/.674 when he gets ahead 2-0... Has a Bondsian .509 OBP against lefthanded pitchers ... On pace for over 30 steals this year, and it's not often a middle infielder sets a career high in that category at age 32 ... Overexaggerates his reaction to every pitch's location such that to him, There Is No Such Thing As A Ball Two Inches Off The Plate ... Don't look now, but he has actually been quite clutch this year, batting .388 with runners in scoring position ...

Sal Fasano: In one of the most disappointing moves ever, Salvatore Frank Fasano "cut off about 20 inches of hair" when he joined the Yankees' organization ... Finally back in the majors after taking time off to shoot Office Space ... Has some power, averaging 21 HR per 162 games before 2006 ... Has yet to make 500K in a season ... Appeared in two games with Anaheim in 2002, and he caught fellow Hoffman Estates (H.S.) graduate Al Levine in one of them ...

T.J. Beam: A 25-year-old 6'7" rookie righty reliever ... Held hitters to a combined .178/.233/.238 with two homers over 58.2 innings at Trenton and Columbus ... His peripheral stats over that span -- 8.9 K/9, 2.3 BB/9, 9.4% LD -- are certainly encouraging, but he's struggled in his short stay in the majors. On a Joe Torre team that probably means he'll be glued to the bullpen bench unless the Yankees trail by double -- nah, make that triple -- digits, and he may well have been sent back to Columbus by the time you read this ...

Mike Myers: In a modest 17.2 innings, is second among Yankee relievers in WPA (to Rivera) with a 63.1... Small Sample Theatre: in those modest 17.2 innings, his L/R OPS splits are .833/.490 ...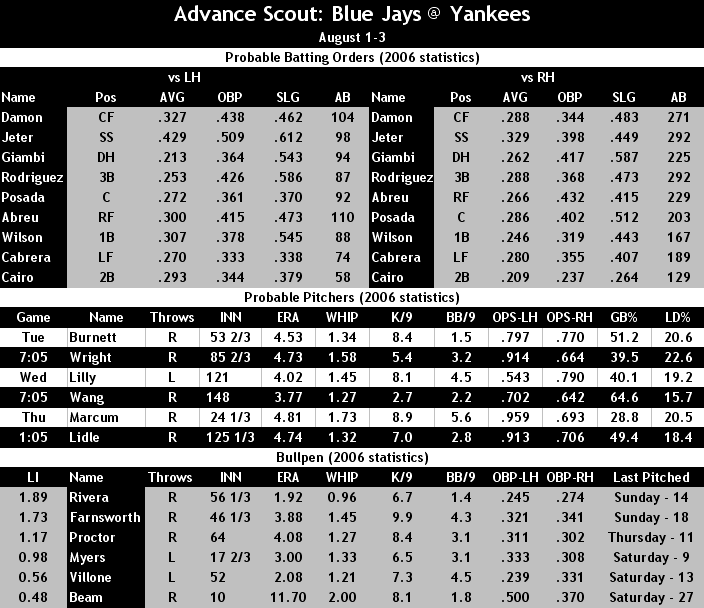 ---

https://www.battersbox.ca/article.php?story=20060724151956309