TDIB Sunday
Sunday, July 30 2006 @ 11:00 AM EDT
Contributed by: Rob
Even the awesomeness of Huston Street couldn't make that game any better. Good thing I missed most of it.
Star Of The Game: Barry Zito, batters 5 through 32 only.

For The Jays: Well, Troy Glaus had us thinking Zito wouldn't be lasting very long there in the first. The Jays decided to stop doing anything after that, though. And bringing in Brian Tallet didn't help matters much, either.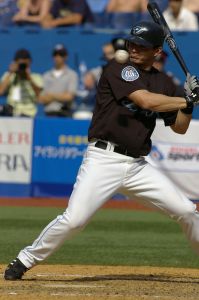 Goodbye Russ, Hello Ryan: Ryan Roberts is certainly playable at second, but you go ahead and move the guy who's playing well there with a .300 average. And Roberts used to play third base, but the Jays have a couple of guys there already. Sort of an odd move, I think, but you might as well call up Roberts already -- he'll be 26 in less than two months. He's hit .279/.339/.445 so far in AAA.

Adams has clearly fallen out of favour with the organization. It happened with Bush, it happened with Chulk and it's happening now with FREE JASON FRASOR.

Other AL East News: Devil Rays 19, Yankees 6. It feels good, especially after Wang's two-hit-but-how-can-he-do-that shutout. The delightfully irrelevant Mike Myers faced three batters: RBI double, two-run single, two-run homer. And the Red Sox overcame another Beckett start to win in extras.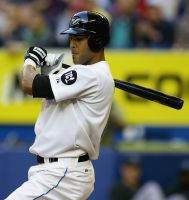 You Know, I Don't Think He's Ready: One day after everyone hailed the return of Alex Rios, he strikes out five times. Five. Times.

In case you didn't read Thursday's MLU, Rios was quoted in the Syracuse Post-Standard as saying his timing was off and he doesn't even know what he's doing out there. Both Syracuse manager Mike Basso and assistant to the GM Alex Anthopoulos said he was okay to go, that only one more day would be enough.

I'm not saying the Jays are ignoring a player's wishes with respect to his health, because Rios probably wanted to come back as much as anyone else wanted him to return. But first A.J. Burnett gets the message through Jeff Blair that his injuries aren't that serious, now Rios has to hear the front office contradicting him. It's very interesting, and I don't mean "good interesting".

Fernando Tatis Returns: I didn't expect to see his name again, let alone while reading the Toronto Sun at Coffee Time. But there you go. His first ML game since, oh, 1979 was earlier this week. Remember when he was the big name picked up by the Expos? Yeah, me neither.

---

https://www.battersbox.ca/article.php?story=20060730030057200