TDIB: Jays 2 - Yankees 7
Thursday, August 03 2006 @ 09:30 AM EDT
Contributed by: Gwyn
That must be what it feels like to be rooting for the opposition when Doc pitches.

Wang does his best Halladay impression, the bad Ted Lilly showed up, the new mercenaries got lots of hits, A-Rod was beaten to the base by a throw by ten feet and still wasn't out, McGowan was lit up - you know, one of those nights; again.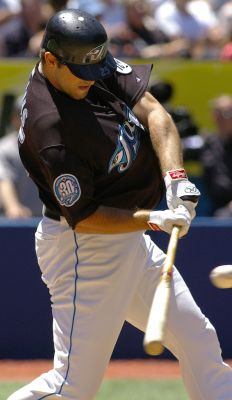 Star of the Game: Chien-Ming Wang induces more groundballs than anyone, and he significantly addded to his total last night. He only strikes out a couple of guys a month (evidently a very democratic guy) which is not supposed to be inidicative of success (at least over the long term), but he does a lot of other things very well - he's best in the AL at denying the long ball and fifth in line drive percentage, add to that a very decent 2.4 BB/9 and you have a very effective package. He sure gave the jays more than they could handle last night, going eight shutout Innings and scattering just four hits. His low k-rate is a mystery to me, he seems to consistently throw 95 and has a lot of movement on his pitches, that's the sort of make-up you would expect to lead to good K numbers.

For the Jays: No-one distinguished themselves last night, Wells managed a couple of hits, Glaus had a dinger in the ninth, Downs settled down a little and was effective in the seventh and eighth after he'd let McGowns baserunners score in the sixth. Blah.

Boxscore: Here, but I wouldn't advise looking at it.

Elsewhere in the East: Tampa Bay lost to Detroit, Eric Bedard had a rare poor outing and lost to King Felix and the Mariners and the Red Sox edged the Indians as Carmona lost control in the ninth and gave up a couple of runs on two hit batsmen, a walk and a double.

BP: Geoff Baker had a nice piece in The Star yesterday explaining what is actually going on in batting Practice.

Today: Afternoon game in the Bronx: Marcum goes for the good guys against that guy who like ice-cream.

---

https://www.battersbox.ca/article.php?story=20060803091206510