Advance Scout: Orioles, August 7-9
Monday, August 07 2006 @ 11:30 AM EDT
Contributed by: Rob
Don't look now, but the Jays are closer to fourth than first after a mad, mad, mad, mad road trip and a not-so-good series with the defending champs. A weekday series with two afternoon games awaits the Orange Birds and Blue Birds, which is why this Advance Scout shows up obscenely early. We are so dedicated to our craft, we wake up before noon on a holiday.

In this Scout, you'll find a pitching rotation that keeps changing on us up to the last minute, a team that has not lost their last zillion games in a row, and a couple of names you thought you'd never see again. Naturally, it all starts with John Halama.

On to the Advance Scout!

General: DFAd John Halama to bring up Howie Clark, then outrighted Howie Clark to bring up, of all people, Fernando Tatis ... If you take away shutouts, bottom-of-the-ninth heroics, and games against the Royals, Baltimore has not won a game since July 23 in St. Petersburg. Now there's a stat we can rely on ... Won't miss Javy Lopez, as they have another catcher anyway and Lopez was only hitting .265/.314/.412, DHing most of the time ... Have used eight starters, seven third baseman, seven leftfielders and nine rightfielders this year. Toronto? 11, 4, 4 and 4 ... Surrey's Adam Loewen, who won't start in this series, allowed one hit in 6.1 innings as the O's shut out the Yankees on Saturday ... Bruce Chen was originally slated to start Wednesday, but they pushed Erik Bedard back two days and put Russ Ortiz in his Monday spot ...

Russ Ortiz: Will return to the Orioles' rotation in Monday's start ... Vanished from said rotation after this fateful start against the Devil Rays ... Perlozzo says Leo Mazzone and his staff have given him reason to be cautiously optimistic about Ortiz's start: "They see some signs that he's improved a little bit. Hopefully he can take that into the game for us" ... Mazzone's quick fix involved getting rid of a pause in Ortiz's delivery. "Leo and I looked at video and I think we found it. You could tell, especially when we slowed it down, how my hand came out of my glove," Ortiz told the Baltimore Sun ... Statistics shown below are with both Arizona and Baltimore this year ...

Daniel Cabrera: Expected to be summoned from our nation's capital for Tuesday's game ... Was very good in four AAA starts, going 3-1 with 27 K and 9 BB in 24.1 IP. That walk rate is a very encouraging sign, because his command (or lack thereof) was the reason for his demotion a few weeks ago ... Oddly enough, has faced Vernon Wells 17 times, walked him once and gotten him out the other 16 times ... Walks a lot -- leads the AL despite having made eight fewer starts than Barry Zito ...

Erik Bedard: Too bad Wednesday's game isn't on Sportsnet, because a fun game would have been to predict how many times Jamie Campbell says "Navan, Ontario" (Rob says 4, Alex says 5) ... A legitimate No. 1 pitcher this year, if you define that to be one of the best 15 pitchers in the AL ... Took his first loss since mid-June in his last start, in which he lasted 5.1 innings in a 2-1 loss to King Felix and the Mariners ... He's probably going to be held back until Wednesday for an exciting showdown with the Good Doctor. Sam Perlozzo's rationale is as follows: "I think that Erik really maxed out on that hot day [Wednesday against the M's]. The extra days will help him and put him in line for where we want him" ... A big groundballer, significantly behind only a handful of starters, most of whom are Cy Young contenders or young hotshots with names that start with F ... Is also 11th in strikeouts ...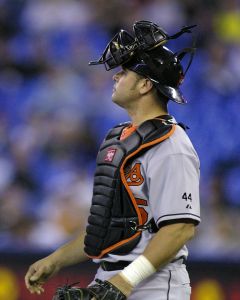 Ramon Hernandez: Struggling. He's 13-59 in the second half, and batted .188 in July. Hernandez has caught a considerable majority of his team's games - 90 of 111 - but insists that it's not the cause of his recent offensive funk. "I'm not going to put that as an excuse. I've been struggling. I don't blame nothing. My stroke isn't the same as it was in the beginning of the season. I haven't got it figured out yet." ... Maybe seeing Ted Lilly will help him find that stroke. Hernandez is 6-12 with 2 homers and 5 walks against Lilly ...

Fernando Tatis: There was something in the air in Ottawa, as Fernando has not played organized ball since 2003 with a team that no longer exists ... Naturally, he shows up at age 31 with no success in over five years and hits .298/.372/.420 ... Had no platoon splits in Triple-A ...

Brandon Fahey: Contrary to popular belief, is not 12 years old ...

Brian Roberts: Not sure if last year was a fluke, but his isolated power numbers by year since 2003 are as follows: .098, .103, .201, .110 ... Still, though, his walk and strikeout rates have always been good ...

Corey Patterson: Donald Corey Patterson sees fewer pitches per PA than almost anyone, and is right there with Vlad Guerrero, but has finally cut down on his strikeouts as he is near league average for the first time in his career ... Has bunted for 20 hits, a career high, in a mere 375 PA this year ...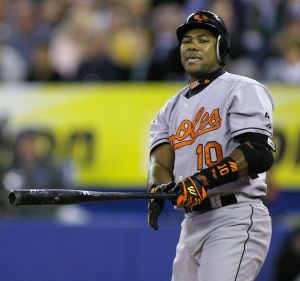 Miguel Tejada: Looking forward to seeing Roy Halladay, but not Ted Lilly. He's sort of like the rest of us, then ... Having a great year save for his slight loss of power, but it's the Orioles, so (a) he's an automatic superstar anyway and (b) nobody really cares how he does ...

Chris Widger: Signed to take Javy Lopez's spot as backup to Ramon Hernandez after the White Sox replaced him with Sandy Alomar ... Rodrigo Lopez, who lost his personal catcher when Lopez was traded, is a fan of Widger's defensive presence: "The guy is good. We talked a little bit before the game, and I think we had pretty good communication during the game" ... Played his college ball at George Mason University in nearby Fairfax, Virginia ...

Nick Markakis: En fuego ... Batting .433 since June 28 ... Credits his hot streak to an improved batting stance that sees him hold his hands lower ... Has four homers, but isn't terribly concerned with improving that total. "Power numbers are the last thing I'm thinking about. Eventually the power is going to come" ... This first-round pick in 2003 and Baltimore's 2005 Minor League Player of the Year has done quite well for himself so far, and is still just 22 ... Played for Greece at the 2004 Olympics ...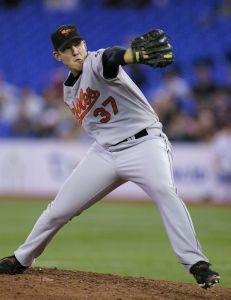 Chris Ray: The Yankees have tagged him with three of his four losses this year ... Strikeout rate has slowed as the year's gone on, but he has still only blown two saves ... Passed the "Replace B.J. Ryan" audition with an ERA under 3 and 43 strikeouts in 40.2 innings out of the bullpen last year ... Was a starter until 2005, but has performed equally well in both roles ...

Jeff Conine: Might be the beginning of the end for this 40-year-old who hit his 200th homer earlier this year ... You get the feeling that if this was a baseball movie, he'd be the wise veteran and fan favourite that nobody wants to see retire. In other words, a mix between Lou Collins and Jerry Johnson ...

Winston Abreu: 29-year-old journeyman who is getting his first shot at the majors after ten and a half years(!) bouncing around the minors, mostly in the Braves' system. It looks like he's been battling control issues his whole career, but he's made enough progress to finally warrant an appearance in the Show ... Was called up to replace Eddy Rodriguez ... Sounds really skinny. He's 6'2" and weighs 155 pounds (or 170, depending on your source) ... Also sounds like an easy guy to root for. He's battled through ligament replacement surgery and survived a year out of baseball (2003) ... Has fantastic K/BB numbers against righty batters in Ottawa,, though batters are hitting him for power with a fair bit of success ... Is, understandably, pumped. He told Jorge Arangure of the Washington Post, "This is a great opportunity. This is what every player wants" ... Started his career with a bang on Sunday, striking out his first-ever major league batter, Alex Rodriguez. He went on to retire Andy Phillips to exit with 0.2 spotless innings ... Note: his stats below are from Ottawa this year ...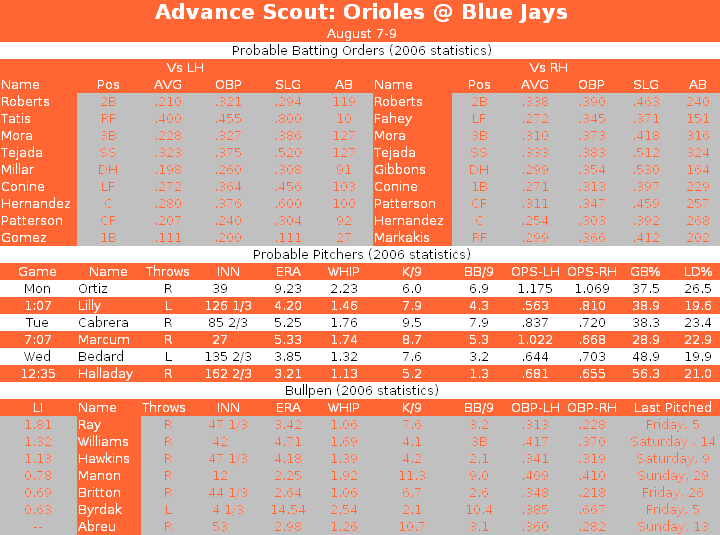 ---

https://www.battersbox.ca/article.php?story=20060804213411154