Gone But Not Forgotten- Vinnie Chulk
Wednesday, August 09 2006 @ 06:34 AM EDT
Contributed by: Mike Green
When I first saw "Charles Chulk" on a list of Southern League ERA leaders in 2002, my mental image was of a schoolteacher, or perhaps an explorer, on the mound. Not quite right. Vinnie was, and is, young, eager and straightforward, with his front teeth sometimes protruding in front of his pursed bottom lip on the mound as he delivers the ball.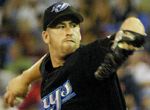 Vinnie Chulk was selected by the Jays in the 12th round of the 2000 draft. He reported to Medicine Hat that summer, and started fairly effectively. He was converted to relief in 2001, and blew through Dunedin and Tennessee reaching Syracuse for a late August cup of coffee. In 2002, the organization moved him back to the rotation in Tennessee, and he responded with a fine year- 13-5 with a 2.96 earned run average, although his K rate dropped from 9 per 9 innings to 6 per 9 innings. Moved up to Syracuse in 2003, he was 8-10 with a 4.22 ERA, but a K rate over 7. In 2004, the organization moved him back to the bullpen to start the year and he pitched well over the first third of the season to earn a promotion to the Show.

His major league career has had its ups and downs, but he has essentially been a solid middle reliever throughout, with a career line of 164 innings, 166 hits, 19 homers, 63 walks and 114 strikeouts and a 4.32 ERA. He's very tough on right-hand hitters, but is vulnerable to the longball, particularly from lefties.

It's hard not to like Vinnie for his enthusiasm. He is off to a great start in San Francisco, and we wish him the best there and wherever he goes in baseball. Please share your memories of Vinnie Chulk in this thread.


---

https://www.battersbox.ca/article.php?story=20060805183416305