TDIB Monday
Monday, August 07 2006 @ 05:45 AM EDT
Contributed by: Magpie
That was Toronto's longest losing streak since Buck Martinez was the manager. Not even the Season From Hell provided this particular form of torment...
I thought Frank Catalanotto was the key man in yesterday's win. He led off the four run fourth with a double into the right-field corner - up to that point, all the Jays had managed against Contreras was an infield single. Later, with the score 4-3 in the seventh, Cat came up with two out and Hill on first base. He hit a sharp grounder into right-centre and never hesitated rounding first.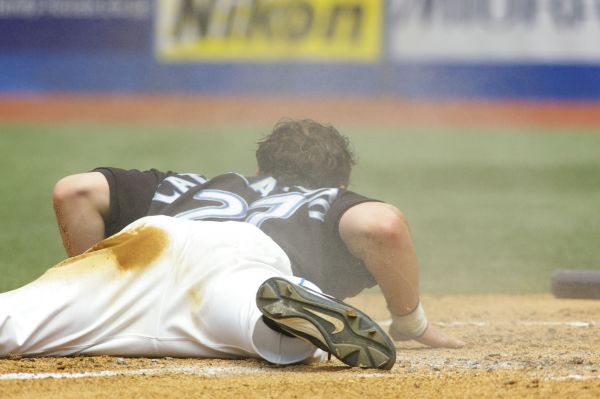 The Sox tried to nail him at second base but Cat beat the throw - meanwhile Hill kept charging around third and scored a run that seemed pretty important at the time. And they looked good doing it, and it's been quite a while since I've been able to say that.



With Lyle Overbay badly needing a day off (or just a sit-down - you have seen him play lately, right?), Eric Hinske made his first start at first base since September 2005. I noticed that Hinske and Rios have each appeared in seven different slots in the starting batting order - meanwhile one of the current Jays has appeared in just one. Wanna guess which?

B.J. Ryan worked an uneventful ninth inning yesterday. Ryan's ERA's by month this season: 0.00; 1.29; 0.00; 4.85; 0.00. August, of course, is still very young.

Coming up - the Orioles are in for three, which ought to provide a decent opportunity to get this thing turned around. No time to waste. On Thursday, Toronto heads into the Hubie-Dome for four games with Minnesota. The good news is that they'll probably miss Johan Santana. The bad news is that the toughest team to beat in all of baseball are the Minnesota Twins at home. And the Blue Jays haven't exactly been Road Warriors this year... The Twins have three games in Detroit before they head home, which could leave them in a nasty frame of mind.

At the top of the division, the Yankees have been on fire ever since they left Toronto. Meanwhile, the Red Sox have been stumbling a little, having won just one of their last five series. They now trail the Yankees by two - but Boston has three games in Kansas City before the Orioles come to Fenway. The Bombers have to deal with the White Sox and the Angels. The Yankees are 16-6 since the All-Star Break.

But the hottest team in the majors are the Los Angeles Dodgers, who made it nine straight wins yesterday. Even Lurch got in on the fun- winless in six starts since being traded from Tampa, Hendrickson was lifted for a pinch-hitter with the Dodgers trailing 3-1 in the seventh. The Dodgers tied the game with an infield single, a bunt single and three walks - then they started hitting the ball into the outfield and when they were done, they had a 7-3 lead.

The Dodgers, of course, recently traded former Blue Jay Cezar Izturis to the Cubs for Greg Maddux, and while there may still be people around who lament that deal, let's face it - there really isn't a whole lot to choose from between Izturis and John McDonald. Felipe Lopez is a different case, so how's that deal working out? Pretty much as you'd expect. Lopez is producing runs with his bat and giving them right back with his glove. Clayton isn't hitting much, but he does improve the Reds defense, largely by not being Felipe Lopez.

---

https://www.battersbox.ca/article.php?story=2006080701001164