Orioles 8, Blue Jays 4
Wednesday, August 09 2006 @ 10:00 AM EDT
Contributed by: Jonny German
A bullpen implosion makes short work of a strong outing from a rookie starter.
Star of the Game
: The good Danny Cabrera showed up and he was very very good, striking out 7 and walking just 1 in allowing 2 runs (1 earned) over 7.
Unsung Hero
: Nick Markakis started the meltdown with an RBI single off Schoeneweis, kept it rolling by stealing second to induce an intentional walk to Brian Roberts, and capped it with a 3-run bomb off Rosario.
For the Jays
: Shaun Marcum walked 4 and struck out 2 over 6 2/3 innings, but held the Orioles to just 2 runs on 3 hits. Lyle Overbay had his second consecutive multi-extra-base-hit game, smacking a double and a homer.
Justin Quiring
: Iím a big Speier fan, but I have to ask: How is it possible to feel good enough during a game to come in and pitch, but to feel bad enough immediately after the game to go on the 15-day DL with forearm tightness? This just doesnít strike me as the type of injury that comes on suddenly, and he played a key role in blowing this game.
JASON FRASOR HAS BEEN FREED!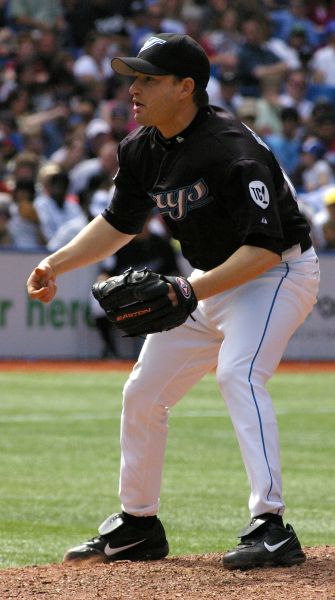 Elsewhere
: Twins over Tigers, White Sox over Yankees, Royals over Red Sox. The AL Wild Card chase is shaping up to be a dandy, with the White Sox currently half a game ahead of the Twins, who are half a game ahead of the Red Sox.
Assuming that the Jays donít get back into it and that Detroit takes the Central, my ideal scenario is for the Red Sox to win the East, the Aís to hang on in the West, and the Twins to complete their remarkable comeback by taking the Wild Card.
Today
: A great pitching matchup for the rubber game sees Roy Halladay vs. Eric Bedard at 12:35 PM.
---

https://www.battersbox.ca/article.php?story=20060809095238432