Pulaski Ends Season With a Whimper (2006 Edition)
Thursday, August 31 2006 @ 09:05 AM EDT
Contributed by: Rob
Dunedin was rained out, Lansing was (almost) blown out and Pulaski is done for the year. The non-Auburn teams went 1-3; the D-Days swept a doubleheader.

Scranton/WB 3, Syracuse 1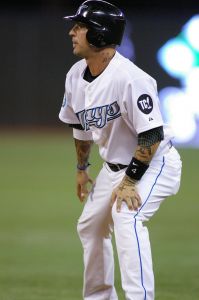 Through six innings, Josh Towers had nine strikeouts and two runs allowed on six hits and a walk, but he suffered from Dave Bush Disease, having no run support. Eastern League MVP Adam Lind had the first of four straight singles in the top of the seventh to score the first SkyChief run of the night (Ryan Roberts with the RBI), but that's all they would get. Oh, and Towers would end up throwing 121 pitches and striking out 11 in 6.2 innings.

Connecticut 1 @ New Hampshire 2 (11)

Jesse Litsch pitched very well, allowing just one extra-base hit (a triple in the second, which was also the only run allowed). It's always nice when you have more strikeouts than baserunners. Chip Cannon had two doubles and two singles, but was not involved with any run-scoring. Justin James, the only member of the Charleston Mastny Boys who has not appeared in the majors yet, threw two scoreless innings as the F-Cats won in the bottom of the 11th.

Kyle Yates did not appear in the game, but he was the fourth-most popular prospect at First Inning yesterday. (Number one was, of course, Adam Lind.) I assume this is because of his performance on Monday against the Defenders.

Lansing 3 @ West Michigan 9

Cameron Maybin's grand slam in the third inning off Hector Delgadillo was more than enough for the West Michigan Whitecaps. Zach Kalter singled and made a nice catch in the bullpen in foul territory; Luke Hetherington drove home one on a sac fly.

Auburn 3 @ Williamsport 0 (7 innings, completion of Tuesday's game)

No box score for this one, for whatever reason. I have to ride the coattails of OurSportsCentral and tell you Shawn Scobee hit his first HR of the year and "Kyle Ginley and Patrick McGuigan combined to hold the Cutters to only two hits".

Auburn 4 @ Williamsport 3 (7)

In the regularly scheduled game, Chase Lirette had a two-run lead spotted to him before he even took the mound, and shut out Williamsport on two hits over six innings. Lirette is having a nice little debut season after being drafted out of South Florida in the 16th round. Scott Campbell, the 10th rounder from Gonzaga, is also having a good season -- with a double last night, his OBP remains around .400 with 29 walks against 28 strikeouts.

Seth Overbey and Nathan Starner made it interesting, but the Crosscutters could only manage three softwood runs.

Pulaski 2 @ Bristol 5

Travis Snider still has a sore wrist.

In other news, Francisco Mateo struck out another seven to raise his total to 59 in 64.2 innings. Four runs in the bottom of the eighth effectively ended the P-Jays season. Maybe in 2007, they will update their logo.

Three Star Selection
3. Chip Cannon
2. Jesse Litsch
1. Chase Lirette

Ricky Romero goes tonight at 6:35 in the last home game for the Fisher Cats. A quick look ahead at the playoff contenders yields the below-.500 Dunedin and Lansing with already-clinched first half titles and Auburn in first place by a game with a week left in the season. Everyone else is out of contention.

---

https://www.battersbox.ca/article.php?story=20060830224803314