Advance Scout: Angels of Anaheim, September 8-10
Friday, September 08 2006 @ 02:00 PM EDT
Contributed by: Alex Obal
The Jays have been really good at drawing teams that are on big winning streaks. The Angels of Anaheim are no exception; they just swept Baltimore, and their pitching staff is on fire.

For the first time in a while, the Jays have an opportunity to play spoiler. If that's not enough to get you to watch, perhaps Sunday's pitching matchup is.

On to the Advance Scout!

General: At 75-65, the Angels remain on the periphery of the playoff races in the AL. They're 5.5 games behind the West-leading A's and Wild Card Twins, both of whom sit at 80-59. They're two games ahead of the Fighting Jays ... Anaheim has won five games in a row. After absorbing a 9-0 beating at the hands of the Tigers last Friday in Respected Veteran Darin Erstad's return from injury, the Angels have allowed 9 runs in 5 games ... Catcher Jeff Mathis and reliever Chris Bootcheck were called up from Salt Lake at the start of the month; third baseman Dallas McPherson was taken off the 15-day DL and sent to AAA ... Manager Mike Scioscia shuffled his lineup Wednesday, moving Chone Figgins into the 9-hole. Figgins is mired in a 1-28 slump and hasn't scored in eight games. According to the LA Times' Mike DiGiovanna, the point is to "take a little pressure" off Figgins. Maicer Izturis and Orlando Cabrera now occupy the 1-2 holes, and Vladimir Guerrero has slid up to the third spot ... Frequent trade rumor subject Ervin "Magic" Santana, the team leader in wins, has struggled with trying to regain command of and break on his slider, a pitch he didn't throw much after he suffered a right elbow strain in 2004. Mike Scarr of MLB.com (too many Mikes!) reports that Magic thinks he's making progress. "My slider was like [Francisco Rodriguez's] but after I hurt my arm, I was scared to throw it. But it is coming back." He's also pondering adding a cutter to his arsenal ... The Angels are coasting toward their third straight winning season. That would be a first in Angels franchise history. Yes, we have it good over here ...

Joe Saunders: Lefty won his first four starts this year, including an emergency callup from AAA in June, in which he went 7 four-hit innings to beat the Indians ... The Angels are so deep they can afford to send a guy down after a debut like that ... Still on a personal two-game losing streak, but he came through with a very strong effort against the Tigers last Saturday, allowing one run over 7.1 innings. The Angels broke that game open late to win it 7-2 ... Made his major-league debut last year as an emergency callup against the Blue Jays, going 7.1 innings and leaving with the lead. The Jays rallied off K-Rod in the ninth to spoil the effort ... Saunders throws a 90ish fastball, a curveball and a change. The change is probably his best strikeout pitch ... Has held lefties to a .536 OPS and only one extra-base hit ...

Kelvim Escobar: Sigh ... Nasty, nasty righty power pitcher with a high-90s fastball and two quality out pitches in his splitter and slider ... Threw eight two-hit innings at the Tigers on Sunday ... Missed most of July with right elbow irritation, but he's had a 3.14 ERA since his return ... Seems to be attacking hitters more this year. His K and BB rates are both down, but his K/BB is 3 on the nose, just like it was last year ... The current Jays have combined for a .612 OPS off Esco in 115 AB ... He's allowed a LD rate of 18% or lower in 4 of the last 5 seasons ...

Jered Weaver: Has a wacky delivery that sees him hold the ball behind his right side for an eternity before slinging it to the plate from a strange angle. I don't know much about pitching mechanics and what causes injuries, but Weaver's motion just looks painful. I'd be surprised to see him make it through his career without at least one serious boo-boo ... Predictably, that wacky delivery has given hitters fits this year. Weaver has coasted to a 10-2 record with a 2.16 ERA; he'd be a shoo-in for Rookie of the Year honors in a lot of other seasons. Not so this time ... His K/BB numbers are solid and his LD rate is very good in the small sample. He has also played as an enormous flyball pitcher ... Throws a low-90s fastball, a low-80s slider and a mid-70s curveball. Rob went to the trouble of charting a Jered start in late July against the Red Sox. Apparently, Weaver's command of the curveball is spotty, but he pounds the slider in down and away to righties over and over ... Weaver snapped a two-game personal losing streak on Monday with seven shutout innings against Baltimore. The timing was impeccable, as the Angels' bullpen picked him up and made an Adam Kennedy single stand up to finish off a 1-0 win ... In his previous start, Weaver surrendered four homers to the Mariners over 4.2 innings. That was the game in which Rafael Soriano was hit by a line drive ...

Vladimir Guerrero: The franchise had a 20-game hit streak snapped Tuesday ... Has drawn 45 walks, 21 of them intentional ... Is having his usual excellent offensive year. His OBP and SLG are a bit down because he's walking less than he did in an outlier-y 2005 and striking out more, but his .331 average is surprising no one ...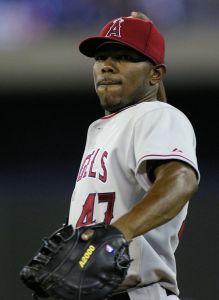 Howie Kendrick: A stone-cold lock to win the Reggie Cleveland Rookie of the Year Award ... Howiewood has been playing first for the first time in his pro career, and hasn't looked completely out of place ... Howiewood? No kidding. Sports Illustrated's Ben Reiter has the details: "At Fenway Park, I leaned into the stands to catch a pop-up. I felt my arm hit somebody's arm, but I ran to the dugout, not paying attention. The crowd was booing really loud. Our pitching coach, Buddy Black, goes, 'That's Ben Affleck you stole that ball from.' I looked over, and sure enough it was Ben, next to Jennifer Garner. The next inning I caught the last out, and I was going to toss him a ball, but he wasn't looking. Jennifer was, so I got her attention. I tossed the ball: It's up in the air, she's looking at him, and he's looking down. It landed in his lap. He [starts] looking at me, and I'm making signals saying, My bad! Access Hollywood did an interview with me -- they had me sign a ball they're going to give to him. Scot Shields started calling me Howiewood" ... I heartily recommend that article. It contains a picture of Kendrick about to get pied ... Only sees 3.3 pitches per PA ... His BA has cooled off since his initial red-hot streak after his second callup, and his LD% is a worrisome 15.2. However, he's had a high BA throughout his minor-league career and figures to be a very good top-of-the-order hitter for years to come ...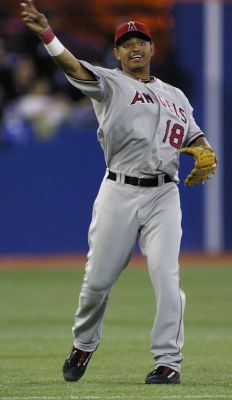 Reggie Willits: Actually, maybe Kendrick isn't such a lock after all ... Willits, a switch-hitting centerfielder, wears #77 and was a singles machine with a .327 average in Salt Lake with the ability to hit the ball to all fields ...

Orlando Cabrera: Is having a solid offensive season. He's still one of the tougher strikeouts you'll find in the majors, but this year he's walked almost as many times as he's K'd (48/51), and his offensive numbers look pretty good for a shortstop ... Spent a good chunk of the season hitting in the 3-hole, which is indicative of the Angels' rather severe lack of power outside of Guerrero and Juan Rivera ... Is baseball's foremost practitioner of the "Pine Tar On the Helmet" craze, and it's not particularly close ...

Darin Erstad: Respected veteran returned from injury on Friday. He's been used primarily as a late-innings defensive replacement for Kendrick ... Stabbed a sharp grounder off the bat of Jay Gibbons to help nail down the 1-0 win against Baltimore ...

Adam Kennedy: On two separate occasions in Tuesday's win over Baltimore, Kennedy fouled off a telegraphed bunt attempt, but ended up getting a hit on the following 0-1 pitch. The second hit just happened to be a three-run walk-off homer ... According to DiGiovanna, Brandon Wood pulled the same move in an Olympic qualifier Monday for a two-run homer in the 8th inning against Cuba. That homer put the Americans ahead 7-5; they would not relinquish that lead ...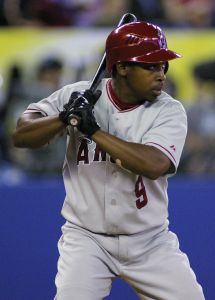 Chone Figgins: Despite his recent offensive struggles, Figgins still leads the AL in steals with 47 ... Desmond DeChone Figgins has seen time at CF, 3B, LF, 2B, RF and SS (in that order of playing time) this year ... His only real defensive struggles this year came at third base. Now that Maicer Izturis has hit well enough to claim everyday 3B duty, Figgins is playing almost center almost exclusively ...

Maicer Izturis: Is fighting through a nagging hamstring injury. He was on the 15-day DL earlier this year with a strained hammy, and he sat out Sunday's game against the Tigers for that reason ... His .303/.369/.437 represents a breakthrough season, and because he's a legitimate switch hitter, he is fully capable of taking the leadoff spot while Figgins sorts himself out ...

Juan Rivera: Has struggled through nagging pain in his hand. He had his hand X-rayed; it came back negative, but he's having particular trouble swinging a bat right now, so he might miss the next two games. If the pain goes on, the Jays will see a lot of Curtis Pride ... Quoth Rivera: "It only hurts when I swing and miss. When I make contact, it's fine."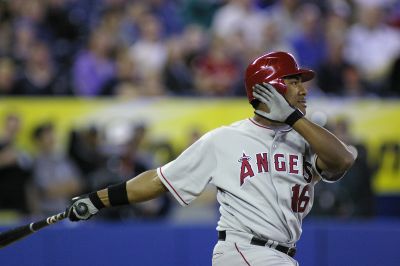 Garret Anderson: Has only played for three teams in his career: California, Anaheim and Los Angeles ... He's still a solid hitter and probably one of the last guys you want up with the game on the line if you're facing Anaheim, although his close and late stats aren't great this year ...

Tim Salmon: The Angels' other lifer is their 2006 Roberto Clemente Award nominee ... Still going strong at 38, batting .262/.353/.439 as a righty pinch-hitting specialist ...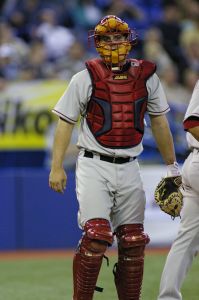 Mike Napoli: Average has plummeted to .220 after a .327 May, but he's still hit 13 homers ... Sees 4.54 pitches per PA, which is a leading cause of his high OBP. Lots of walks. Lots of homers. Anybody want this guy? ... Has pronounced backwards splits, and has been a thorn in the Jays' side this year, going 5-13 with a clutch homer off Doc Halladay. He's even stolen a base against Toronto ... Apparently, the Angels still see Jeff Mathis as their long-term solution at catcher, despite Napoli's decent offensive and defensive (34% CS) numbers this year. That's from Wikipedia, though, so take it with a shaker of salt. But it does make sense, since Mathis is 23, while Napoli will be 25 in October. Mathis hasn't lit the world on fire at AAA (.289/.333/.430), but those numbers are adequate for a major-league catcher if Mathis' D is as good it's hyped up to be. The most important factor in Napoli's favor is that "Jeff Mathis" does not sound like a catcher's name ...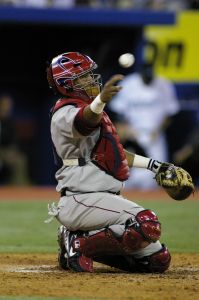 Jose Molina: Continues the fine Molina family tradition of looking lost against righty pitchers ... Still one of the very best catching arms anywhere. He's thrown out 44.2% of basestealers and has been quite consistent in that department for a career CS% of 43.3 ...

Scot Shields: Has blown a one-run lead in two of his last three outings ... Is allowing more homers than usual this year, contributing to his higher ERA. However, he's still striking out more than a batter an inning, and he still has Scioscia's complete faith in close, late situations ... Has thrown 90 or more innings in each of the last three seasons, spending 2.5 of those years as a reliever (including a mind-blowing 105.1 IP in 2004), and he's on pace to easily clear that mark again. It's not hard to argue that this slump is a result of fatigue ... A fastball-slider guy among a sea of fastball-slider guys in the Halos' bullpen ...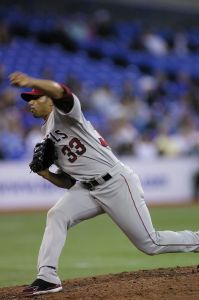 J.C. Romero: Has Schoeneweisian splits (.652 OPS for lefties, 1.061 for righties) ... This is a steep dropoff from four straight good years in Minnesota. Mike Scioscia is keeping him away from high-leverage situations ...

Kevin Gregg: Fastball-slider righty with good K/BB numbers and a splitter ...

Brendan Donnelly: Fastball-slider righty with good K/BB numbers and a splitter ... Has setup-guy experience, and may steal some of Shields' high-leverage situations if he continues to struggle ...

Hector Carrasco: Sinkerballing righty. He altered the grip on his sinker a month and a bit ago, and he credits that for a nice little hot streak ... #1 out pitch is a changeup ...

Chris Bootcheck: Fastball-slider righty who also mixes in a cutter ... He was ravaged at AAA (.934 OPS) in 65.1 innings and is really only here as a long man to eat innings in blowouts ...

Francisco Rodriguez: Same as he ever was: 97-mph fastball, and low-80s breaking ball that's tight like a slider but drops like a curveball ... Hasn't allowed a run since June 26 ... However, the Blue Jays have caused him more trouble than any other team in his career. He's converted 1 of 4 save opportunities against the Jays, absorbed two losses, and allowed a staggeringly high 5.29 ERA. These problems stem from the Jays' high-6s walk rate against K-Rod ... Has thrown 9 wild pitches this year. That's how good the breaker is. It almost never ends up actually inside the strike zone ...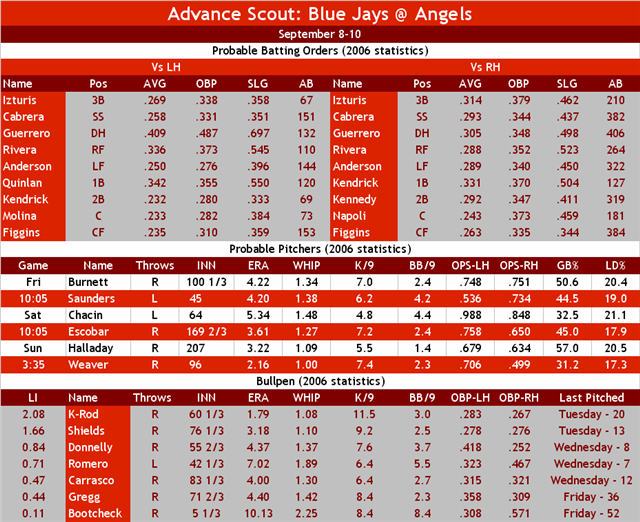 ---

https://www.battersbox.ca/article.php?story=20060905014253927