Advance Scout: Tigers, April 2-5
Monday, April 02 2007 @ 10:32 AM EDT
Contributed by: Alex Obal
It begins. First up on the menu are the Tigers. They are a worthy opponent with very similar strengths to the Jays, armed with deep reserves of righthanded power, a brand-new star DH pushing 40, two overpowering righty aces and a bespectacled lefty. Jays bias be damned, this is almost certainly the best opening-day series in the majors. Halladay-Bonderman has to be the best pitching matchup, anyway. So what's the holdup? Grab your favorite beverage and let's move on to the Advance Scout already.

Jeremy Bonderman: Was handed a $38-million, four-year guaranteed contract in December and now finds himself in a somewhat similar situation to that of Ace in the Hole A.J. Burnett heading into 2007, if only Burnett were 24 and not snakebitten by injury concerns. But like with Burnett, Bonderman's record and ERA from last year (14-8, 4.08) undersold his ace-like performance as well as his potential. With three times as many strikeouts as walks and an above-average groundball rate, Bonderman was a small dose of luck away from contending for the Cy Young. There's no reason why he can't do so this year. He achieved that strikeout rate largely on the strength of his devastating slider, recently unanimously proclaimed the best in the AL by a panel of ESPN experts. The Jays' righty-heavy lineup will be in very tough in the opener.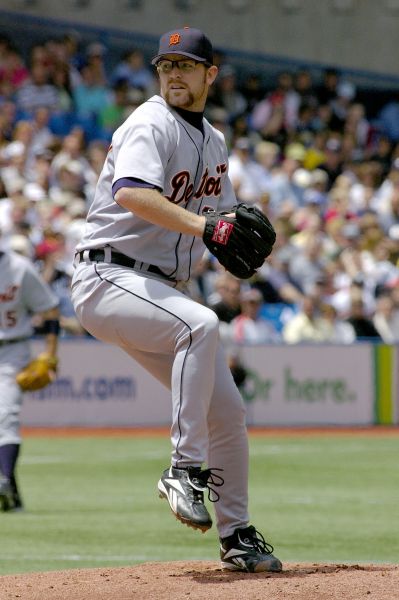 Nate Robertson: Robertson, shown here without his left arm, set clear goals for himself this spring: Improve his change-up to avoid the pitfalls of being a two-pitch pitcher, and work on locating the ball down in the zone. Says he to Rob Parker of the Detroit News: "I got a ton of ground-ball outs this spring. I think I got less than five fly-ball outs all spring." Nate, this is Frank, this here is Troy. Frank, Troy, Nate. Robertson already plays as a groundball pitcher - if he succeeds on both counts, watch out. But the first step of that journey won't be an easy one.

Justin Verlander: Isn't having a great spring. 18 innings, 13 strikeouts, 5 walks, 6.00 ERA. Boo, hiss. Hang your head in shame. This guy won Rookie of the Year last year?! He was frustrated but resolute and open about the challenges that face young pitchers after one particularly irritating start against the Pirates: "I don't know where I'm at. I don't know where I should be right now. Next year, I'll have a better clue. I mean, I don't know if I'm behind or right where I need to be. I'd like to have something to compare it to, but I don't. So I can't worry about it. I thought I made a lot of progress last week, but regressed a little bit this week ... control and mechanics." But Master of Allegory Ernie Harwell, for one, sympathizes with Verlander's situation, bearing the pressure that accompanies a ROY while coping with the frustration of narrowly missing a 20-win season: "Many rookies -- especially pitchers -- have found themselves cruising along the Thoroughfare of Excellence only to lose their way in Almost Alley -- an alley filled with the Dumpsters and garbage cans of discarded hopes and broken dreams ... Don't expect Verlander to match [Grover Cleveland] Alexander's Hall of Fame career. But, forgetting he almost won 20, Verlander can be proud of his American League Rookie of the Year Award and pitch many fine seasons for the Tigers." We'll see. If you look at Verlander's stats blissfully ignorant of the fact that he can throw 101 miles an hour, you probably won't be terribly impressed. He's good but not great. Which means he's got plenty of room to improve, provided his arm doesn't fall off...

Todd Jones: The Tigers' less-than-overpowering-but-still-effective closer emerges from the bullpen to the strains of contemporary Christian pop. What the Heck? Seriously, I think this is awesome. Distinctive entrance music in baseball is one of the best parts of the stadium experience.

And speaking of distinctive entrance music: Nice segue. Did anyone ever find out what Vernon's tremendous snapping walking-to-the-plate song was? Anyone?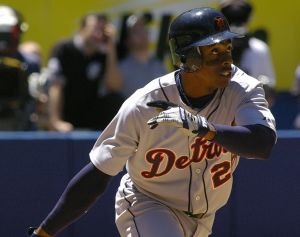 Curtis Granderson: May share his time in center with righty-batting Omar Infante this year. This new stream of downtime will give him even more opportunities than he'd otherwise have to give interviews to the alternative sports media like The Big Lead about such topics as whether Ryan Freel uses Craigslist to solicit female companionship during the daytime in spring training. "I could see a player putting that out there, because each player has different things they have to do everyday that gets them ready for games, and I wouldn't be surprised if mid-morning action wasn't one of them. It might get you really light on your feet, and Ryan Freel is a fast runner, so maybe."

Marcus Thames: FREE MARCUS THAMES! Thames figures to see most of his time at first base this year, sharing the position with Sean Casey. I guess being a sure-thing 40-homer DH doesn't go as far as it used to.

Carlos Guillen: .330 career BABIP in 3459 career PA. Write off last year's line as a fluke at your own risk.

Brandon Inge: 10.0 career HR/Fly%. 14.4 last year. See last year's line as anything other than a fluke at your own risk.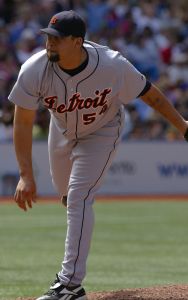 Joel Zumaya: Despite his eye-popping strikeout rate and unofficial AL popups-to-the-catcher crown (20.4% IFFB), Zoom is determined to be a pitcher rather than a thrower this year, and intends to measure that success by monitoring his groundball rate. "There aren't going to be too many 101s and 102s this year," he told the Free Press's John Lowe. "I'm going to go out there and pitch this year. I hope I get those ground balls." Interesting. I'd hesitate to recommend this path for him, but I guess that's why I'm not a pitching coach. But if it ain't broke, why fix it?

Mike Rabelo: The 27-year-old career minor leaguer gets to be the backup catcher while Vance Wilson nurses his sore throwing elbow on the 15-day DL. Leyland doesn't intend to give Pudge more playing time than he normally would, so the switch-hitting Rabelo will play a couple of times a week. He has only one major-league plate appearance: on September 28 last year, he pinch-hit for Matt Stairs against Kansas City's Jimmy Gobble and struck out.

A Chart!

The stats in this chart probably border on overkill, but I don't care. Batted-ball and Leverage Index data are available at Fangraphs. LHP% and LHB% refer to the percentage of pitchers or batters faced by the player in question who happened to be lefthanded. Extreme values should expose players whose gross stats may be inflated by playing in a platoon. Marcus Thames is probably the best example here, but he's still awesome. Those Lefty-Opposition Rates were extrapolated from the splits available at Baseball Reference, the only site I know of that actually lists PA splits. Hail to thee, Baseball Reference! K% and BB% are strikeouts and walks respectively as a percentage of plate appearances. Everything else, most notably the AL average statistics, is available at The Hardball Times.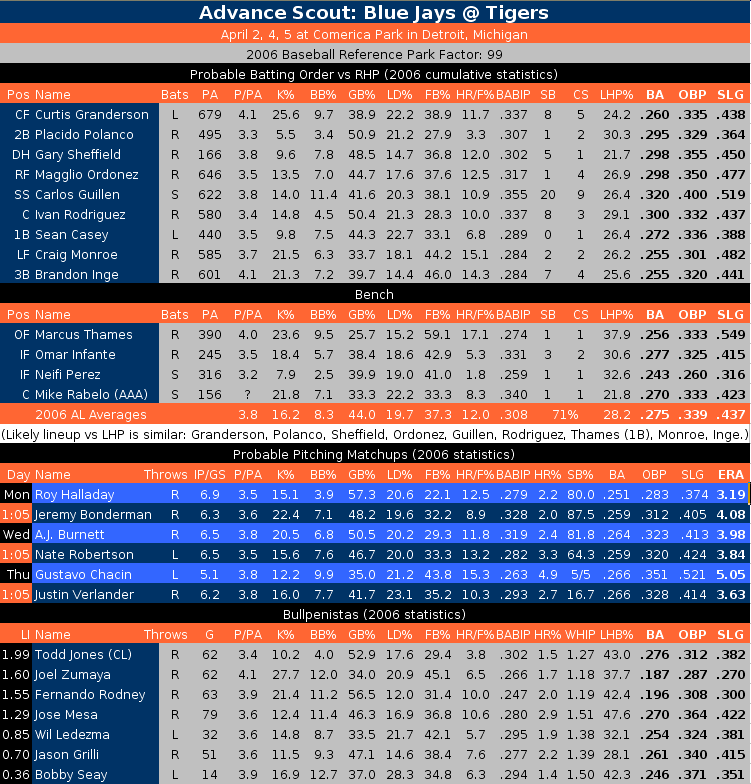 ---

https://www.battersbox.ca/article.php?story=20070402025639299