Advance Scout: Tigers, April 12-15
Thursday, April 12 2007 @ 05:00 PM EDT
Contributed by: Alex Obal
The Tigers and Jays renew acquaintances, and this time, they'll do it in a proper baseball environment: a dome. None of this "cold" business. This series features a clash of aces, a clash of sub-12% K rates, and two weekend pitching matchups that look one-sided on paper but should actually be much more interesting than they first appear. Also, Gary Sheffield tries to rectify his wiggle, and Brandon Inge tries to reassert his offensive superiority over Neifi Perez...

On to the Advance Scout!
Mike Maroth: Where are all these crafty lefties coming from? Is there anything we can do to keep them coming? Maroth doesn't throw hard and gets most of his outs when hitters just miss his moving fastballs, particularly his sinker. But he's not a groundball pitcher, and he's definitely not a strikeout artist. However, he has accomplished one feat nobody else has, not even noted accomplisher of feats Curt Schilling: he's defeated Gil Meche as a Royal. In KC, no less. Maroth pitched 5 valiant innings and only allowed 4 runs to defeat KC's $55-million man.

Jeremy Bonderman: The slider artist still doesn't have a decision after he went 6 innings allowing 2 runs against KC last Sunday and left with a deficit thanks to Brandon Duckworth. However, in the 9th, the Tigers politely requested the lead to get their ace off the hook, and David Riske was cooperative. Their first two batters reached, and their third, Pudge Rodriguez homered to complete the bloodless rally.

Chad Durbin: The 29-year-old righty beat out Zach Miner, Felix Heredia and Rule 5 pick Ed Campusano to earn the #5 starter's job and the opportunity to do his best Kenny Rogers impression. He credits his breakthrough spring to the addition of a cutter and sinker to his previously vanilla repertoire. Durbin's game plan is to put pressure on hitters by throwing strikes and making them put the ball in play. "If I get caught up in the politics of it all, in thinking that someone at the plate hits .340 with 40 home runs a year, I get overwhelmed. As a young guy, you tend to throw away from the bat as opposed to having the ball put in play," he tells the Detroit News' Tom Gage. It's a sound strategy, but he's going to have his hands full with A.J. Burnett providing the opposition. Durbin threw a solid 3.6 pitches per PA in his last start. Unfortunately, he also allowed 10 baserunners and 6 runs in 4.2 innings in the Orioles' home opener. Perhaps there is a tradeoff involved. Cool hand Jim Leyland doesn't consider Durbin's gig to be in any kind of danger yet.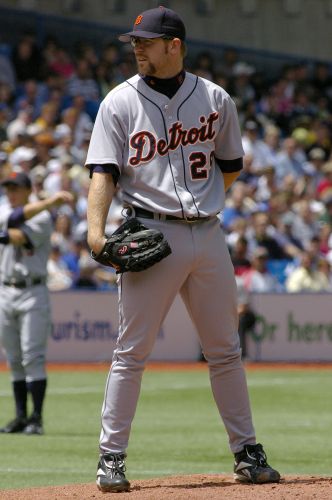 Nate Robertson: Will be pictured in every Tigers Scout, ever. Here he is looking pensive. Robertson shut out the Orioles over 7.1 strong innings Tuesday for his first win. He worries me a bit more than most lefties without awesome K rates because he throws fairly hard, sometimes touching 93 with his 4-seamer and 90 with his sinker. More importantly, he has a clearly defined skill (he gets grounders) and can get them with all of his pitches.

The Chart Lies!: Gary Sheffield is going to start in right field with Magglio Ordonez DHing tonight. Something must be wrong with Sheff, who's hitting .103/.222/.207. Sheff's theory is that his prodigiously violent bat waggle is not in midseason form. Seriously!: "I've looked at my swing. My wiggle is off, and my timing is off. I've got to get my leg-kick started more quickly and speed my hands up. I've been in a funk like this before, I'm just thankful this is earlier rather than later (in the season). When I leave batters on base, that's what upsets me. That's hurting the team."

Craig Monroe: Mom's name is Marilyn. Also, he's got a knack for huge homers: he hit the grand slam that beat the O's last night, and went yard 5 times in the playoffs last year. Seriously, that's her name!

Todd Jones: Has 5 saves. The Tigers have 5 wins. Last night, when Monroe put the Tiggers ahead 4-0 in the 12th inning, lefty Bobby Seay was entrusted with holding the line. He balked in a run, so Jim Leyland naturally brought in Jones for the ubercheap save. Todd Jones' fantasy owners everywhere were overjoyed at this development. Jones has pitched in two straight games and 4 of 5. (The Tigers have won two straight games and 4 of 5.)

Joel Zumaya: Is rested. He's the only one of the Tigers' big guns that wasn't used in the 12-inning marathon last night. This is bad, bad news if you (sillily) place stock in batter-pitcher splits:

Vernon Wells: 0-4, K
Lyle Overbay: 0-4, K
Reed Johnson: 0-3, K, BB
Frank Thomas: 0-2, K
Matt Stairs: 0-2, K
Alex Rios: 0-2, K, BB
Aaron Hill: 0-2, K
Troy Glaus: 0-1, K, 2 BB!!
Royce Clayton: 0-0, BB
Total: 0-19, 8 K, 5 BB.

With Jones having pitched two days in a row, if the Tigers lead after 7, look for Zoomer to get the two-inning save, Janssen/Soria style.

Fernando Rodney: The hard-throwing righty changeup specialist got off to a bit of a rough start in the Jays series. He's only pitched twice in the past week, but he's been much better: Sunday, he went one shutout inning in relief of Bondo and vultured a win, and yesterday he pitched 2 no-hit innings with 3 K's and a walk. Troublingly, he's shown pretty clear flyball tendencies this year after getting an anomalous 56.5% groundballs last year, but it's early.

Ivan Rodriguez: Is batting leadoff against lefties these days. On Tuesday, Nick Markakis fouled a ball off Pudge's foot; the Tigers have downplayed it and Pudge was in the lineup last night (catching all 12 innings, no less).

Brandon Inge: Recorded his first hit of the year last night, going 1-5 with a single and a walk. He's batting .040/.172/.040. Tuesday, he was benched in favor of Neifi Perez in the name of generating an offensive spark.

The Credit Section: Batted-ball and Leverage Index data are available at Fangraphs. K% and BB% are strikeouts and walks respectively as a percentage of plate appearances. I replaced the LHP% stat for hitters with raw homers for no real reason other than that chicks dig the long ball. Everything else, most notably the AL average statistics, is available at The Hardball Times. The "Rest" column for relievers is basically self explanatory: the number on the left of the forward slash is the number of days off the pitcher has had, while the number on the right is the number of pitches the pitcher threw in his last outing.

This is the last chart to contain 2006 stats. Next week, the Scout ceases to live in the past.


---

https://www.battersbox.ca/article.php?story=20070410232107893